Veni, vidi, vici – Vespa brand profile
This feature first appeared in the October 2010 issue of Marketing magazine.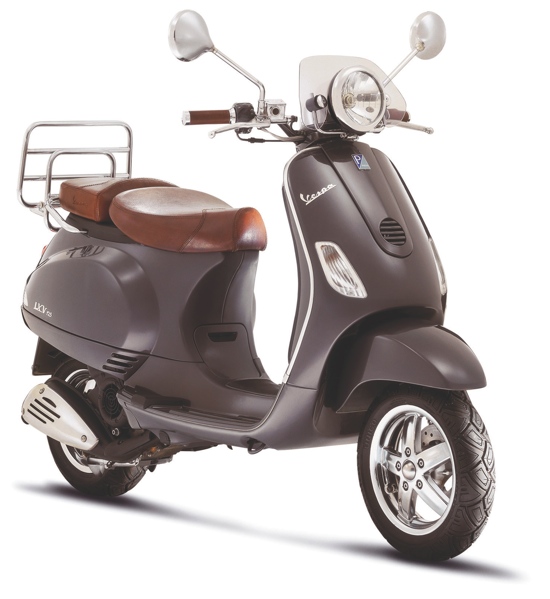 Mounting an Italian classic, Sean Greaney rides too low and close to Vespa's seductive red, green and white bullseye.
So this is what it's like to be beautiful. Heads turn, stranger's mouths form unanticipated curves; the wind consistently dishevels your hair only to recast it in some mischievous Italian crease.
I've just dropped off the lesser brand I took for a test ride – my control group.
I smack down the clear visor on the open face helmet with my left hand, as my right eases the throttle back smoothly. It jumps straight to 40kmph. 'Right, Vespas are fuel-injected,' I remember. I'm 30 metres from the dealership when I'm stopped by an excited, elderly German.
"A Joylight! I've always dreamed of having one of those. I remember, after the war, riding on the back of a friend's through London!" she beams in an aural caricature.
I return her enthusiasm and throw it to the right, ignore the stern 'No Entry' street sign and glide the wrong direction up a one-way street. Fitzroy's hipster eyes arc left – rapt, but never turning the neck, they wouldn't want to be impressed by something… they wouldn't want to want.
I weave through a deck of four cars to pole position at the traffic lights. Tight on the rear brake, I give the throttle a little – ready to vault forward. Green and instantly 20. Something uncouth roars at my side. A V8 SS Holden Ute, all bluster and anger (so is the car). We pull the street's attention, a group of 20-somethings in sundresses laugh as the ute finally overtakes me at the 60km mark. I compartmentalise the fear as he ducks in front of me, leaving me nowhere to go but my brakes.
This is what it's like to be beautiful.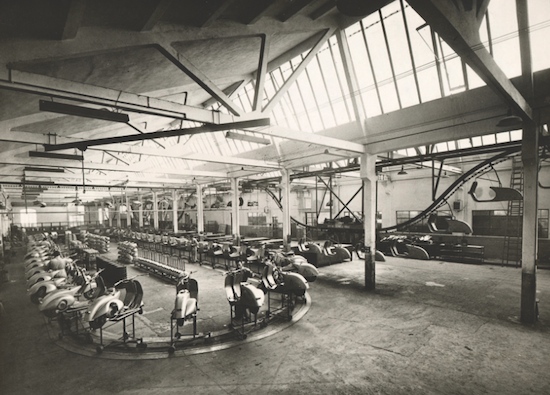 An Italian in the sunburnt country
It's 1946. Mussolini's swaying in the wind and Piaggio's ability to produce aircraft is crippled by regulation and bombing. There's a need to travel, there are roads, but they are just consistently inconsistent. A pre-war Piaggio employee, general Corradino D'Ascanio is tasked by Ferdinando Innocenti, founder of the now-defunct Innocenti machine works, with designing a simple vehicle that both men and women can drive, can navigate the current infrastructure, carry a passenger and doesn't get the driver dirty. Looking to the US-made Cushman scooters that Allied Forces had used to navigate Europe as the Nazis destroyed bridges and roads, D'Ascanio sets to work.
"He was a dapper Italian man who loved wearing beautiful Italian suits and nice leather shoes, he was an engineer, and [they] said, 'The war is over. I need you to design some sort of motorcycle.' He thinks, 'I hate motorcycles. Bugger this. I'll give you a motorcycle.' So he put all the oily noisy stuff behind him so he wouldn't get sprayed in oil, and he gave it leg shields so he could keep his clothing and shoes dry and clean: the scooter was born," explains Simon Gloyne, Vespa brand manager at PS Importers.
Innocenti was greedy however, and wanted to revive his metal tubing business in addition to his machine works. When D'Ascanio produced a scooter that used a molded and beaten spar-frame, rather than metal tubing, the two had a falling out. D'Ascanio took his design to Enrico Piaggio (the founder, Rinaldo Piaggio's, son) and Innocenti went on to produce Lambretta scooters – more costly and suffering design and production difficulties thanks to the tubular frame choice. Lambretta's last scooter rolled off the line in 1971. Vespa has just released the 2010 GTS SuperSport and the Via Montenapoleone.
Despite trying to finagle something from the PR fleet, I had only obtained my motorbike learner's permit three days before the interviews; my confidence in cutting it close coming from my origins in that lawless land to the north, Queens something, where you can ride a 50cc on a car licence. Gloyne had to disappoint me for insurance reasons. This presented a conundrum that became an opportunity. I would go and 'get sold' a Vespa and take it for a test ride. Gloyne's claims to be working closely with the dealer network would be put to the test.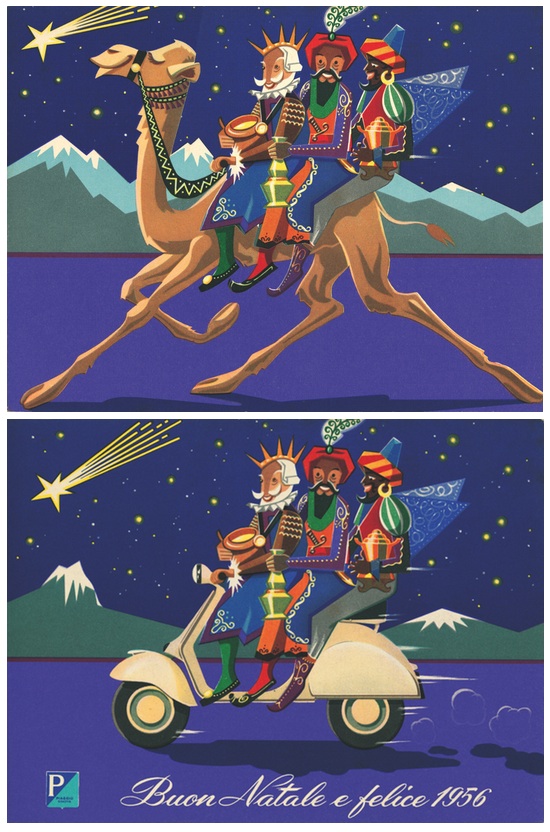 A sunny Saturday morning found me at Vespa House in Melbourne's Collingwood. The salesman wasn't in yet, so the mechanic took care of me. Walking me through the range, we go through preferences in instrument cluster and my options for a cheaper Piaggio. We get into the fuel efficiency provided by the newer models and talk suspension. I'm there an hour before the salesman turns up and he talks me down from a 150cc to the cheaper 125cc, explaining that for my purposes the bigger engine is an $800 luxury. The genuine and friendly attitude endures in spite of my cheeky two-hour 'test ride'; he's all grins, "Had a decent ride then, hey?"
"They're probably the longest-serving Vespa store outside of Italy," smiles Gloyne. "I think they've been servicing Vespas there since 1957.
"They grew up above the store. What they've been doing for the last two years is slowly – things still happen at a relaxed pace – cleaning up the place, tidying out, introducing some more modern systems to be able to cope with customer expectations for the future. For a lot of people, they love the whole touchy-feely, earthy quality in Vespa House, but they still want to make sure that it's being serviced in a clean environment by qualified people, and that just the basics are done.
"We do a lot in store. That's where the decisions are mostly made. Having a good presence on the floor – it's important that we have our own brand identity within the store and our brand positioning comes through signage and imagery and so forth within the store… We don't have the luxury of being sole franchise. It would be wonderful if we did but there's commercial realities of being able to do that, so we're in multi-franchise situations, it's important that we're seen above the crowd."
Working within budgets, explains marketing manager Mal Jarrett, has meant the brand concentrates on digital. A little print, but the primary focus is driving in-store or official website traffic. The battle with a product this good is, once customer licensing and regulation is overcome, putting a bum on the moving seat.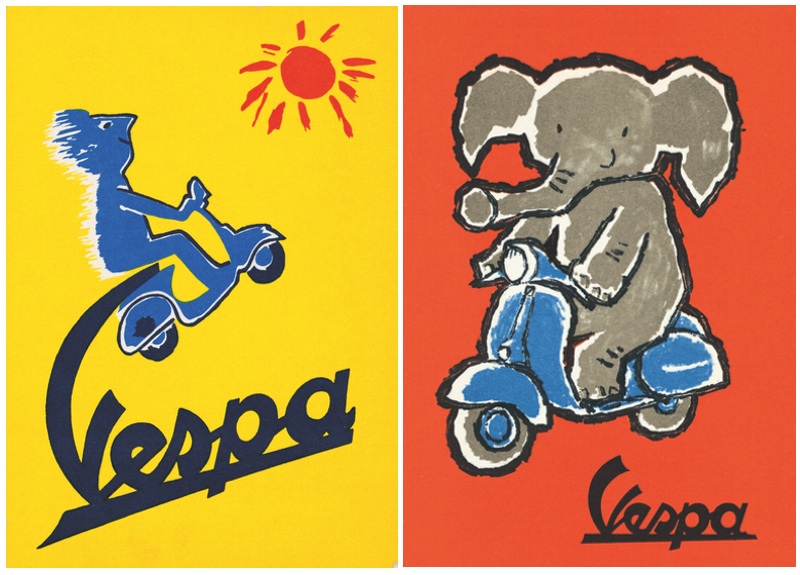 The brand has staked an Australian claim on Facebook, unfortunately in the situation many brands have found themselves – an unofficial page with a greater following than their own, and although not social media best practice, Vespa is one of those brands in the enviable position of being able to product push. That halo of cool shines again.
Comparing Australian searches for the brand against global searches produces an enlightening picture. While Australian interest is almost entirely tied to our economic state, global interest reflects the characteristics etched into our minds by the many brand curators between D'Ascanio/Piaggio and Gloyne/Jarrett: searches spike over summer and decline during winter, the number one region for searches is Italy and all but two of the top 10 are European countries. In fact, on a global level the GFC has had zero impact on online Vespa interest; searches peaked in summer 08, but 09 searches peaked higher than 07.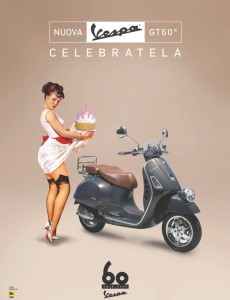 "That's part of the whole buzz and flavour of the product anyway, so it would be silly not to utilise that Italian dream," says Gloyne.
"Vespa, or scooters anyway, is a niche of a niche. There's only five percent of the population that has a motorcycle licence, and you need a motorcycle licence to ride a scooter. Some states have a 50cc law that you can ride it on a car licence.
"So your main slabs of population, Victoria and New South Wales, which combines to just over 50 percent, don't have that rule anyway… Everybody uses toothpaste, everybody has a TV, everybody has a refrigerator. The market that's available to us, it's not 100 percent, it's roughly five percent. Now, that's grown over the last five or 10 years. With the Learner Approved Motorcycles Scheme: all of the scooters that we sell are learner ready. It's grown from something like three something percent probably 10 years ago."
In spite of actual potential purchasers, the halo in the collective consciousness makes the brand editorial gold, meaning press inches often aren't a scarce commodity. The recent announcement of a pink colour scheme for a single model saw 50 outlets pick the story up.
"And that's just the colour. We get an exceptional run probably because of the brand name," smiles Gloyne.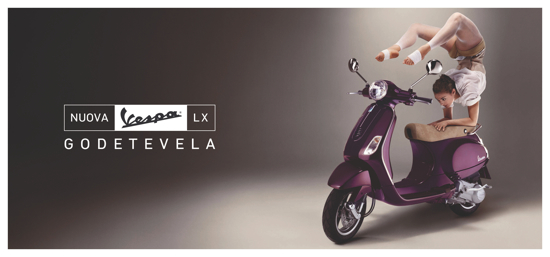 They move on more than two wheels
There are a number of tests to put a Vespa through, none of which involve brake horsepower. How long from home to work and back, from the office to your favourite coffee haunt, across the city… which colour turns more heads?
But apart from egos and their attached journalists, literally out for a free ride, who are these beautiful people who ride and, more importantly, buy Vespas? I'm surprised to learn, in Oz at least, despite Melbourne's famously Mediterranean population, they're Sydneysiders and, by a handlebar's breadth, male. Simon Gloyne, Vespa's Australian brand manager, tells me Sydney accounts for roughly 45-50 percent of his sales.
"It's just the environment suits them. It's congested… Terrible public transport. It's hard to get parking and expensive. It's starting to evolve here though. In 2008, we sold just as many scooters in Melbourne as we did Sydney, and it never used to be that way.
"Melbourne seemed to take off as more and more apartments were being built, plus the rules on apartments have changed. It used to be that if you were building a dwelling, you had to provide a car parking space for that dwelling. Nowadays you don't."
While most motorcycle brands fail to attract a significant female market in Australia, around six to seven percent according to Gloyne, roughly 45 percent of Vespa market have twin chromosomes.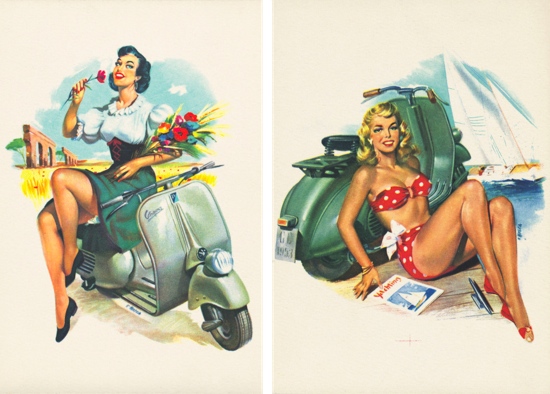 As a high-involvement product in a highly regulated space – even if as consumers we aren't conscious of the regulation, Vespa benefits as much from social development and trends as it is at risk.
Perplexingly, during the GFC the highest-selling Vespa was the GTS 300: "The top-selling Vespa in the country was also the most expensive. Go figure," shrugs Gloyne.
Post-GFC political winds changed the fortunes of both Vespa and its 150cc range. A change in licensing in New South Wales – its biggest market remember – allowed riders to complete just the first portion of the motorcycle licensing process and be considered licensed up to 160cc. And, a year later?
"At the moment, our top-selling Vespa at the moment is the LX 150. That's going great guns.
"We're a long way from the factory, and even though Australia is quite a sophisticated country, we're a very small percentage of their volume; we're probably talking one or two percent of their annual production… We're the market leader in this country, but still that still makes us a fairly small player in the world scheme.
The Australian motorcycle market stayed tight on the taillights of the economic boom, peaking at 120 000 units in 2008 (about 20 000 higher than average). The GFC wasn't kind to the fun-loving Italian. The argument can be made the product would save you money, but so will Taiwanese-brand SYM at a third of the cost.
"When the GFC first started to take hold, boat sales were the first things to get hit really hard," says Gloyne. "They were right at the extreme end of toys with no practical purpose. We were fitting into the toys with a practical purpose. On a scale of business to toy, the closer to you were to toy, the harder you were hit. It's down again this year, but not too badly. We're back to 2007 numbers, so it's not a big deal, because back in 2007 we went, 'Wow, look how many we're selling now!' So for us to be doing 2007 now, it's not time to go out and sell the farm."
And in line with real estate's impact on the market, our grocery habits are starting to impact vehicle consideration – not to mention the lure of an environmental impact that makes Prius's blush.
"People are starting to become a bit more subsistence shoppers; they go out and buy what they need for the day rather than what they need for two weeks. And on a scooter it's easy because you just pull up outside your favourite fruit and veg shop, grab half a dozen veggies and off you go. You're not searching for a park and wheeling your trolley out, you chuck them under the seat and off you go. It's great."
"Part of our job is to not stuff it up." – Simon Gloyne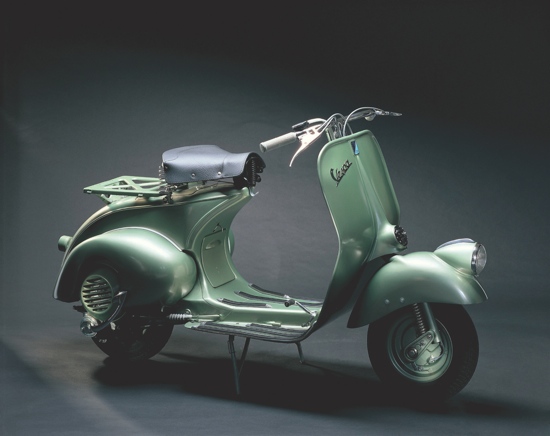 Always referred to as 'The Factory' by Gloyne, Vespa puts a lot of trust in its international importers and for this the brand's communications vary wildly by year and country. Australian executions currently allude to exclusivity. Kiwis enjoyed a brilliant Saatchi & Saatchi campaign, playing up its mischievous character in 'Stop for nothing'. The pieces showed the distances between two police officers, trams and a bakery door in centimetres… just wide enough for the 74cm of a Vespa's handlebars to pass through. The Philippines saw a spate of beautiful advertising, but I can't be sure the strategy guys weren't out at the pub when the creatives got the crayons out: the executions communicated freedom, compared a car, clever long copy claimed it a stoic, lifelong partner and other executions harked back to the vintage pin-up girl. The US communications focus on economy and combating a perception of femininity. One piece in particular proclaims, "It's too manly for you, not the other way around." And Italy? Well the current campaign is as sexy and inscrutable as the country's politics.
I suspect aesthetic, history and film have gifted the brand a solid chassis in collective perception, able to weather disparate international communications. Our national campaigns simply assume a few elements are taken for granted: style, speed and mischief come to mind.
"We have different needs to what [Italy has]. For starters, we don't bring all the models that they offer in their markets, for various reasons. It might be because our legislation isn't the same as theirs. Even 14-year-olds can get around on a 50cc scooter. We don't have that option. So they have a stack of 50cc models that never see light of day here, there's no point. 125s, they've got a lot of 125s that we don't see, simply because they can ride up to a 125s on a car licence. That's a country that sells a million scooters a year. We're a country that will probably only do about 10 000 units for the entire scooter market this year."
Gloyne and Jarrett explain they stick to a few key messages and intentionally don't play to any gender.
"Many years ago we had a problem with one of the Triumph models [a motorcycle brand PS Importers also market]. We don't do that model anymore. It wasn't Mal's team, a different person. And the person went out of their way with this particular new model to say, 'This bike has got a low seat height, therefore it's a great girl's bike.' It killed it. It killed the model… A mate of mine who has always been a motorcyclist… always had a Vespa as well. He's six foot four and runs a repossession company. He probably is manly enough for it. It's all sorts," says Gloyne.
"For many people, they're a recreational choice, not a needs choice. Funnily enough, some of our lower priced entry-level scooters are doing quite well this year, like the Piaggio 125. A product that is $3000 is more likely to be needs based and brings economic benefits for the owner… They do the job that they want it to do, which is commute within traffic and save on fuel.
"Somebody who's buying a Vespa specifically, while those are relevant and important [aspects], they're not the be all and end all. The GTS 300, that's an $8999 bike. Now, somebody who is paying roughly $9000 for a Vespa isn't doing it because they're doing it tough. They're an acquired taste, and they're buying it because it's something special, just as if all we needed was a Hyundai Excel to get to work, we'd all be driving Hyundai Excels. Some people drive a Benz to work because they want to and they choose to and they have the means to. It's the same with scooters… They are a more expensive scooter than the other brands, but there's a reason for it. They're built differently. Every other scooter is a construction of metal tubes covered in plastic bodywork. With a Vespa, the metal bodywork is the chassis; it's a [25.55] chassis, but nobody else makes them like that. And it is a more expensive process, but that brings with it certain benefits in the way it handles and steers and looks as well. They're certainly one of those special things."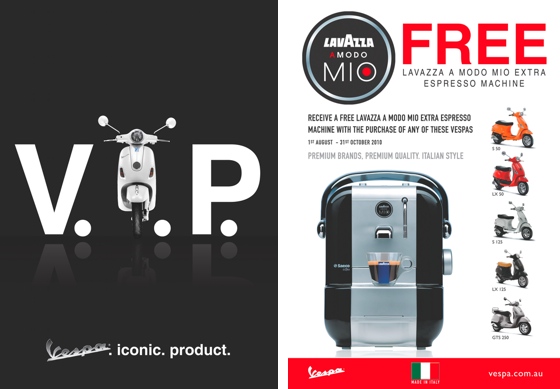 Borrowing cool
As Gloyne pointed out, the brand alone punches well above its potential market weight, and through cross-promotion their relatively bantam media spend gets in the ring with the heavies of FMCG. Mass-appeal brands from a number of categories approach Vespa hoping some of its Italian-cool shtick might stick. Even other Italian brands: Lavazza is a current partner.
"We actually do quite a bit of cross-promotion, there's a lot of people out there who want to attach their brand to our brand, because they might have a good product, but it maybe doesn't have that connection, it doesn't have that cool factor – I hate saying cool because the moment you say something is cool, nobody wants it. Products are either cool or they're not. You can't make a product cool, but you can associate it with something and people might be more accepting of that, if it's a desirable product. So we do quite a number of cross-promotions, sometimes it's with coffee, we've done it with an Italian grocery-style products, quite often supermarket type products: La Gina tomatoes."
Despite the obvious potential for PR disaster, alcohol companies often come a-knockin'. And such is the brand's value that Vespa doesn't submit.
"We could sell 20 or 30 bikes a year through the promotions," claims Jarrett.
Gloyne interjects, "I think the most we did in one year was 60, but 20 of those went to one company. That was an alcohol once again: Midori. And that was a big campaign. They did 20 Vespas and each one of them was custom-painted as well.
"A fair bit of grog goes through, which is sort of weird, because a lot of the time automotive or motorcycle companies, they all say, 'Don't go with the alcohol,' but usually it's those corporations who are the first ones to break the rules themselves when an alcohol company comes to them. We've done cross-promotions with Brown Brothers. Sometimes it might be a chain, a Cellarbrations or somebody like that.
"The good thing about those is we're not giving away the product, they actually buy them from us but at a special rate, a promotional type rate, but for us, that gives us reach into the mass market, because most of those products are talking to the 100 percent… They're out there in that mass market. They can afford to be on supermarket shelves, petrol stations, television, wherever, and so we go along for the ride. But they're happy to have us along for the ride because at the same time, they're hitchhiking on us."
Ciao
"People see a motorcycle riding down the street and they don't say, 'There goes a Harley Davidson', irrespective of what it is. What they do say though, if they see a scooter going down the road, is, 'There goes a Vespa', even if it's not a Vespa."
With a category-defining brand that hasn't suffered a serious PR crisis nor a decline in popularity, it becomes difficult to conclude poignantly. I can recommend a cheeky two-hour test ride however – like me you'll know what this brand is about within 30 seconds (excitable Germans or not).
Your Vespa will gift you with stories; you will be stopped on the streets. It's an item for the practical. It's an item for the extrovert. It's an item for the egoist.
I'm about to drop by the bank.