MarCast presents: Break-fest Live – exploring unorthodox attention and doing good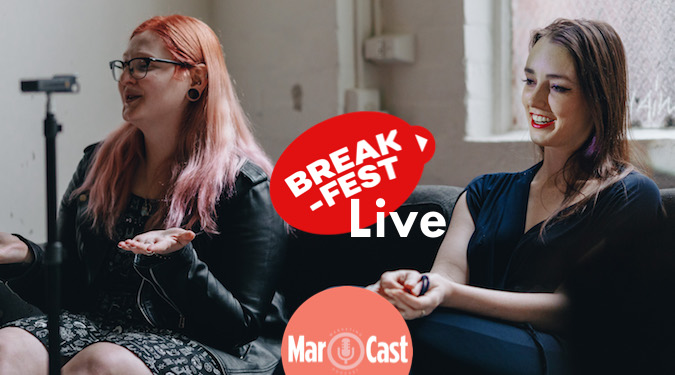 Marketing mag is proud to present you with our new podcast series, Break-fest Live, recorded live in Melbourne. Our first episode with the founders of Assembly Four is now available wherever you get your podcasts.
We are so pleased to introduce you to Break-fest Live, our new podcast recorded in front of a live audience right at home in Melbourne. With Break-fest Live, we'll cover inadvertent marketing success, unorthodox attention grabbing and the art of doing good business.
As you may have seen earlier in the year, Marketing has partnered with Melbourne creative agency Pretty Neat to deliver a series of breakfast events (called Break-fest) in Melbourne. At each event, we'll record a live conversation with world-class marketers, technology entrepreneurs, people using business for good and everyone in between – because sometimes the best marketing doesn't come from marketers.
In our first episode, which is live now, Pretty Neat managing director Warren Davies and Marketing assistant editor Josh Loh interview the founders of Assembly Four, Eliza Sorenson and Lola Hunt. Sorenson and Hunt share their mission to build technology platforms for sex workers. Their largest platform, Switter, now supports more than 270,000 users.
We learn about the digital and systemic hurdles legal sex workers still battle in Australia; how SESTA and FOSTA legislation in the US is impacted sex workers around the world; why Assembly Four had to get an Estonian e-residency to operate in Australia; trends in traditional social media cracking down on raunchy content; and much more.
Marketing's chat with Assembly Four is now live. Wrap your ears around it today on Apple Podcasts, Spotify or Google Play. 
On the externalities of Trump's FOSTA and SESTA legislation
When the amendments happened… it wasn't just the sex industry that were impacted. Places like dating apps, for example – Tinder, Bumble, even AirBnB… just kicked people off because they [thought], 'well I'm not going to run the risk' or shut down because it just wasn't financial viable for them to manage it. There's also the [management] of adverts – if you change any of the advertising [phrasing], you are also very much facilitating. So moderation has also been something that's taken a hit as part of this legislation.
On struggling through restricted services
A big part of launching Switter and Tryst was that we really had to avoid using US services. The workers in Australia weren't as affected [by FOSTA and SETSA] as workers in the US – in Australia, our website stayed up for the most part. When this law passed, it's a bit like waking up in the morning, going to work, and [finding that] your building wasn't there. And you're like, 'well, what do I do? How do I feed my kids?' So a big part of launching Switter and Tryst was not using US services, so you can imagine… not using AWS, not using Google services – how would you do your advertising if you were banned off the majority of services?
On rejection from Australian finance
When we first started, we tried to go through the standard banks, we tried some of the ethical banks in Australia, some of the big banks, and we got denied. We're allowed to have savings accounts with these folks, but not allowed to have merchant facilities, credit card facilities or a business credit card. [Typically we would get] no response from the banks. The one letter I do have, which I need to get framed, says 'we can not tell you due to our privacy concerns'. Or they have moral clauses. So, banks have moral clauses?
Marketing's chat with Assembly Four is now live. Wrap your ears around it today on Apple Podcasts, Spotify or Google Play.
MarCast is made possible by Hays marketing and digital. The recruiting experts in marketing and digital roles across Australia, for a wide range of industries and job functions. For the latest insights on what it takes to be a marketing director, download Hays' 'DNA of a Marketing Director' report.