Nando's is getting medical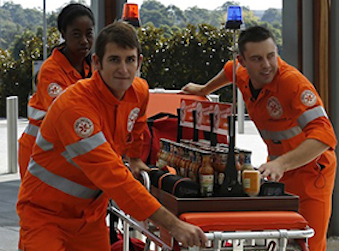 Nando's new campaign has seen it take a medical approach to office workers' bland lunches by offering 're-sauce-itation' by a team of 'PERi-Medics'.
The campaign, which saw Nando's Grocery Australia team up with word of mouth agency 1000heads, has the PERi-Medics turning up at offices and administering 'emergency relief' to bland or boring food.
A Nando's press release about the new campaign explains:
"By assessing blandness, checking for severe plain and dealing with all sorts of food in need of help, the PERi-Medics administer food re-sauce-itation to affected meals. Along with sampling, a series of games are played to encourage interaction on and offline, as well as performing the induction of a new PERi-Medic at each office.
"Upon exit, the PERi-Medic team leaves behind an emergency re-sauce-itation chart, vouchers and countless bottles of Peri-Peri to be used at the office."
The campaign also consists of a social media strategy, PR and minimal online advertising, and teams of PERi-Medics have already paid visits to Optus and Komatsu Australia. Spoof job ads have also been placed in local and metro papers with a call to action for workers to volunteer their office for becoming an authorised PERi-Medic.
"We designed the campaign to allow people to experience the transformation of their own ordinary lunches first-hand," says Lena Habkouk, account director, 1000heads.
"Reading a recipe card can only go so far," continues Habkouk. "Having the ingredients at hand makes a product trial a lot easier. Through the use of a creative execution, we are able to provide a sampling environment that not only gets the product in the hands of consumers, it provides a fun and memorable experience – which encourages word of mouth sharing."
http://youtu.be/euYdKPdaDxk