'Asking For a Friend' initiative provides anonymous mental health support for marketers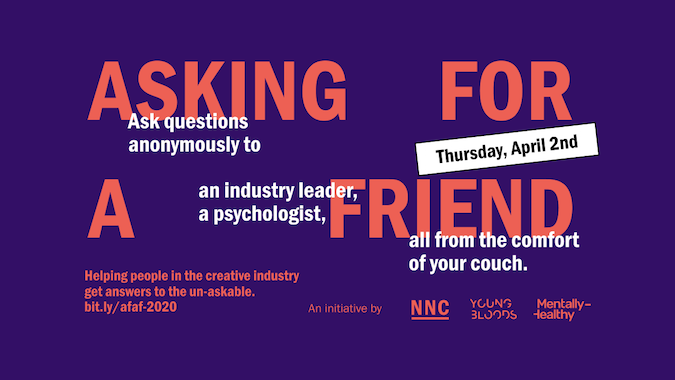 Mentally Healthy, Never Not Creative and YoungBloods Australia are working together to launch a new monthly webinar where mental health experts join experienced leaders from the media and marketing industry to answer anonymously submitted questions.
The 'Asking For a Friend' initiative allows professionals in the media and marketing industry to anonymously ask the 'unaskable' questions that they don't feel comfortable or safe discussing with managers or leaders.
The first webinar will place on Thursday 2 April 2020 at 12:30pm AEDT and will focus on isolation and uncertainty. The theme will be discussed by an expert in mental health, psychotherapist Katie Feder, and an industry insider, executive creative director of Colenso BBDO Maria Devereux. 
Andy Wright, founder of Never Not Creative and co-chair of Mentally Healthy, commented that the industry is in a challenging place: "When times are tough, like they are now, we hope we can turn to each other. But there are certain questions that we choose to keep to ourselves and suffer in silence, fearful of how we'll be treated or the opportunities you might miss out on."
"The Asking For A Friend series is just what we all need right now. We have to stay connected, but we may also be more cautious than usual when saying what's really going on in our minds. Virtual connectivity throws out a lot of communication nuances. Being able to say what you really think without fear of judgement could come to some as a big relief," says Linh Diep, national chair of Youngbloods.
Live webinars are limited to 100 participants but will be made available online within 24 hours for anyone to access.