Oakley brings its pop-up skate park and creative space to Sydney
Oakley's global director of brand communications explains why it's opening a pop-up skate park and creative space for workshops and activities for the local skate community in Sydney's Surry Hills.
Following on from successful similar events in Los Angeles and London, 'Oakley In Residence: Sydney' is the first program of its kind by Oakley in Australia. The project aims to engage the community with creative and interactive activities in line with Oakley's brand platform, 'One Obsession'.
Oakley sponsored skateboarders Eric Koston, Sean Malto and Curren Caples, with photographer Atiba Jefferson, are leading the programming, which brings together local athletes, photographers and filmmakers.
The venue at  is open at 74 Commonwealth Street until 29 November, offering a weekly schedule of workshops, exclusive exhibitions, interactive panel discussions, art installations, athlete meet ups, skate sessions, film screenings and more.
Some of the activities and features include:
'Destination Sydney', an art exhibition showcasing the work of photographers Mike O'Meally and Andrew Peters, partnering with Atiba Jefferson, chronicling iconic skate moments from the last 20 years,

'Skateable' sculptures designed by local artist Brett Chan,

artist Anthony Lister has painted a mural on the outside of the space, and

art workshops and screening events by non-profits Noffs Foundation and Street University.
While most of the programming will be non-product specific, Oakley is also using the space to launch Latch, a new sunglasses product that features functionality ideal for skateboarding.
The Sydney event follows on from the brand proving the 'In Residence' concept elsewhere. Earlier this year, Oakley hosted a skate-inspired community space in Los Angeles and an urban cycling creative workshop in London.
Marketing caught up with Tom Cartmale, Oakley's global director of brand communications, to discuss how this project fits into the brand's broader strategy.
Marketing: What can you tell us about what you've got planned for 'Oakley in Residence: Sydney'?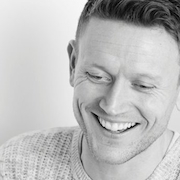 Tom Cartmale: It's part of a global series of events and spaces that we've opened up kind of all round the world. It started in LA at the beginning of the year with kind of an art studio gallery space in downtown LA, it then moved to London where it was open for like five months and it was connected to cycling; a bike workshop-come-cafe area. And now we move onto Sydney, which is connected to some of the global professional skateboarders which we sponsor and work with, but also local skaters, local artists, local photographers.
The reason we're doing it is because skate and cycling this year have been really important to Oakley, and we really wanted to explore the culture and the community around those sports.
The ambition is to make them kind of creative spaces, community spaces, they're kind of artistic spaces as well. They have different exhibitions, different programs of events – whether its workshops or film screenings, and there's definitely some consistency in the locations that we're going to – downtown LA to East London to Surry Hills.
It's a bit different for us because we're not necessarily there from a retail or commercial perspective, we're there to create this kind of hangout space and this creative space.
Mike O'Meally and Andrew Peters have created created this photography exhibition called 'Destination Sydney', and even though a lot of the guys who have come out are from California, they've spent a lot of time in Sydney, they've done a lot of trips and they know the city really well. Atiba, the photographer who's created the exhibition with Mike and Andrew, love Sydney – he says it feels like one of the most progressive, coolest places to skate.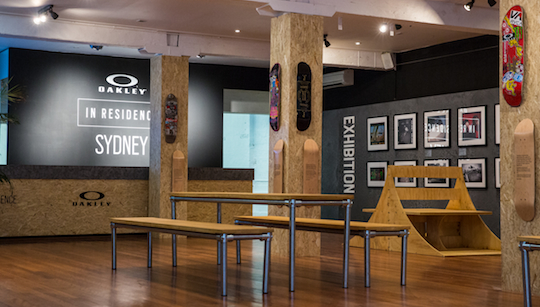 M: Tell me about your brand ambassadors – the pro skateboarders you've got on board to help out. How does that arrangement work and what's so important about having them on board?
TC: With the Latch product design, we've created signature products for athletes in the past, but this is the first time we've created a collective with three skaters: Eric Koston, Sean Malto and Curren Caples. Without going into too much detail, it's a new lifestyle piece but it has functionality built into it that's great for skateboarders. iI enables them to kind of hook the glasses onto their shirts so it doesn't fall off when they're skateboarding.
'In Residence: Sydney' is the perfect backdrop [to the product launch].
So there's a nice design story to it. And then they obviously have connections, as Oakley does, to some of the local skaters and photographers. It's given them a great excuse to come together and curate the space, not just in terms of the product display but in terms of artwork, photography, there's a local artist that they brought in called Anthony Lister who's created a large scale mural on the exterior of the building.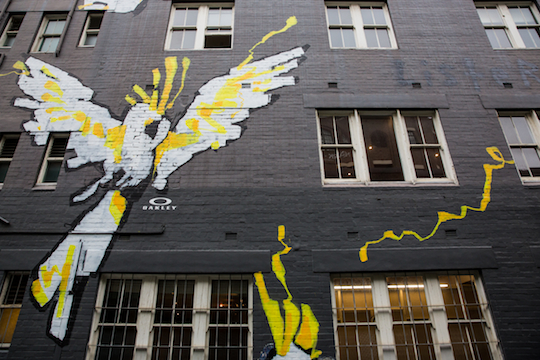 The other local artist to mention is a guy called Brett Chan, who's designed what we're calling 'skateable sculptures' that will come together in the space.
One thing we wanted to happen in the location is we didn't want it to be passive; it's not just a typical gallery space where you come and look at photographs or artwork and then leave; we wanted people to spend time in the space, we wanted people to be creative in the space, and that's through the programming and workshops, but I guess most importantly of all, we want people to come and skate the space as well.
M: Tell me about the target market. You mentioned before you're really focusing on the skating and the cycling communities. Is this program also aiming to get to a younger market?
TC: Oakley would say that the consumer that we talk to is connected by an attitude as opposed to an age. It's not necessarily us chasing after a younger consumer, but my job is to find new, relevant, authentic ways for Oakley to connect with quite a cross-section of consumers. People that have grown up with Oakley, but also a younger generation as well, that are really active in our world, particularly in cities and particularly in these street sports. There's such a diverse community around skate and cycle. Oakley's known for doing things on the performance end, with say elite cycling or Tour de France, and it's important to balance that with pushing through the cultures of that sport as well – it's exploring the art and creativity and the different facets of skateboarding, whatever the age of people that skate, a shared passion for a creative pursuit beyond skateboarding. This is the perfect place to indulge those different pursuits.
M: The 'In Residence' concept ties into Oakley's broader brand platform, 'One Obsession'. Can you tell me about that and how it differs from the way Oakley's positioned itself in the past?
'In Residence' is our way of bringing 'One Obsession' to life. 'One Obsession' is our first global marketing campaign in terms of it was a unified message. It lived everywhere in every region, it's tied to all sorts of different athletes, all sorts of different sports. Whether that's the performance sports, traditional sports, it could be a golfer, it could be a triathlete, it could be a cricketer, but at the same time it could be a skater, a surfer, a bmx-er.
The reason why we created that campaign and that storyline was because they've all got something in common regardless of what they actually do on the field of play, and we felt it's an obsession; it's a kind of a fanaticism, it's a real inner drive and passion for their sports. Obviously Oakley can relate to that and we feel that's true of us as well in terms of our culture at Oakley and our approach to design and R and D.
M: It seems that you're working on a 'think global, act local' philosophy. Is the same true of other marketing activities that you've been doing lately?
TC: Yeah, it's a global message but it's been nuanced by region. Japan have used it in a baseball context with one of their local athletes, China – badminton, local athlete.
I think what we've done with social, again we've had a global conversation around what we've called #liveyours. A bit like 'In Residence', it was about people being able to participate and share – 'how do you live your obsession?'
It's taken us to some really interesting places in terms of conversation with our consumer, user-generated content, and actually unifying all these different athletes from around the world, and therefore all these consumers around the world. I think we have over 500 global athletes from around the world that all rallied behind it, and it doesn't matter what sport or what country, they kind of used it as a topic of a way of having a topic of conversation with people.
M: Going back to the pop-up skate park, where does ROI come in? How do you go about looking at measurements and reflecting on your success?
TC: It's the first time we've done it so we don't have a benchmark. I mean, for Sydney, there are learnings from LA and London; we feel like we've got momentum and we know what works and what doesn't work so well. But there's no benchmark from previous years because this is our first step into this world.
We look at the obviously physical KPIs in terms of if the programming is successful – good attendance, good participation, how many people are using the skate facility. In London, we were open for five months, which is a much longer time, how do we sustain the interest? How do we get people to keep coming back?
Then there's the digital side of it as well. 'In Residence' lives as a platform on Oakley.com. #InResidence, #LiveYours, is a social conversation as well, so we look at engagement, reach, participation, and I think they're the metrics we value most at this stage as opposed to the commercial element. Our priorities are engaging and building an engaged audience.
M: What about future projects? Do you have plans to move to other parts of the world beyond Sydney?
TC: Yes we do, I can't say exactly where. We're still in the ideation phase. We've done one in North America, one in Europe, now one in Australia. We've proved the concept.
We actually feel it's actually quite versatile, not just in terms of the sport we can attach it to or the region or city you take it to, but I actually think we could be there for a one-day pop-up through to a semi-permanent residency. The team in London used it as pretty much a backdrop and a physical space for all sorts of activations; it was a really important brand space to them. I think it's definitely going to continue, I think it will be applied to different sports and hopefully go to regions and cities that we're yet to visit as well.