Realestate.com.au's journey towards a bolder brand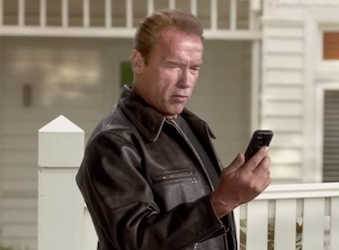 Karl Treacher plays interviewer with REA Group's Natalie Feehan, group manager of marketing strategy on the brand's journey from functional to relationship via Austria (full disclosure: she's also his client). REA Group's Realestate.com.au is a leading brand moving from a functional position to a relationship with its audience.
Karl Treacher: Tell us about how the Realestate.com.au brand changed in 2014.
Natalie Feehan: Realestate.com.au has always been a market-leading brand in its category. Over the past 12 months we've recognised the strength of the brand and what it means above and beyond being number one.
Our objectives have been to connect with the passion that Australians have for property, and to demonstrate that there is more to the Realestate.com.au brand than just property listings for sale and rent. As one of Australia's leading digital businesses, we wanted people to think about our brand and company differently.
Until recently, people saw us as an extremely functional brand, without a lot of personality. Despite the fact that they are highly engaged with our product and visit regularly, they just didn't know much about us.
Over the last 12 months we've become bolder and braver with our brand. We have taken some risks, and tried to break through the advertising techniques traditionally used within the category to demonstrate who we are and what we are about. That's how our new positioning 'Australia Lives Here' and our campaign featuring Arnold Schwarzenegger came about.
READ: Realestate.com.au enlists Arnold Schwarzenegger to assault Australian screens
KT: What are the key opportunities you are looking to capitalise on following Realestate.com.au's latest brand activity?
NF: Ultimately, I'd like to surprise people – help them to explore our site, our products and our brand. Realestate.com.au is an amazing business. It was started 16 years ago in a garage, and is now one of Australia's most successful digital companies – an ASX Top 50 company, with market-leading websites in multiple countries around the world, 700-plus employees and an incredibly strong, innovative culture. We do cool stuff. We do good stuff.
I'm hoping that using Arnie in our recent brand campaign opens the door for people to be interested in our brand, better understand our brand and ultimately be more engaged. I'd like people to read our blog articles, participate in our #propchat events, research sold prices, look for renovation ideas and read about the innovations created at our Hack Days. I'd love people to start feeling as emotionally connected withRealestate.com.au as they do with property.
KT: What do you believe makes your brand the standout in its category?
NF: We are a digital leading business that is committed to innovation and delivering relevant and meaningful experiences. Because Australians love property, people continually visit Realestate.com.au for information and, sometimes, just to check out what the neighbour's house sold for. We connect with people about one of the things that matters most in their lives: their home.
This, combined with the fact that we have the most comprehensive property information, means that we can deliver an experience that is highly relevant and meaningful. It's the comprehensiveness of our offering that makes us stand out. Our new positioning reflects why we stand out in the category: because when it comes to property 'Australia Lives Here'.
KT: From this recent high-profile experience, do you have any lessons for other brands looking to create brand relevance and/or cut-through?
NF: Brands need to be clear about who they are and what they stand for, before they make any decisions about promotion. The first part of our strategy was to clearly articulate our brand identity, then we had to assess that all the experiences we deliver, internal and external, align to that identity.
We then worked with our creative agency to develop a new positioning statement or tagline that better articulated this identity – that resulted in the shift from 'number one' to 'Australia Lives Here'.
It was only once we had the positioning statement that we then briefed in the creative execution and launch campaign. The campaign, and using Arnold Schwarzenegger to tell the story, was a fantastic concept that we knew from the start was right. But it was only right because it was so aligned with the story that we wanted to tell, and it was done in a way that made it relevant for many.
I think we see a lot of 'second best idea' campaigns, which are selected on the basis that they are safer, or easier to get through the approval process, but not necessarily the best concept. Be bold and be brave, take risks.
KT: How has the role of the marketing director/CMO changed?
NF: I want to highlight two [ways]. First, successful brands need to align every experience internally and externally. This used to be a reasonably easy task, as the number of channels was somewhat limited. Now you can't manage every channel, every touch point – they are too vast, and many are outside your reach. You can't control what people say about you on social media. You can respond, you can shape, but you can't control. Because of this, your company's culture becomes critically important. Everyone and everything internally has to be aligned around the brand, to have the best chance at success. Instead of a marketing team of 10, you then have an organisation of 100-plus helping you to build out the brand. Businesses are starting to recognise the importance of culture. At REA, for example, 'People and Brand' is essentially a single function that comprises what traditionally would have been 'Marketing' and 'HR'. This enables us to create the best brand internally and externally.
Second, through technology, marketing is able to demonstrate its value to the business in a way that was previously more difficult. We can report in real time on results, optimise spend and, ultimately, marketing is now enabling future business sustainability by creating connections with customers. The digital evolution has changed the game for many businesses; it's now more competitive, there is more noise, and creating brand loyalty is harder than ever. The new role of marketing is about creating scalable business and marketing practices that enable a brand to deliver relevant and meaningful experiences – so that they connect with the audience better than anyone else."