Now can we party like it's 1999?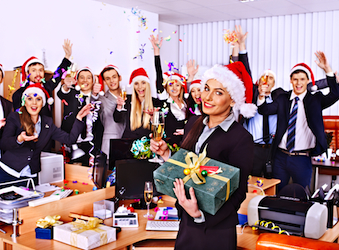 The Christmas party season has arrived, but in this post-GFC world, are big bashes out of style? They don't make parties like they used to, writes Caroline Regidor.
The financial crisis' sobering effect on corporate celebrations has been protracted; the resulting paradigm, complex. Seven years on, like a run of bad luck, is it safe to say the moratorium has ended? Can financial services staff once again fight for their right to party?
There were always a few exceptions. Macquarie reportedly spent half a million dollars on their 2008 Christmas bash. The millionaire factory workers shook their booties to The Presets, while markets around the world bottomed out.
For the most part though, since the GFC, the financial services sector has tightened its purse strings for entertainment expenses, or at least made a point of appearing frugal, for the sake of propriety.
I met a promising young thing on Friday night. Conscientious, courteous and sociable, he's what you think of when someone refers to a genuine asset for any organisation. He's about to join a former employer of mine.
With no corporate memory of the GFC, high on his list of priorities is arriving at the Big Four bank just in time for the Christmas party. Bless. Little did he know, they don't make parties like they used to.
HR and management find themselves in a quandary, wanting to appeal to the next generation of bright grads and motivate current staff, as well as managing the risk of being busted by the Daily Tele for displaying extravagant tastes. (Actually, these days the SMH has become the more zealous fat-cat police, but I digress.)
Record profits continue to be announced, but perceptions must be carefully managed. The sector continues to face public scrutiny, with pollies revisiting FOFA (future of financial advice) and ASIC (Australian Securities and Investments Commission) making up for its handling of the CFP scandal by very publicly claiming scalps.
Another barometer is the suffering of the poster child for reputational damage. The latest Roy Morgan survey on customer satisfaction shows the CBA's rating has dropped, and its ranking has been falling according to a longer-term measurement called the most favoured institution (MFI) satisfaction score.
The CBA's ratings fell around the time when Fairfax upped the ante on its reporting of the financial planning scandal.
Yes, there are exceptions. I've seen more and more of them pop up, subtle as champagne corks. Back on the agenda are conferences in Shanghai, research trips to the US and love-ins in London. Pre-GFC style entertainment is making a comeback.
My prediction is that this year most of the best parties will remain intimate, behind closed doors in private rooms at hatted restaurants. Orange is not the new black. Not just yet. Big bashes will still be out of style for businesses that need to stay beige in the still tempestuous environment.
Which is just fine for most stakeholders. In the minority are bright young things who don't tend to get invites to sit-down dinners with executive teams at swish restaurants. They'll have to wait a little bit longer to experience what it's like to party like it's 1999.