RM Williams: inside the brand's big plans to take 'rugged elegance' to the world
Marketing chats with Raju Vuppalapati, CEO of RM Williams, about how the antipodean artisan is balancing heritage and craftsmanship with the biggest global push the brand has ever seen.
RM Williams has operated for close to 85 years, and is one of Australia's most iconic brands. The swagman-to-millionaire story of Reginald Murray Williams AO CMG has carried on beyond him, in a way, as the luxury boot-maker makes global tracks.
In 2013, 49.9% of the company was acquired by L Capital, the private equity affiliate of LVMH. At that time, RM Williams consisted of 50 retail stores, had 900 stockists and exported to 15 countries.
Raju Vuppalapati was brought into the company in November 2014. He'd previously spent 19 years with Levi Strauss, most recently as president and managing director for Africa, Middle East, Australia, and New Zealand.
Right now, the only international store owned by RM Williams is one in Newborn Street, London. That's about to change in a big way.
Marketing asked Vuppalapati about his mission to take RM Williams to the world, ahead of his appearance at deLux16.
Marketing: Set the scene of where the brand was at the start of this journey and how that's changing.
Raju Vuppalapati: The business was largely US focused in terms of its distribution footprint. Having said that, we were present in NZ to stockists, we had one store in the UK with some wholesale business, and we were in Scandinavia through a distributor.
Roughly 85% of our business was based out of Australia. The whole investment case behind RM Williams was to not only make this brand relevant in Australia but also look at international.
As we sit today, we are poised to launch the brand in our own retail and premium department stores with priorities being US, UK, New Zealand and Scandinavia.
We've just launched our first new international store in Wellington, and we're opening a store in the UK in July, an Auckland store in August, and a flagship store in New York's SoHo in September. That will be followed by a few more stores in the US and UK.
Broadly, we go forward now to really start taking this brand to the rest of the world. At the same time we're investing in Australia. We're trying to look at new stores, whether it's in Toowoomba, Collins Street or Pacific Fair. We're in them all. So it's not just international, we position the brand in the right locations and the key cities and towns of Australia.
M: All these new stores are owned and operated?
RV: That's right. At this point in time, all stores except stores in Scandinavia will be owned and operated by RM Williams.
As we look forward to the next two years, we will at least have 10 more new stores in priority markets, and then will scale up. In addition to that we are also going to test launch the brand in Nordstrom in the US. We are going to launch the brand in Bloomingdales, we will launch the brand in Harrod's and already at Liberty in the UK.
M: In terms of the awareness of the brand, how well known is it in other countries and what are you doing to grow that?
RV: For a brand of our heritage, which is 84 years, it's been well known by fans or consumers who have visited Australia at different points in their time and discovered the brand. So it's through discovery and association to Australia that people get to know RM Williams.
We have not been a part of the local landscape in most local markets. So, while we have strong following around the world, we've not consciously made effort to talk about RM Williams the way you build great brands.
What we're trying to do is, to start with, be sure that the brand is positioned so that it resonates not just in Australia but around the world, and we started by really going back to the provenance of RM Williams.
At the end of the day we are still an Australian brand, so we look at the branding. We did a lot of work to ensure that the branding fits in with what the company's all about. Then we moved forward and asked, 'What is the positioning and how do we ensure that the positioning resonates and respects the heritage, but also moves forward and looks at relevancy and being current?'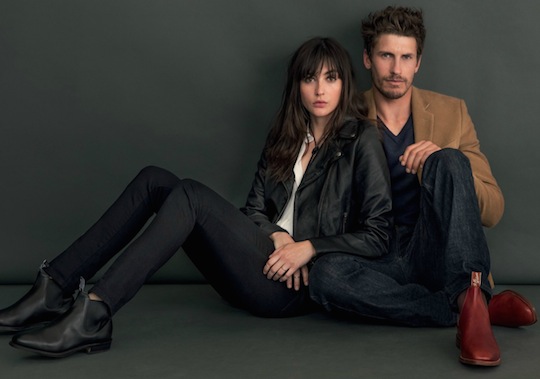 M: What elements of the look and feel have changed?
RV: There's a lot of work that's been done on packaging and creative work.
Then we went back and looked at it from from the point of view that, at the end of the day, most consumers look at the brand at the point of touch, our retail stores. So we went back and redesigned the entire store. It draws inspiration from the outback, the woolshed, the colours of the Australian landscape, and integrated it into a modern contemporary and responsible build. That format has been tested in Doncaster and Darwin and that's the format in which we're going to show consumers the new version of what RM Williams is.
And also we tried to bring a lot more craft and storytelling into our communications. A little bit of authenticity. Handcrafted, made-in-Australia storytelling. We've used digital and videos to really talk about craftsmanship. We see ourselves as a footwear, leather and accessories and outerwear kind of a brand but, beyond that, we wanted to be sure that the positioning and storytelling is all integrated.
The branding work across all the elements sort of links. We wanted to make sure that we were very very focussed in what we are trying to tell, and then invest behind what RM Williams is all about, and focus on the key priority markets.
We're trying to be true to who we are and proud about the fact this is an Aussie brand.
M: Who's the customer, and does it differ between markets?
RV: I think because of our history in Australia, we got a core of very, very loyal fans. They are people from the heartland, people who have worked on the land, out in the outback, who if they come to the cities continue to embrace the brand.
We also have the modern, younger Australians who buy the brand in Australia, between 25 and 35, who love the boots.
Then we have the 'global generation' – people that travel anywhere in the world and are looking for authentic brands which have a story and a unique proposition. They can go anywhere and that's an audience we have in Australia, but we haven't often looked at these consumers around the world.
If you'd asked me what the target bullseye is, we're talking about 25-35 years old, globally mobile consumers who seek brands that have authenticity, have great craftsmanship, and who love originality.
M: Is it an urban audience you're looking at more now?
RV: I don't think we approach it that way, because, at the end of the day, in the world we live people are seriously moving from urban to rural and the other way around. It's a lifestyle that's coming in play. The uniqueness of what RM Williams is, as a company, we can stand fairly well in the boardrooms, with people wearing suits, and we can be part of the landscape in the outback, on the farm, where you can put on your boots and your jacket and get in your ute and spend a weekend in the countryside.
That's what we believe the core essence of the brand is, what we call 'rugged elegance'. The rugged nature of the Australian outback, we were born in the Australian outback.
If you are on a horse you can wear an RM Williams and it works perfectly well. You can give it a bit of a polish and take the same shoe and walk into a board meeting wearing it with a suit. That's the essence of what we're trying to talk to and we're sure we can do it.
When it comes to the styling, we believe there are enough proof points from past, as well as current usership, that suggest it can sit very well in both rural and urban contexts.
M: In terms of taking an Australian brand and selling it to the world, does the cliche 'Australiana' stuff still work, or do you have to define or create a new style of Australiana?
RV: There's a pioneering spirit of Australia, but what we don't want to use is a stereotypical image of Australians. The US think of Australians different from the Brits. It's different from the Scandinavians. It's more about asking, 'What is it that encapsulates RM Williams?'
That's got to do with authenticity, honesty, craftsmanship.
When we spoke with people around the world over the last six months, first of all, everyone knows about RM Williams, but they haven't heard the story about RM Williams. At best, they've bought, or heard about from their friends, or seen it in their personal experience when they've travelled Australia.
When you talk about how these boots were invented, what the purpose of these boots was and how they were manufactured, these stories, in my mind, are stories that are universal.
The values we present are universal values, yes, but the fact that we are from Australia makes it a lot more compelling, because there aren't Australian brands in the space we are trying to position ourselves.
If you ask a consumer in the US or UK and you talk about handcrafting and you talk about beautiful leather, and well designed products with purpose, they'll probably think about French, Italian, maybe British products. The last thing they'll think about is an Australian company.
So, I am fairly excited with the consumer work and the stories we have are so compelling. If we can bring them to life in a way that is universal, it should cut across whether it's Tokyo, Beijing, LA or New York, because it's all rooted in authenticity and truth. That's what we are trying to do.
_
Raju Vuppalapati will be appearing at luxury business forum deLux16 in Sydney on 29 August.