Switch aisles: disruption in a cluttered shopper environment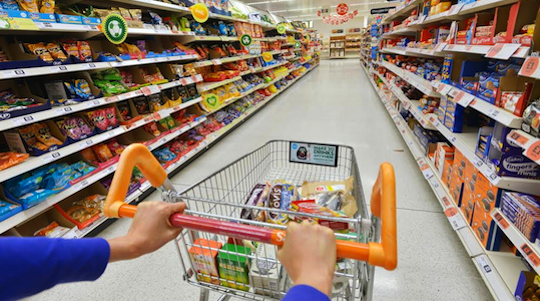 Will Feutrill takes us down three aisles to revamp our shopper marketing strategies beyond a continual promotional or discounting cycle.
In the marketing world, good shopper marketing by definition should disrupt a consumer's thought process toward a category or brand at the point of purchase. It is our job to interrupt their monotonous, metronomic, autopilot existence before our product, and introduce new thoughts or beliefs that resonate with an emotional need to result in a life-changing, uplifting "I can't believe it's not butter" moment. This moment will of course change the course of humanity and naturally will result in purchase, loyalty and endless advocacy. If we do it right, Facebook may just collapse under the weight of positive sentiment toward our brand… right?
In the real world, Mum is on autopilot because she is generally content and gets force-fed up to 3000 'disruptive' messages a day. Shopping is a chore, a necessary evil. So the days of screaming starbursts and cash, car, holiday promotions delivering anything other than prize pigs are over. We as an industry have to redefine what disruption means in a shopper sense.
Coles and Woolworths in Australia are continuing to challenge marketers and their agencies to come up with genuinely new tactics to increase basket size and encourage shoppers to look for value beyond just price. And if you're one of the 47.5% of businesses who have increased your shopper marketing spend in 2015, you really should consider ways of demonstrating real value to both your end customer and your retailer partner.
Below we look at three aisles you can walk down to shake up your shopper marketing strategy beyond a continual promotional or discounting cycle.
Aisle 1: Product innovation
Brand Truth: Immediate uplift in sales, natural cross-pollination to existing SKUs.
Retailer Truth: New news for customers drives foot traffic.
While product innovation can be expensive, it is incredibly effective and can drive significant social conversation and trial (think Vegemite Chocolate).
Countless brands here and around the world use their own social channels to ask for suggestions of the next innovation to drive participation with their brand and guarantee, at least on some level, purchase intention.
What we do know is Coles and Woolworths invest heavily in supporting what's new. In fact, Coles have their very own 'new girl' and Woolies their very own pink swirl Austin Powers thing (which despite cynicism is actually incredibly effective!). The power of being able to offer a Coles or Woolworths exclusive will make the negotiations with your category manager far more successful.
But How?
Unfortunately, this depends entirely on your supply chain and manufacturing arms. We know some have the ability to change lines within a few days, others it will take years. But accepting 'it's not possible' as an answer is what Kodak did. Where are they now?
Aisle 2: Cross category promotion
Brand Truth: Increase in trial, introduction of occasion based consumption and cross-pollination from partner's consumers.
Retailer Truth: Increased basket size and higher margin purchases.
The buzz phrase in shopper at the moment, particularly with Woolworths, is cross category promotion. Essentially, how we match multiple products together to increase overall basket size.
The opportunity here is to demonstrate at the point of purchase how your brand can combine with others to create a complete occasion. Take Arnott's Cruskits & John West Tuna's "A Lighter Lunch" campaign. Based on an insight that people are on autopilot toward the bread aisle, Arnott's needed to show there was an alternative. Shoving boxes of biscuits off location wouldn't change the perception of cruskits even with the best wobbler the agency could produce. But showing the full lunch solution with John West Tuna meant consumers didn't have to think – it was all there in front of them. It's no wonder Woolworths holds this up as a best in show example.
But How?
Partnering is hard. Marketers are time poor and notoriously bad at returning calls/emails but all brands are in the same position. I would suggest the best way to get a response would be to talk to your shopper agency and get them on the task of finding a partner and coming up with the solution… you know they love to talk.
Aisle 3: Flip the tables
Brand Truth: You are under-utilising your digital spend and assets.
Retailer Truth: Brands driving traffic will help keep generics at bay.
When you next get your rate card out from Coles or Woolworths, have a look at how much they charge for a single promoted post to their Facebook followers. If the term daylight robbery comes to mind, then you're not understanding the power of social media. Nor, most likely, are you utilising your own digital presence to its full potential.
So many brands I have worked with in the past have significant social currency which they use for 'brand building' and 'content sharing'. But does that convert to actual sales? I wonder what Woolworths or Coles would say if you tagged your latest video with 'available now at Coles' or even created and posted content which promoted your cross category or product innovation at said retailer?
But How?
My strongest suggestion is to un-silo your digital team and work together to get the balance between shopper and brand messaging more coherent. Look at including using your own assets as part of your presentation to all your retail partners. And work on assigning a real value to your own followers, they have real currency!
The wrap
Getting your shopper marketing strategy together is hard work, more so here than anywhere else in the developed world. But getting it right will result in better support from your retailers and convert to real sales. We may not be able to change the course of human history just yet, but we might be able to get mum to change brands of washing detergent.
Will Feutrill is head of Melbourne at shopper marketing agency 31st:Second.