The flying kangarooted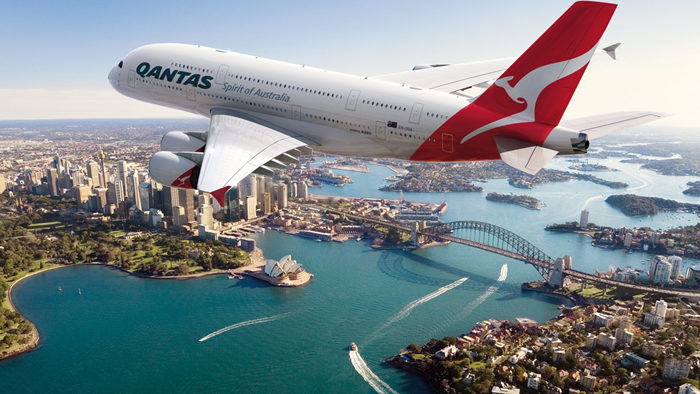 Remember when radio host Todd McKenney was caught with his pants off, unconscious in a park in Sydney's eastern suburbs, loaded to his eyeliner with drugs? Or how about when former NRL star Matty Johns was busted having group sex with 10 of his team mates on a New Zealand footy trip? Well, their brands weathered the storm nicely and look where they are now. Actually, don't bother. The point is, their brands didn't come to a grinding holt, in fact some would argue they improved as a result of these indiscretions (read ʻperverse poor judgements') and the associated press. Maybe that will also be the case for Qantas?
Wouldn't that be nice, you say?
No. It wouldn't be nice and it is very different from Qantas having their own style of rough intercourse with 68,000 paying customers and hundreds of thousands of passengers' friends and families. The two aforementioned clowns are B-grade entertainment personalities, not global service brands with a responsibility to their customers, employees and shareholders. Recent commentary has praised Alan Joyce for being ʻupfront' about the decision to strand innocent passengers and in many cases change people's lives forever. Consumers don't give two airline barf bags about Joyce's media skills, they care only that a company (brand) that they trusted to help them has let them down in a catastrophic way.
Here's a tiny sample of what people are saying (over 1,000 tweets per minute):
"Qantas I hate you with everything I can muster"
"Hate Qantas, refuse to fly with them"
"Does Qantas actually hate it's customers?"
"Even the Kings of Leon hate Qantas. Not quite the issue that will make then U@  of this generation, but it's a start"
NSW federal Labor MP Mike Kelly, who tweeted his followers: "Finding it increasingly difficult 2 accept credibility of Alan Joyce. Worried we will see the flying roo give way 2 the flying pig emblem."
What we will find as a result of this is a massive downturn in Qantas brand equity that in my opinion will take years to recover. And only then if Qantas begins to invest in its brand and service. The word from inside Qantas for years now has been ʻterrible culture'. Qantas is a service brand and, as a customer, this deliberate disregard for culture and branding is palpable through most experiences (and made more obvious due to the recent form of high performing brand Virgin Australia). Aside from the most recent industrial action, the toxic Qantas culture has been noticeable for years.
Alan (Joyce) if you are reading this do these 5 things now:
Understand the long-term damage that has occurred, forget about blame and begin building a new more overtly customer-focused strategy. Conceding fault will also help. Not all fault, but some. Actually, on second thought, Alan you need to go. Need to, have to – if the brand is to come back anytime soon. The longer you are around, the longer it will take for customers to build trust and warmth toward the brand.
Ask your successor to have a look around. The market Qantas are playing in is jam packed full of professionals who are investing in the two things that make or break a service brand: culture and brand experience. Get on board. if you don't know what I mean, take a good look at Cathay Pacific and just do what they do… but in your own way.
Go ballistic with your PR. Tell the whole story loudly and 1000 times in every way possible over the next three months. Right now there is still far too much confusion around Qantas' motives, the Government's role, and the unions. The general public hate working hard. People just want to quickly get hold of a story and then take a side and throw mud.
Apologise and be generous. If there is one single thing that is consistently emerging around the Qantas brand, it is that their leader is a greedy, selfish little man. I personally have no view on this and am merely repeating what I am picking up via Twitter etc. The information pertaining to Alan's pay increase couldn't come at a worse time. Australians, as we know, love to slaughter tall poppies, and short poppies make the job all that much easier.
Take a bath and freshen up. Qantas needs a brand adjustment and makeover. The brand has to make sweeping, well-publicised changes, giving credit to its customers for sticking by it. We know that deep down the customers who are loyal to Qantas base their loyalty on the same things that Dustan Hoffman did in Rain Man… they are safe. While this remains the case they will always retain brand equity with travelers, because at the very core of air travel brand bias is safety first. (Maslow would be nodding.)
For many Australians, the flying kangaroo was once something to be proud of. Australia's most iconic brand – best in class. Now it appears that the very same kangaroo has turned its back on those loyal in order to eat in the top paddock.