The Star Wars brand: an amazing force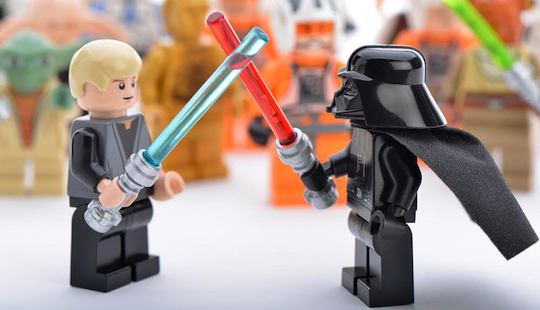 The much-anticipated Star Wars Episode VII: The Force Awakens is here, and it's already smashing box office records. Simon Bell looks into the strength the Star Wars brand has shown over the years – maintaining six key traits that give it true agility.
Like millions of others all over the world, my cousin-in-law Kit (who lives in Singapore) is a Star Wars fan. He was a child in the 70s when the franchise was born and his love for the brand has expanded over the years, and passed on to his own son. 
Stop and think about this for a moment. Sixteen years passed between the first trilogy (1977 to 1983) and the second (1999 to 2005) and from there, 10 years to the third (2015 to 2019). What makes Star Wars so appealing to so many people over so many years?
This enviable success is due to the fact the franchise has innovated while remaining true to what made it famous in the first place. By maintaining this tenuous balance, the brand meets the surprisingly complex expectations of consumers. They want brands to embrace change but stay true to heritage, to be accessible and responsive but to do so authentically, and to feel personalised to one yet relevant to all.
Star Wars seamlessly moves its brand across numerous platforms, displaying true agility according to six key traits:
Principled
Star Wars knows what it stands for: good conquering evil. The brand is bloody minded about this and perennially seeks new ways to deliver on point, whether it's gaming, fighting injustice alongside UNICEF or new character merchandise. The overarching theme always links back to restoring freedom and justice to the Galaxy (as dramatised by the princesses, Jedis and other creatures).
Adaptive
From the 70s until now, Star Wars has adjusted to new circumstances, and found new opportunities. I remember the colouring book from when I was a child, but today Star Wars endorses blogs, podcasts and websites created by fans. The brand is confident enough to embrace new media.
Responsible
Giving back has been important to George Lucas from day one. He used early screenings to raise money for charities around the world with a particular emphasis on children's healthcare and education. Star Wars: Force for Change, will support UNICEF Kid Power and help children around the world grow up healthy.
Multichannel
The brand uses many channels and experiences to engage with customers at the right time, in the right place, and in the right way. The Star Wars brands plays across e-commerce, social, merchandise, and events like Comic-con. Not only is the love kept alive between release dates, it is also extremely lucrative. According to online data, box office revenues are estimated at over US$4 billion, whilst merchandise has generated US$12 billion.
Global
While Star Wars was born in the US, it essentially has no home base, adopting a global mindset. With legions of international fans, the franchise has been translated into over 50 languages.
Open
Using online sites like Omaze.com, Harrison Ford and J.J. Abrams engage fans in seemingly personalised conversation.
It's these traits that has helped keep the Star Wars brand so relevant despite almost 40 years between A New Hope and The Force Awakens. Not all brands will be as successful and recognisable as Star Wars but these principles can be replicated to ensure relevance and success over many decades.  
My cousin-in-law summed it up better when he said, "I'm waiting to watch Luke, Han and Leia again, it'll be like having the holy trinity back". What brand doesn't want that kind of almost religious devotion? And just in time for Christmas too.
Simon Bell is executive director strategy South-East Asia at Landor.