Top10 marketing activations guaranteed to give you World Cup fever
With less than a day to go, marketers internationally are clawing at the opportunity to ride on the coattails of the global audience the World Cup attracts.
So of course providing engaging, thought-provoking content is key in creating a point of difference, which some top-notch marketers have done successfully; others not so much.
Here are our top 10 examples of World Cup marketing that's giving everyone World Cup fever before the first kick-off.
10. Adidas' bloody hearts
Adidas sparked international outrage after releasing a marketing campaign depicting World Cup stars with their hearts in their hands. Actual hearts. Of course they were really cow hearts, which had animal rights groups up in arms – labelling the campaign distasteful. In a series of images posted on Twitter and Instagram as part of an Adidas 'All In' marketing campaign, players including Germany's Lukas Podolski and Spain striker Diego Costa are shown holding the cow hearts with captions such as 'I will give my heart for my country.'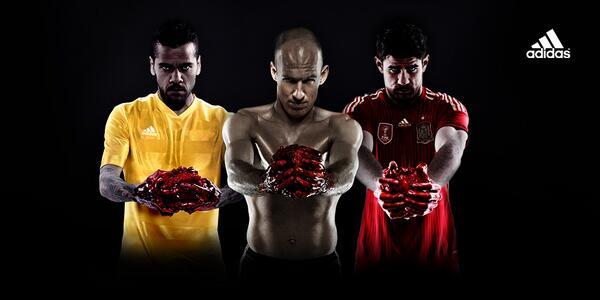 9. Adidas 'House Match'
In a much lighter offering from Adidas, the apparel giant has enlisted the help of football legends David Beckham and Zinedine Zidane. The general premise – Beckham (39) and Zidane (41) look on bored, watching youngsters Gareth Bale (24) and Lucas Moura (21) play a game of FIFA. Becks challenges them to a 'real' game. Said game takes place in the living room, and the four proceed to trash 'Beckingham Palace' before age trumps beauty and the football legends take out the win.
8. Nike 'The Last Game'
In a very elaborate effort to engage using big entertainment value, Nike has released a five-minute animated short film, 'The Last Game'. Featuring animated versions of Cristiano Ronaldo, Wayne Rooney and a host of others playing off against a team of evil soccer-playing clones, the kooky video aims to stress the importance of taking risks in football. If you're not a football fan though – not to worry. You even get an animated cameo from LeBron James.
7. Paddy Power rainforest stunt
In a PR stunt that sparked initial outrage and ended with praise from Greenpeace, UK betting company Paddy Power leaked a number of images showing a message of support for England chopped out of the Amazon rainforest. After receiving immediate backlash, Paddy Power admitted it was all just an elaborate fake, posting a follow-up image with a link to Greenpeace's sign-up campaign to protect rainforest wildlife. They even provided a breakdown on their blog explaining how they pulled the whole thing off.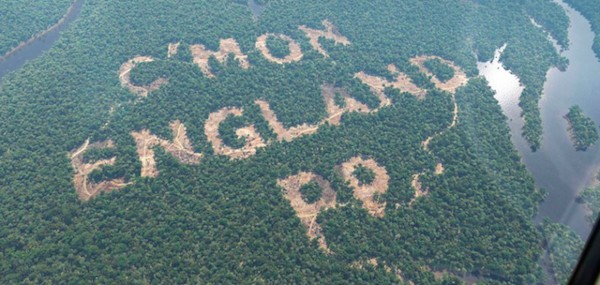 6.  Sportsbet's 'Christ the Redeemer' hot air balloon
Paddy Power's Australian brother Sportsbet pulled a similarly mischievous stunt in the World Cup lead-up, flying a 46-metre-high replica of Rio De Janeiro's Christ The Redeemer statue over Melbourne. This time though, it was the Australian Christian Lobby who were horrified by the stunt. Donning a Socceroos jersey with a Sportsbet logo, the balloon featured a #KeepTheFaith hashtag which, according to Sportsbet's website, "was designed for Aussies to show their support of the Socceroos at this year's World Cup."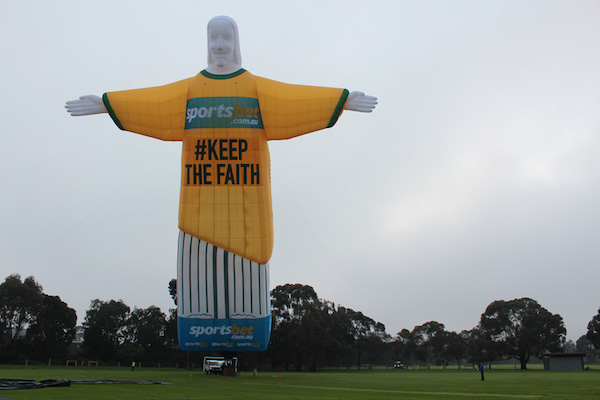 5.  Spanish players go undercover in Movistar ad 
In a bid to motivate the 2010 World Cup champions who have already tasted sweet victory, Spanish communications giant Movistar physically transformed some of the Spanish team's star players, sending them into the everyday workforce in disguise. Aiming to bring the players closer to the general Spanish public, Andres Iniesta, Pepe Reina, Xabi Alonso, Santi Cazorla and Juanfran work alongside everyday workers such as kitchen-hands and child care workers, to show their appreciation for the everyday workers of their country. Because Spain, your multi-millionaire football players really do care about you.
4.  Nissin Cup Noodles and the Samurai
The Japanese instant noodle giant has unleashed a Samarai in Brazil in its World Cup offering. The mysterious Samurai shows off some impressive football skills as Brazilian locals watch on in awe, before a very impressive 'football-off', which is a bit like a dance-off, but, you know.
3. McDonald's  'GOL!'
While here in Australia we'll have to settle for soccer-ball shaped burger buns, McDonalds US have unleashed one very clever piece of video marketing, 'Gol!', trumping  a whole host of big-budget advertising in the market. The video shows a series of real, CGI-free trick shots and some incredibly fancy footwork from a ten-year-old, ranging through to a very impressive gentleman well past retirement age.
2. Beats by Dre: 'The Game Before The Game'
In an ad teeming with stars, Beats by Dre has joined in on the video marketing bandwagon with one of the most widely-praised cinematic opuses this year. 'The Game Before The Game' is an ode to pre-game rituals, shot by photographer-turned-filmmaker Nabil Elderkin. The five-minute extravaganza shows Spain's Cesc Fabregas kissing a ring from his girlfriend, while Luiz Suarez also kisses a tattoo of his children's names. Mario Gotze and Robin Van Persie also feature among a host of other notable football stars, as does Lil Wayne, Nicki Minaj, Serena Williams and, you guessed it, Lebron James.
1. Chilean mine tragedy survivors: Bank of Chile
As far as viral videos go, this Chilean bank's advert has been widely regarded as one of the very best; certainly one of the most talked-about. The miners of the 2010 Copiapo mining accident provide the inspiration for Banco De Chile's equally inspirational video. Chile, in a so-called 'group of death' with Spain and the Netherlands (ranked first and fifth in the world respectively), is certainly considered an underdog going in to this year's World Cup. (The only more under underdog is Australia, which is also in that group.)
But with the survivors of the Chilean mining tragedy reassuring us, "The earth swallowed us. It was then we had to prove what we were made of," the sentiment seems to be that nothing is impossible – even a World Cup win by Chile.