Brands battle it out for social media glory in Brazil
Simon van Wyk takes a look at what brands are doing to win the hearts and minds of consumers during the FIFA World Cup.
With the global spectacle of the FIFA World Cup upon us, it's interesting to see how the advertising budgets are being carved up. For whichever team ends up hoisting the Jules Rimet Trophy aloft on 13 July this year, social media is likely to be a big winner.
World Cup sponsors Adidas, Coca-Cola, Sony, Hyundai, and Anheuser-Busch have invested hundreds of millions of dollars to put their brands in the spotlight during the world's most-watched sporting event.
There could be as much as $2.3 billion spent on World Cup TV advertising alone. Yet while World Cup sponsors are spending big on TV ads, they are also stretching their budgets and investing big on social media.
Match made in heaven
This World Cup has the potential to be the most talked about subject in social media. Ever. So, no surprise to see that the TV and social media tie-in is being used heavily in this tournament.
Of course, digital consumption and fan engagement now go hand in hand during major sporting events. Twitter and football are a match made in heaven. Add to this the fact that Brazilians love their social media almost as much as they love their football. In this World Cup social media is a vital, virtual companion.
Playing off the front foot
It seems that World Cup sponsor Adidas learned a few hard lessons four years ago when the last World Cup was dominated by its arch rival Nike, even though Adidas was the official sponsor.
This time, Adidas, has launched a global TV campaign, fronted by Argentine legend, Lionel Messi which aims to push TV viewers to engage on Twitter and other social media platforms. When it launched, the ad generated a huge spike on Twitter.
Adidas is also set to launch a live streaming channel called The Dugout to coincide with Thursday's kickoff.
Available across numerous devices, including desktop, mobile, and tablet, the channel will feature youth-oriented programming on Google+ Hangouts and YouTube Live that will feature football greats alongside other Adidas sporting and music stars who will answer questions from fans submitted via social media. YouTube TrueView advertising will be used to muster football fans to The Dugout and encourage them to engage and participate.
The Last Game
Meanwhile, ever the master at leveraging high profile sporting events without having to pay the price of sponsorship, the world's leading sports brand, Nike, has just released a short film, called 'The Last Game' which features animated versions of the sport's best players, including Portugal's Cristiano Ronaldo and Brazil's Neymar Junior. This five-minute film, which was launched online and will be supported by trailers that will run on TV, has already got fans talking on social media.
This film comes hot on the heels of Nike's 'Winner Stays' short film, which the company released in April, and which has amassed just shy of 73 million views on YouTube.
As to whether Adidas or Nike will come out as winners of this year's World Cup, it's interesting to see that the pre-tournament marketing for both brands has been highly effective at generating social media chatter and sharing. As to whether this plays out in terms of financial results and world domination of football apparel, we'll have to wait and see. (In the below chart of social mentions over the past month, Adidas is orange, Nike is blue.)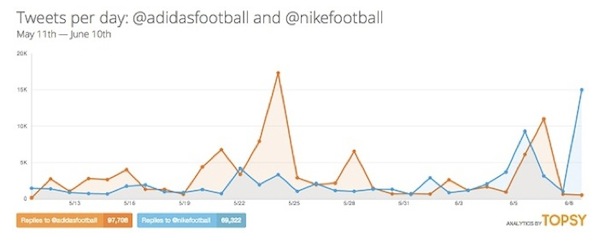 Of course, it's not just the world's leading sports brands that have invested heavily in social media to leverage this year's World Cup. Here's just a taste of what other brands are doing.
For official sponsor Coca-Cola, this World Cup represents the largest marketing program in the company's history. Through a highly emotive program, Coca-Cola has released a series of authentic, documentary-style films championing the power of football to bring people together.  Underpinning the campaign is the longest-ever FIFA World Cup Trophy Tour by Coca-Cola, giving fans the chance to see the trophy for themselves.
Another element, the Happiness Flag, has given fans the chance to be part of the largest photo mosaic ever created. Using hundreds of thousands of photos and tweets submitted by fans from around the world, The Happiness Flag will be unveiled on the pitch before the opening match kicks off.
#FutbolNow
While Pepsi is not an official sponsor of the tournament, this has not stopped the soft drink maker from going for broke and transforming itself into a publisher.
Pepsi has created a large body of content and, as a non-sponsor, the brand is effectively ambushing soccer-mad fans. Under its #FutbolNow banner,  Pepsi is celebrating football and music through the 'Now is what you make it' campaign. This includes 30- and 60-second spots, as well as a two-minute interactive video that allows consumers to unlock an additional four minutes of content.
Another aspect of Pepsi's football push is its Beautiful Beats content that includes the release of an album featuring artists  such as Kelly Rowland, Rita Ora, Spike Lee, and Jessy Terrero, among others.
Rise as One
Meanwhile, beer sponsor, Budweiser, launched its 'Rise as One' campaign in the run up to the tournament. This includes a microsite that serves as a hub for video and social content. When the event kicks off, Budweiser will use social to encourage fans to participate in Man of the Match voting via Twitter Cards as well as other initiatives on Instagram and Facebook.
In addition, the opening of its Budweiser Hotel complete with an Instagram booth and Facebook studio, within the Pestana Rio Atlântica hotel on Rio de Janeiro's Copacabana Beach, will to provide the brand with a fast flowing current of fresh content right from the heart of the tournament's hotspot.
One Stadium Live
Official sponsor Sony, has launched the One Stadium Live online, which is a social hub that aggregates conversations and content across Twitter, Facebook, and Google Plus.
The mobile-first website will highlight hot topics to give fans access to what people are saying about games, players, tactics, gossip, in an engaging and entertaining way.
#WorldCup
If you just want to get your hands on all the facts and figures, FIFA,  will use Twitter specifically to communicate with fans in real time during the matches, using the #WorldCup and #JoinIn hashtags.
FIFA's new website has also been redesigned with the social fan in mind. A major feature of the new site is the Global Stadium that aggregates all of the content generated by the 64 matches in real time and is designed specifically for viewing on smartphones. Fans will be able to follow all the action live, and engage with friends, fans, players, and coaches throughout the tournament.
While the brands battle it out for your attention and engagement, it's sobering to look at some stats, courtesy of Goldman Sachs, as to who will ultimately triumph.
Alas, for the Socceroos, their chances don't look good.  Australia's odds of winning the tournament come in at a highly unlikely 1500/1. In fact, there are only three other countries less likely to win, which are Costa Rica, at 3000/1, and Iran and Honduras, both at 2500/1.
So who will pick up the trophy? Not surprisingly, Goldman Sach gives Brazil the best chance of winning, at 3/1, despite Spain being number one in the FIFA World Rankings.