Watershed moment for mobile payments: Visa and Samsung ink global NFC deal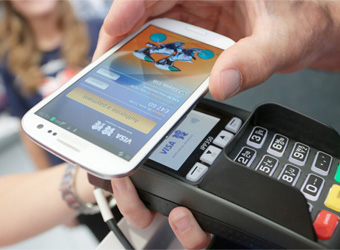 Visa and Samsung have formed a global alliance to turn smartphones into credit cards in a move that could prove a major step in taking the digital wallet into the mainstream.
Announcing the partnership overnight at the Mobile World Congress, the tie-up will see a Visa payWave application embedded into all next-generation Samsung NFC smartphones.
The trust the Visa name brings to the mix will be a telling factor in the development of mobile payments, consumer analyst at Ovum, Eden Zoller, believes.
"It's a significant agreement that could give NFC a much-needed boost, given that Visa is a trusted payment brand, while Samsung is the top smartphone manufacturer in terms of shipments and a driving force behind the increasingly popular Android device platform."
Visa will power the secure element in the phones, giving users the assurance of its Mobile Provisioning Service and secure upload of payment account information. Banks and other payment processors will be able to develop their own apps that work with the secure element.
Google's move into the space with Google Wallet has struggled to gain traction in the absence of existing payment infrastructure and relationships with banks and carriers.
Mariano Dima, executive vice president, Visa Europe, says the payment provider is delighted to build on its long-standing relationship with Samsung, which included a trial of the system during the London Olympics. "A Samsung device equipped with the Visa contactless payment service is a powerful proposition and will allow us to make mobile payments a reality for people around the world," Dima believes.
The partnership with Visa continues Samsung's commitment to pioneering NFC (near-field communications), Dr Won-Pyo Hong, president and head of media solution centre at Samsung adds. "We believe that we have a strong value proposition for financial institutions that will ultimately allow consumer choice in NFC payments."
The move is expected to bring more financial institutions onboard as they can use Visa's Mobile Provisioning Service to securely upload customers' payment account information onto NFC-enabled Samsung phones.
"Both Samsung and Visa are committed to NFC and we would expect them to put effort and marketing muscle behind making consumers aware of the potential benefits that NFC payments can bring," Zoller predicts.
"This is desperately needed as for most consumers, mobile payments – let alone NFC – is simply not on their radar."
Ovum's latest Consumer Insights survey found mobile commerce related applications remained limited in their use. Visa data shows a four-fold increase in contactless payments over the past year globally with around 13 million transactions made on its network per month.
Mashable's Christina Warren receives a demonstration of the system at Mobile World Congress in the video below: