Woolworths remains Australia's most valuable brand despite 17% drop
Woolworths has retained its title as Australia's most valuable brand despite a 17% drop in brand value this year, the 2015 Brand Finance Global 500 report shows.
Lego's massive branded content success with The Lego Movie has propelled it to the number one spot as the world's most powerful brand, while last year's top, Ferrari has dropped to ninth.
The world's fastest growing brand is Twitter, which had tripled its brand value in the past year.
Brand Finance's annual report calculates brand value by combining information on a brand's strength with financial data.
The world's most powerful brands are calculated using Brand Finance's Brand Strength Index measures including familiarity, loyalty, promotion, staff satisfaction and corporate reputation.
Australia's most valuable brands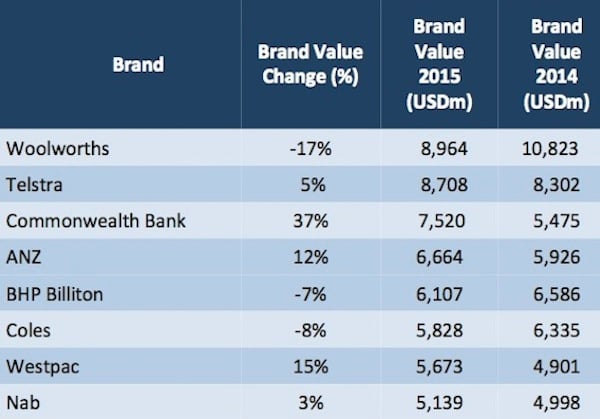 Woolworths is still hanging onto the top spot in the local brand value rankings but Telstra is fast catching up.
Australia's retail sector has declined this year, with Woolworths lagging behind Coles (which sits at sixth) in terms of growth due to over-expansion into slow growth categories including home improvement, says Brand Finance Australia managing director Mark Crowe.
"Supermarkets as a whole globally have not done well this year. Food price inflation has caused loss leaders to compete for share by maintaining low prices (and thinning their margins) but hasn't seen customers buying more from them."
Crowe says Telstra is positioned to become Australia's most valuable brand following its acquisition of submarine network Pacnet, in line with the global "merger mania" trend among telecom carriers.
"Telstra's prioritising of customer advocacy is a critical component to maintaining a competitive edge and further increasing its brand equity."
While all of the big four banks make it into the top eight, Commonwealth Bank has shown the largest increase in brand value of the list, improving by 37%.
The world's most powerful brands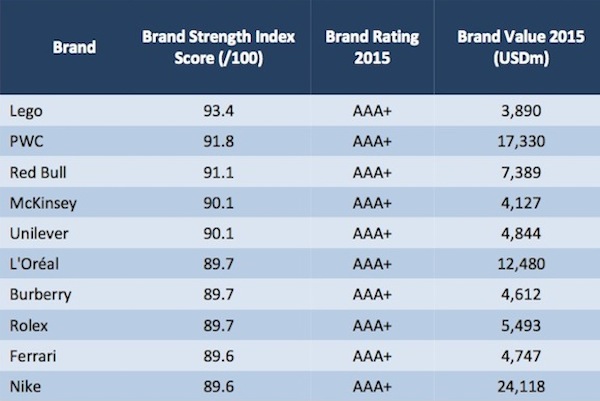 The Lego Movie's critical and commercial success has propelled the Lego brand into the top spot of the world's most powerful brands list.
Meanwhile, the power of former number one brand Ferrari has dropped in comparison, taking it to ninth position.
Brand Finance attributes this drop in power to Ferrari's lack of success in recent years:
"It has now gone several years without an F1 title and last season struggled even to mount a challenge. The sheen of glory from its 1990s golden era is beginning to wear thin."
Despite this, the brand's commercial value has actually increased 18% this year, to $4.7 billion.
The list of the world's most powerful brands spans various industries, from PWC in professional services to Unilever in FMCG to Burberry and Rolex in luxury goods.
The world's fastest growing brands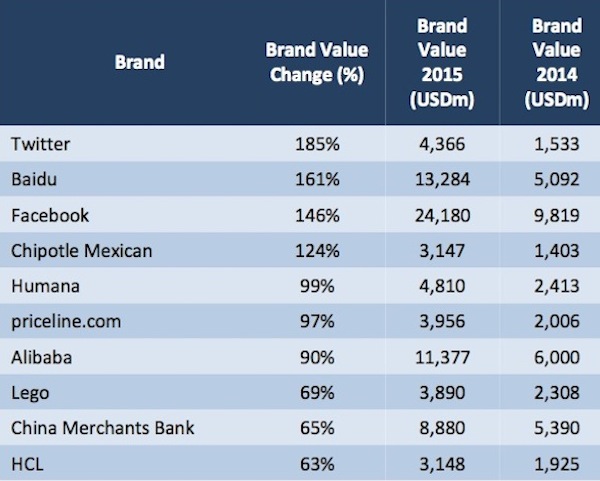 Twitter sits in the number one position as the world's fastest growing brand after tripling its brand value in a year, increasing from $1.5 billion in early 2014 to its current value of $4.4 billion.
Tech companies dominate the top three positions in this list, with number two being Chinese search engine Baidu (up 161%) and social network Facebook (up 146%) sitting in third place.
Brand Finance notes that these three brands appear to be having more success transitioning to mobile advertising than other tech players such as Google.
The US has the most amount of fast growing companies in the top 10 list (five), followed by China (three).
Brand Finance adds that US fast food brand Chipotle has had standout success this year in positioning itself as a healthier, tastier and more ethical alternative to McDonald's. Chipotle's brand value is up 124% this year, while McDonald's brand value has lost $4 billion.
The world's most valuable brands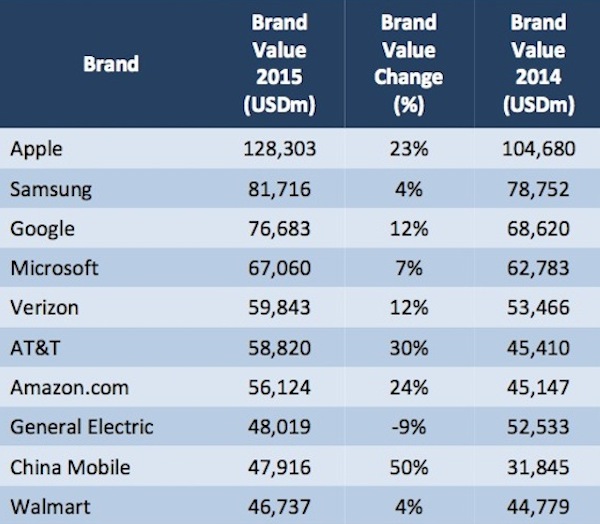 No surprises here: consumer-focused tech giants dominate the list of the world's most valuable brands, with Apple, Samsung, Google and Microsoft taking the top four places, and Amazon.com coming in at seventh.
Brand Finance CEO David Haigh says:
"The Apple brand is worth US$128 billion. That value is huge not just in its own terms but also as a proportion of Apple's record-breaking corporate valuation. It goes to show how valuable brands are as business assets and how important it is to manage them well."