YouTube launches Music Key, its paid music subscription service to rival Spotify and others
YouTube's music subscription service, Music Key, will offer offline and background listening on mobile to full albums and curated playlists for a fee of $9.99 a month.
YouTube will push hard for the success of its first paid content model, up against established music subscription competitors such as Spotify, Rdio and Deezer.
A promotional price will launch the ad-free offering at $7.99 a month, while YouTube will send special invites to key users offering them a free six-month subscription.
The company wrote on its official blog:
"Thanks to your music videos, remixes, covers, and more, you've made YouTube the biggest music service on the planet. To turn YouTube into your perfect music service, we're launching YouTube Music Key as a beta with our biggest music fans first, and then we'll bring YouTube Music Key to the whole world together. So, if you see an invite in your app or email, try it out for six months for free."
Spotify and Deezer both cost $11.99 a month, while Rdio starts at $4.99 a month for a web-only subscription and its unlimited offering matches Music Key at $9.99 a month.
The YouTube website and apps on Android and iOS now have a new section for music showing each user's favourite music videos, recommended music playlists and playlists of trending music.
YouTube Music Key users will also get a subscription to Google Play Music, which has 30+ million songs as well as curated playlists.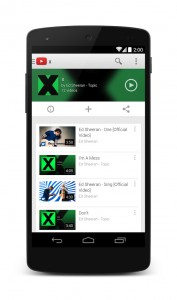 "You've watched, shared, remixed, invented, parodied and whatevered your favorite songs, making YouTube the ultimate place for artists and fans to connect," the company wrote on its blog.
"If a song exists in this world, you can probably find it on YouTube. But until today you couldn't easily find and play full albums."
The new offering will include artists' discographies and the ability to play both their official music videos and "high-quality songs our music partners added to YouTube," the company said.
YouTube came under fire from independent music artists earlier this year when it was revealed that artists who refused to agree to the terms of service of the subscription service could be blocked from appearing on YouTube altogether.
Marketing wrote in June that large multinational labels including Sony, Warner and Universal had signed the agreement but independent labels including those of Adele, Arctic Monkeys and Jack White were refusing.
The Australian Independent Record Labels Association (AIR Australia) joined a group of at least 18 independent music organisations to protest against YouTube's terms and conditions, which were deemed unfair.
READ: Facing exile from YouTube, independent artists urge Google to negotiate terms of new subscription service
Forrester Research senior analyst Clement Teo believes YouTube is well-placed for success in the music subscription service category due to its large number of current users.
"YouTube's differentiation is that users can stream music videos on the go, tapping into the digital natives' mobile lifestyle and embedding a heightened customer experience, made even better with the ad-free premium service.
"If YouTube can convert a small fraction of its monthly visitors to a paid service, Music Key would quickly outstrip e.g. Spotify, which has just 5 percent of YouTube's monthly visitor count, in revenues."