John West's 'Chef Bear' grills up a storm in social video campaign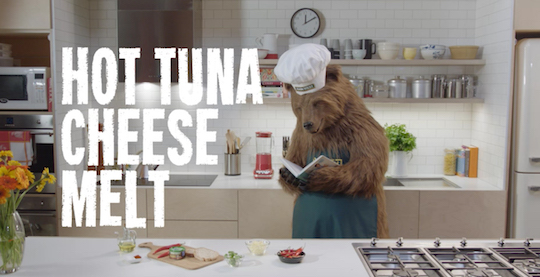 John West has launched its Fiery Range with 'Chef Bear' social video ad campaign.
John West, in partnership with Cummins and Partners, has launched a video ad campaign featuring its kodiak bear mascot appearing as a celebrity chef.
Chef Bear prepares four recipes, each using a new tuna product form John West's new Fiery Range. First up, Chef Bear grills a tuna melt and, perhaps unsurprisingly, does a little more harm than good in the kitchen.
The aim of the humorous videos, says Ryan Willett, brand manager at Simplot Australia, is to compete with cooking videos which are dominating social media feeds.
"This is a very competitive category, and with social feeds dominated by cooking videos, using our biggest brand asset to create some cut through made a lot of sense," he says.
"The idea is pretty simple, people like watching cooking shows, and people like wild animals. We combined the two with some pretty entertaining results," says Ben Couzens, co ECD at Cummins and Partners Melbourne.
"With nearly two million eyeballs on these films in just one week, it has struck a chord," says Couzens.
–
Related: Jekyll and Hyde: Jana Bowden on the double-edged sword of social media audience engagement »
–
The four new flavours are: Tuna and Tangy Jalapenos, Tuna Inferno, Tuna and Sriracha, and Tuna and Chipotle. Each of the four videos uses one of the new cans.
John West's 'Man versus Bear' salmon commercial achieved fame in the 90s and to this day, regularly features on top funniest commercials lists and countdowns.
"No animals were harmed when filming… just a couple of avocados," adds Couzens, who apparently forgot about the tuna.
Inferno tuna cheese melt

Red hot tuna poh boy

Smokin tuna rice salad

Tangy tuna burrito

* * * * *
Check out Marketing's 'Social Commerce' trend briefing on leveraging social media to influence sales. Purchase here or free for members
* * * * *