McKinsey: Social media spying to become crucial competitor intelligence approach
The role of social media insights is set to expand beyond simply consumer data and product feedback to become a key input into competitive strategy, McKinsey predicts.
Spying on competitors on Facebook or reading their blogs not only unearths information on their movements, but the use of social media can help companies overcome some limits of old-school intelligence gathering, an article by the management consultancy suggests.
Information collection from a range of public and propriety sources for the purposes of competitive analysis, analytical methods and reporting techniques can be augmented by social technologies that automate and uncover new insights. McKinsey describes the approach as 'social intelligence'.
"By offering decision makers rich, real-time data, social media is giving some companies fresh strategic insight," the article's authors write.
"As social technologies mature and organisations become convinced of their power, we believe they will take on a broader role: informing competitive strategy… social technologies can play a surprisingly central role in how information is sourced, collected, analysed, and distributed."
The type of competitor intelligence that can be gleaned from social sources includes industry dynamics, insights on the competitive landscape, future trends, opportunities and market sizing, and customer insights.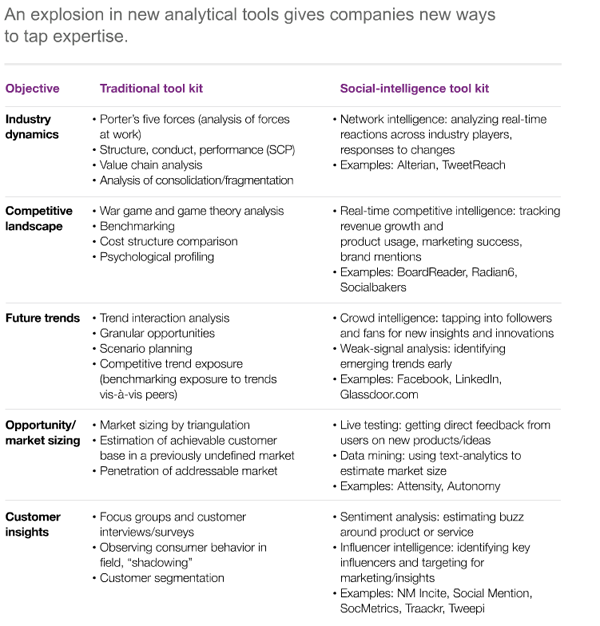 The article identifies four distinct ways social technologies can augment the intelligence-gathering approaches of companies:
From identifying data to mapping people and conversations: Identifying the right 'curators' or experts collecting information relevant to the business allows data miners to create new information maps and eliminate the need for extensive searches of traditional databases and published information. The access to real-time information may also help pre-empt key actions of competitors or lead to adjustments of strategy.
From data gathering to engaging and tracking: Gathering data from social media can be automated to greatly reduce the amount of time spent on information searching. Tools allow analysts to create dynamic maps that pinpoint where information and expertise reside and to track new data in real time.
From analysis and synthesis to structuring and mining: From tracking tools such as Radian6 and Socialbakers to network intelligence source such as Alterian and TweetReach, the range of analytical techniques has exploded. These complement older-line approaches, such as standard SWOT analyses or Porter's five forces to give a rich source of competitor intelligence.
From reporting to curating and embedding: Rather than updating and sharing reports on a periodic basis, social software lets companies rapidly, even automatically, curate relevant information and embed it across organisations. 'Micropublications' can be created and dispatched to decision makers instantly, and external sources, such as paper.li and Flipboard, can automatically generate targeted newsletters on a particular subject in attractive and intuitive formats.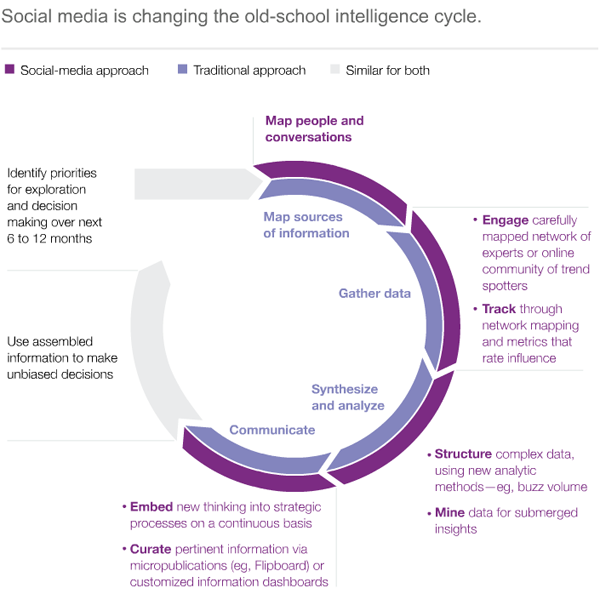 As a window into the plans of competitors, suppliers and customers, social media can be invaluable. It can also help open up the eyes of different business units that may be, by nature, quite "siloed", McKinsey argues.