New Zealand's unconventional approach to content marketing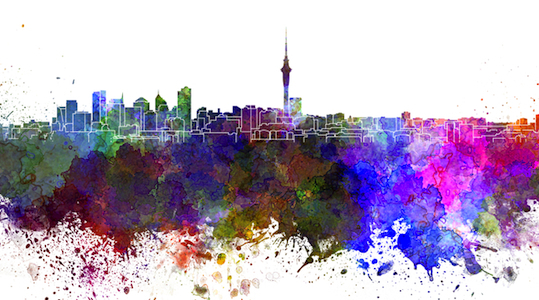 Rakhal Ebeli has just returned from New Zealand's Content Marketing Conference in Auckland. Here he shares his key takeaways.
New Zealand's Content Marketing Conference kicked off just 10 hours after the the nation's cricketing heroes, the all conquering Black Caps, went down to Australia in the World Cup Final.
Having just travelled across the ditch as a visiting Aussie, this set the scene for what could've been an awkward conversation starter, and, over the course of the two days I spent in Auckland, I learned that Kiwis take the following two things seriously: cricket and content marketing.
At a time when the NZ dollar is dominating Australia's, dairy sales to Asia are skyrocketing, SMEs are thriving and marketers have been given bold new objectives, guests at CMNZ were absorbed in two days of great discussion, framed by a really positive outlook.
New Zealand's bright content marketing future
At the forefront of the country's content marketing push are Brandworld's Richard Stevens and Mike O'Sullivan. The pair delivered a standout presentation, with managing director, Stevens describing the current climate as "A watershed moment in New Zealand" adding: "We are at a place of change and to be successful, you have to have content at the very heart of what you are doing. It must be at the very core of everything you do across your company".
In their opinion, the best-equipped people to create brilliant content come from the media world. Stevens pointing out that "They're the people who are used to capturing the hearts and minds, they're used to capturing ratings and viewers. They know audiences and audience personas".
Stevens told the packed convention room that he believes it won't just be media professionals such as journalists in the drivers seat. The co-pilots of change will be those working in IT. "Technology experts will become infinitely fused with marketing," he added.
Brand storytelling was by far the hot topic of the two-day conference. Ogilvy Digital's Greg Whitlam went digging back some 20,000 years to uncover one of the earliest forms of content marketing, when cavemen drew on walls to convey things that were essential to everyday life. "Now, in 2015, we are completely attuned to look for meaning and content everywhere we go," he added.
Five principles for collaboration and content co-creation
Whitlam went on to describe the current 'engagement' evolution of commerce in which we live, where consumers expect cultural and personal experiences. This collaboration between buyer and seller can be best fostered by following five key rules.
Diversity – for the ecosystem to be interesting, we must keep manipulating it.
Uniqueness – find unique ways for people to contribute. There needs to be a sliding scale of opportunities to participate in campaigns. Not everyone wants to write an essay or upload an image, so don't force people to participate in ways that aren't unique.
Connect and share – create new ways for communities to communicate with one another.
Create a shared sense of purpose – to participate, the audience wants a reason.
Have a framework – Keep the chaos inside a framework. Think of this like organised chaos, citing a great example of this with Airbnb's 'Pineapple'.
Making it pay – social selling
Another key takeout from Auckland's Content Marketing Conference was to not overlook your greatest asset, your current audience and customer base. Social selling, good old word-of-mouth from your fan base is still the key to sales success. As Greg Whitlam said, "People will take time to compose their own brand story. They'll talk about your brand if it's relevant, but they're not going to stop their day to listen to your version. People are more valuable to you if they actually own your product than just thinking about buying it. So don't just think about how you can get people to buy content, keep your current audience in mind and think about how they can help sell it."
This was a sentiment that was echoed by Origin IT's Stacey Riordan, who stated: "We humans are selfish, we do things because they make us feel better or benefit us. All technology has done is make being selfish a little bit easier".
Referring to Simon Sinek's 'golden circle' and 'start with why' concepts, Riordan encouraged content marketers to think differently.
"Every organisation knows what they do. Some know how they do it, but few organisations know why. Why should anyone care? All the thoughtful industries stand for something. Define a core purpose and start from the inside out."
Riordan added: "People don't buy what you do, they buy why you do it".
It was this unconventional and fresh approach that made Auckland's Content Marketing Conference an inspiration to attend. Locals are embracing the challenges of finding expertise whilst learning from mistakes others have made ahead of them. If this event was any indication of NZ's marketing future, then there's great opportunities on the horizon across the land of the long white cloud.