The future of… print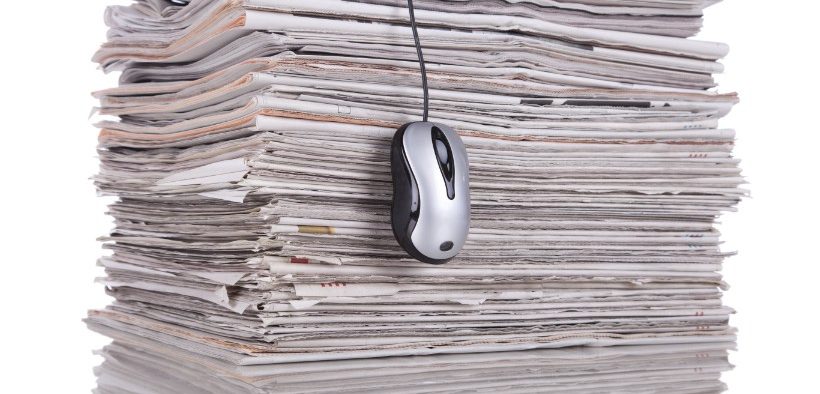 This feature first appeared in the December 2011/January 2012 issue of Marketing magazine.
As 2011 comes to an end, Marketing magazine decided to take a look at the most rapidly evolving channels. The pace of change across the industry made this a difficult decision, but the three we've analysed all share a common and ever evolving game-changer: technology.
In the third of our predictions trilogy, Marketing takes a look at print and  how publishers are deepening their audience engagement on advertiser's behalf through multiple touchpoints.
Everyone loves a good headline, and despite the usual suspects newspapermen and magazine editors, no one moreso than the web-press and bloggers. Yes they move newspapers, but damn can you see your analytics tickers fly when you post something entitled, 'The Death of Print'. Choir's love to be preached to. The reality is that print is no more dying than the discipline of marketing is dying. Print media businesses are about building an audience and engaging them deeply on an emotional and/or intellectual level. The media used to do this evolves: formats expand and contract with demand. So, in response marketing to marketing demand, all media businesses are employing multiple touchpoints.  Before the internet there had never been such a macro shift combined with micro influences: delivering in-demand content formats (text, video, audio) more easily.
Recognise that the product of a print media business is not paper, it is content. Recognise that few brands can dream of the brand equity a masthead enjoys. Recognise we live in a time where to take any channel alone and analyse it as a sole medium for reaching consumers, rather than a part of an integrated campaign or communications strategy, is to determine the result before beginning.
At a time when media fragmentation has made audiences harder to reach:
the surviving traditional print businesses and the web startups alike have recognised offering an advertising solution that is a single touchpoint leads to insolvency, and
savvy marketers understand the engagement reputable mastheads offer over other paid media (including purchased databases).
The real figures
According to the Audit Bureau of Circulations (ABC), like-for-like audited magazine sales in Australia fell by 5.5 percent between January and June 2011. According to Magazines Publishers of Australia (MPA) 230 million magazines are sold annually in Australia, although this data is an aggregate based on ABC data of 2009. Aggregate data indicating the split between B2B and B2C titles was not made available before time of press. The MPA claim eight of 10 people read at least one or more magazines, with popularity of the media skewing slightly towards women at 84 percent and 76 percent of men.
On the newspaper front, the total decline has been surprisingly lower – although more significant when viewed as unit sales. The statistics paint a brighter picture than the aforementioned sensationalist headlines would have us believe. Between 2010 and 2009, The Newspaper Works reported a decline of three percent for metro and national paid dailies, juxtaposed with a decline of five percent for US newspapers and seven percent for UK. This international divide in newspaper decline is not an isolated anomalous year, but an ongoing trend between the markets: between 2005 and 2009, Australian newspapers dropped 4 percent, while the US and UK category equivalents saw drastic drops of 13 and 16 percent respectively. The Newspaper Works explains the stark difference is due to serendipitous market conditions. It says Australia is advantaged in that most markets are serviced by a single metropolitan or regional daily, while in the US many markets see multiple metropolitan and regional dailies and the UK has a number of large national dailies in competition with one another.
The brand equity of newspaper mastheads is demonstrated when looking at the top 10 news sites in Australia: seven are owned by newspaper publishers, though pole position is Nine News published by ninemsn. Second and third place are held by Fairfax with the Sydney Morning Herald and The Age respectively, while News Limited holds fourth, fifth, seventh, eight and tenth place with news.com.au, Herald Sun, The Australian, thetelegraph.com.au and Courier Mail respectively. Positions six and nine are held internationally by Yahoo!7 and BBC News. PwC's Entertainment and Media Outlook for 2011-2015 demonstrates the parochial effectiveness of digital newspapers, showing display advertising growth for Australian mastheads well ahead of their US counterparts at 236 percent between 2006 and 2010 versus just 55 percent for US mastheads. The same report anticipates by 2015, display advertising with digital newspapers will have grown to $440 million from $286 million in 2011.
What are publishers doing?
The internet has really left few industries untouched and in adversity is opportunity. Right Angle Studio is one of the hot young things in the publishing industry that's taken advantage of media fragmentation and developed quite a divergent model and offering. Publishers of the popular Thousands City Guides (websites and eDMs named after capital city post codes), Right Angle Studio started as a collaboration between brothers Barry and Chris Barton and provides a signpost to where publishers big and small are moving.
"What we found out is that after a couple of years of producing content about cities for inner city people, brands were often coming to us to ask us for our insights into that audience, or to ask us to perform marketing services targeting that group," Barry, strategy and insights director at Right Angle Studio, tells Marketing.
These insights and audience engagement have spawned several partnerships including:
Lost & Found Hotel: the physical extension of a digital magazine targeted at the Australian creative community. In partnership with Tourism Victoria, Right Angle Studio collaborates with creative Melburnians to create, design and furnish a pop-up hotel
The Thousands iPhone app: a city guide of the best food and entertainment in Australian cities, produced in partnership with American Express. The app is branded on opening and provides reinforcement through indicating which locations accept AmEx, and
The Pond: a 2009 partnership with Pure Blonde as the beer began moving in on the inner-urban market in which Right Angle Studio facilitated the rejuvenation of two dilapidated spaces in Sydney and Melbourne, where drinkers could exchange eco-friendly donations for pots of beer.
"Our focus as a business is on an urban demographic, and how we communicate with that urban demographic can take many forms. And so I guess when people look at Right Angle, it might seem a little confusing because we're a company that has online publications and owns a cinema and produces events, and does a myriad of things. But for us, it makes perfect sense because we're still speaking to the same group of people, and we have a very deep understanding of all the different ways in which they communicate.
Barton says that, on the contrary, one touchpoint simply doesn't cut-through to an audience the way it once did and no longer works for either publishers or advertisers.
We discuss media fragmentation and declining physical readerships and Barton puts forward the idea that, "there has been this proliferation of titles and readership opportunities, and we seem to have gone through an almost kind of gluttonous period of media consumption where we've stuffed as many different titles into our repertoire as possible and been left with a lot of things for which we have very little empathy or feeling. And I think that, as quite a pervasive trend across society, not just in terms of the publications we consume, but the number of people in our social networks, is a general sort of consolidation and quality control that's beginning to creep into our consideration of things. And it would be nice to presume that, as we go through this kind of threshing out of what still works for us and what doesn't, that publications which are at a higher quality and have continually developed a good product will recapture old markets, or not share that market with as many other publications."
It isn't just the hot young things that are adapting to new advertiser demands in order to create deeper branded experiences. The titans of the industry are there too. In the magazine world, there's really one masthead to rule them all: Vogue.
"Vogue's circulation is above the 50,000 mark. It's been there for many years, decades actually," agrees Mark Kelly, group publisher, lifestyle, at News Magazines. "Vogue will have an increase at the next audit at June. Its readership is up 9.9 percent, and that's added up with a trend over the last couple of years. I think the key point here, and the one that you're raising, is that it's increasingly important to look at the total audience for magazine brands, and that's really because what we're trying to look at is engagement, and you can't only look at circulation or readership [to see that]. So, you really need to look at cross-circulation readership online, social media, and events such as Fashion's Night Out to understand the engagement levels across all platforms. And just to that point, Vogue Australia has the second highest per capita audience of any Vogue in the world." [The highest is not the expected French or Italian edition, but Spanish.] "So, our penetration is extremely high in Australia, and online, we're the dominant fashion or lifestyle brand. So, an example of that is the new measurement system was released by Nielsen, and that shows a unique audience of nearly 500,000 people from vogue.com.au, but there is also a significantly large community audience for Vogue across social media platforms, Facebook, Twitter, the blog, Tumblr, and Vogue forums. Its digital footprint has really expanded exponentially over the last 12 months. So, combined social media audiences of over 300,000 people. Facebook alone is 45,000, and Tumblr has gone from 2000 to 14,000 in three months. So, that is not an unduplicated audience, obviously, but it is true that we've always thought about our magazines as more than just magazines and print products, but it's becoming increasingly true that from an advertiser's perspective, they want to know what the audience is and the level of engagement with that audience."
In 2009 Anna Wintour, editor-in-chief of American Vogue, birthed the Vogue Fashion's Night Out (FNO) amid the GFC. The idea was to put the fun back into shopping while reinvigorating a suffering retail sector. FNO draws shoppers to retail precincts for the 'VIP style' experiential activity retailers offer: champagne, street performances, fashion advice etc. In 2010 it came to our shores, lighting up Sydney. Kelly, tells me that following the success of 2010, 2011 saw significant participation growth on the retailer front as 600 came on-board from 400 in 2010. But even at that scale, Kelly suggests it's closer to good will than gold mine:
"It was a very big investment from our business last year. It's not a money making venture. Basically, we lend our expertise as the world's most influential media fashion brand to the retailers, and then it's up to the retailers, really, to activate within their stores. So, a lot of the prestige advertisers have international alignments, obviously, and the luxury advertisers – the Ballys, the Burberrys, etc. –  they're doing it in other cities… What we do is work with them on that and advise – we get access to what is world's best practice for Fashion's Night Out from the 17 cities around the world that conduct it… Advertisers definitely support it in the magazine around the issue, and that was certainly one of our highest ever revenue issues. In fact, the September and October issues were consecutively the two highest revenue issues in the history of Vogue, 51 years. But that's more that they're choosing to amplify their message through the magazine. So, the infrastructure that we do put on is expensive… Westfield was a major sponsor and there was other sponsors as well that supported us, including the City of Sydney. But it's not going to make the Vogue rich; it's more about providing an opportunity for the retailers, building relationships with the retailers, and allowing a much broader church of people to touch Vogue."
Digital Engagement
The meteoric adoption of tablet devices is obviously something publishers are viewing lasciviously and audience expansion through the channel presents an interesting future to publishers and deeply engaging touchpoint to advertisers. The recent iOS5 upgrade including  Apple's Newsstand has produced heartening figures, with News Limited's iPad only The Daily shooting to pole position in terms of sales, with 120,000 active weekly readers, 80,000 of which are paying subscribers. Conde Nast reported a 268 percent increase in digital subscriptions after the update and a 142 percent increase in single copy sales. At time of print there were 295 magazines distributing through Apple Newsstand. The dominant player, however, is Zinio rather than Apple. The world's largest digital newsstand, and through which Marketing magazine is published digitally, offers over 4500 magazine titles across 20 currencies.
"I think that the presence of the Apple newsstand is fantastic," says Kelly. "Certainly, it's been an issue trying to find magazines, and we know that the tablet is used for lots of things, social media, emails, gaming, obviously reading as well. But the lack of one place where you can consolidate all the print brands has certainly been a problem, and now it's there, and having a look at it looks pretty good to me. I think though that we don't only want to have a relationship with people through Apple, because obviously they're taking 30 percent of the cut, and there is still questions over who owns the data. We will be seeking to not only have a relationship with them through Apple, but also a direct relationship as well. And I think that may mean different pricing on different platforms, all those things we're experimenting with at the moment."
At time of print, The Washington Post had excited the publishing world with its collaboration with Facebook on the social reader app. The web app displays The Washington Post's content within a Facebook frame. From a publisher's point of view it's a fantastic means to leverage audiences they may never be exposed to: the web app automatically shares with a Facebook user's friends all articles read by the user. It also displays articles read by the users friends, encouraging them to view more content. It also tailors content for the user by scanning her profile for likes and interests. The play is quite beneficial to Facebook as it keeps the user in the social network's ecosystem – and a senior digital strategist with one of the big five media groups predicted off-record this was the first clue of the "inevitable" Facebook web browser. This automatic sharing also benefits advertisers in reaching hidden demographics through a complex funnel of interest-related sharing that would've been unobtainable through traditional research or digital targeting. It's a step towards un-siloing content from algorithms while ensuring audience engagement.
The future of print is bright and it's precisely the technological schism providing the light. It's deeper audience engagement for publishers and advertisers using existing expertise across multiple-platforms – hinged on the medium you're holding in your hand.
This article is featured in the December/January issue of Marketing magazine.