The future of retail
This feature first appeared in the August 2011 issue of Marketing magazine.
If you believe the naysayers, the Australian retail industry is hiding under shadows of doom and gloom, but the reality is that sales are booming, just not in the places we used to look. In this special feature Matt Granfield chats to some of the biggest names in the business and discovers the future of retail might well be clicks not bricks.
People are spending more than they ever have before. Despite the global financial crisis, despite the negative news stories, people are reaching into their wallets and purses and pulling out more money than they used to. People are earning more, Australia's population is growing and retail spending is rising.
Exactly how much retail spending is rising is a matter of debate. Ask the Australian Retailers Association (ARA) about the economic outlook and they'll paint you a picture of doom and gloom. Bricks and mortar stores are indeed doing it tough. Last Christmas, retail sales were only 2.1 percent better than they were in 2009, but department store sales actually fell by 0.5 percent. When you consider the cost of everything (the inflation rate) went up by about three percent, that's not good news.
In its August 2010 'Consumer Spending Confidence' report, the ARA found that only one in four respondents (26 percent) believed the coming 12 months would see better financial times ahead for Australia. The majority (61 percent) were uncertain and believed that there would be good and bad times ahead. One in 10 respondents anticipated bad times ahead for Australia financially. One in five (22 percent) respondents believed that now was a good time to spend, while an equal amount (21 percent) believed it to be a bad time.
At best, it could be argued that the future of retail is uncertain. But that's only half the story.
The amount of money flowing through the economy is watched carefully by the Reserve Bank of Australia and when it wants a clear picture of what's really going on, one of the most reliable sources of data is the dollar value of what people are putting on their credit cards. If you look at credit card spending since 2005, the figures are remarkably more upbeat.
In fact, every year, for the last six years, people who walk into shops and pay for things with credit cards have spent nine percent more than they did the year before. The inflation rate is about three percent – so by those figures retail spending, at least on credit cards, is growing at a yearly rate of about six percent.
What's even more interesting is the fact that the value of online purchases has grown at an average of 15 percent a year in the same period. When you factor in inflation, online spending in Australia is growing at exactly double the rate of traditional retail spending.
In short, and according to the nation's central bank, "The data on domestic spending show rapid growth in online purchases over recent years." But we're not just spending more money in Australia, we're also spending more overseas, and eBay and Amazon account for a huge chunk of those dollars.
Since 2005, the total number of items delivered through the Australia Post network has increased at an average annual rate of around 10 percent, in contrast to an average annual decline of one percent in the total number of domestic and outbound postage flows. In its February 2011 'Statement on Monetary Policy', the Reserve Bank of Australia was unambiguous about what's going on, stating, "There has also been a steady increase over a number of years in the number of Google searches for 'Amazon' and 'eBay US', with the number of such searches increasing significantly in the second half of 2010, as the Australian dollar appreciated against the US dollar."
Ask the futurists and they're also clear on where online sales are heading. Forrester Research predicts Australian online retail sales will more than double from $16.9 billion in 2009 to $33.3 billion in 2015. Senior analyst Steven Noble cites consumer demand, increased supply and better technology as contributing factors.
"At its core, the development of online retail in Australia requires two factors: increasing consumer demand and retailers that are increasingly able to supply. Australia has both," says Noble.
"The Federal Government plans to make gigabit broadband available to 93 percent of households, up from almost none in December 2009. And even without this investment, Australian consumers have signalled their willingness to shop online."
PayPal, which in 2010 processed $92 billion worth of payments (18 percent of global ecommerce) – certainly wouldn't disagree.
PayPal Australia's managing director, Frerk-Malte Feller, reckons that getting online isn't just something retailers should get around to eventually; it's something they need to do quick smart or they simply won't be competitive.
"Over eight million Australian consumers now use the internet to make purchases and this, coupled with global consumers, makes the online marketplace a very exciting space to operate in," he says.
"Operating online is no longer an option for Australian retailers and service providers, but an absolute necessity to gain the momentum they need to stay competitive in today's changing consumer landscape."
The times, if you hadn't already noticed, are a changin'.
Who are the biggest online retailers in Australia?
So, which organisations are leading the charge into the bright new digital landscape? You'd think the household names in the traditional retail sector like Myer, David Jones and Harvey Norman would be at the forefront, right? Wrong.
In fact, of the top 15 most popular shopping websites in Australia, only one – Apple – has a physical retail presence. The rest are specialist online stores ranging from the massive (eBay and Amazon) to the relatively unheard of, like etsy.com, which sells handmade and vintage items to hipsters and has a higher visitor share than the Apple store.
Surprisingly, the biggest players in the Australian retail sector are all relative newcomers to the ecommerce game. In 2008, Gerry Harvey famously said that selling online was "a complete waste of time" and it's taken until 2011 for the Harvey Norman Group to enter the space with a 'one deal a day' site called 'Harvey Norman Big Buys' (www.harveynormanbigbuys.com.au) and plans for a full online store any moment now.
David Jones set up an online store in 2000, but closed it when the dotcom boom crashed. It only came back online late in 2010 with a web-based version of its stock, although there are plenty of notable absences – you can't buy an iPod or a suit online for example.
Without doubt the most interesting traditional newcomer to the ecommerce world has been Myer, which launched an offshore online store called myfind.com in March. The site is based in China and customers making purchases from myfind.com avoid paying GST, because it's not an Australian business.
The site carries only a very limited amount of stock and cynics have accused Myer of using the site to make a point – that if the government doesn't start charging GST on overseas goods and services bought online, then retailers will have no choice but to set up offshore businesses and there will be a decline in GST revenue for the coffers. Others have said Myer's move is a sign of things to come – that the smartest way for retailers to compete in Australia will be to stop importing goods from overseas and putting them on shelves, when they could just be shipping products straight from warehouses in China.
Paul Downs, a former chief information officer of City Beach and now head of Hitworks, an ecommerce consultancy, says Myer's move is a sign of things to come and that, even though the myfind.com store lacks features, the concept is on the right track.
"Myfind.com is a good idea, really badly executed. It's not an easy site to shop on, it's not optimised to increase the likelihood of someone buying something from a usability point of view," says Downs. "But the concept of operating outside of Australia and shipping directly in is a great idea. I think it's the future. Not just for Australian retailers, but for all retailers. If it's all made in China, why not just make it, warehouse it somewhere as close as possible to the manufacturing plant to save on transport costs and then dispatch it to the customer from China? Myer doing that clearly makes a lot of sense."
Research from the Australian Centre for Retail Studies (ACRS) indicates supply chain costs aren't the only reason local retailers have to keep an eye on foreign shores. ACRS research fellow Sean Sands says research conducted in conjunction with Google and customer communications agency Salmat suggests that UK department stores pose the biggest threat to Australian retailers, followed closely by US retailers.
"Overseas retailers are definitely on the attack," says Sands. "About 43 percent of local sales online are going offshore. My gut feeling is the penetration rate will be increasing in the next few years. They've got the stocks, the brands and the distribution systems in place."
Sands says that, while Australia is a relatively small market, brands consider it lucrative, given the strength of the Australian dollar and cultural similarities to UK and US consumers, and that the big players in the Australian retail sector need to keep up. "It's interesting because the innovation has been coming from the smaller players and the bigger guys have been lagging," he says.
What's working?
Which raises the question: if the big players are lagging behind in the ecommerce game, what then are the leaders doing so differently?
The answer comes down to four things – marketing, products, pricing and online customer experience.
eBay is in a class of its own, of course. The site has been around since 1995 and is so dominant it has few real competitors, at least in Australia and the US. You can buy almost anything you want on eBay and people make a living retailing in eBay stores. eBay has a 21.86 percent share of the shopping and classifieds category. Its marketing strategy covers every channel. It is a marketplace unto itself. But it's the products and prices on eBay that give the site such an advantage – the auction model means they have more stuff cheaper than anyone else. There's simply no point in competing with eBay in Australia.
Amazon.com too is proof that when one player is so dominant, competing is almost impossible. Borders and Angus and Robertson went bust in Australia this year because people weren't buying enough books from them – meanwhile Amazon's revenues continue to climb. In the US, where Amazon.com is a publicly listed company, the website, which began as a bookstore and now stocks virtually anything you can buy in a department store, has a larger market capitalisation than Target Corporation, Home Depot, Costco, Barnes and Noble, and Best Buy. The only traditional bricks and mortar retailer it isn't bigger than is Walmart.
Downs says Amazon's success is due in no small part to its brilliant user experience and its use of detailed user statistics to know what people are interested in buying.
"If I go to Amazon.com, it immediately presents me with products I'm interested in," he says. "It's been doing the 'people who bought this also bought' thing for years, but what it means is when I go to the site, I'm immediately presented with all these products I might like to buy, based on what I've bought before and what similar people to me have bought. Australian retailers just aren't doing that. They might have a log-in, but they don't do anything with it.
"The other thing Amazon is doing is tying social networks to give you personalised recommendations. It's in beta testing at the moment, but what it's going to do is instead of showing you recommendations based on your personal history, it'll link in with your Facebook account to show you products your friends recently bought. It'll also tie in 'Likes' on Facebook, so if someone buys a book on Amazon and goes on Facebook saying 'this is brilliant', that will be presented to you on Amazon."
Talk to any expert about the future of online retailing and the words 'Facebook' and 'social media' will inevitably pop up sooner or later. The applications of these new communication channels are affecting every aspect of the ecommerce environment, none more so than marketing.
Australian electronics retailer Kogan recently launched above the line ads based on recent real-time social media feedback on its business. The TV commercials showed real Twitter and Facebook comments superimposed over images of happy customers receiving and using Kogan products. It's not necessarily Cannes Lion-winning advertising, but when combined with the kind of direct-from-China prices Downs is talking about and an online store that is fully optimised around the user experience (see the breakout graphic), and designed to sell, it's no wonder Kogan is the 15th fastest growing company in Australia (according to the 2010 BRW Fast 100 ranking).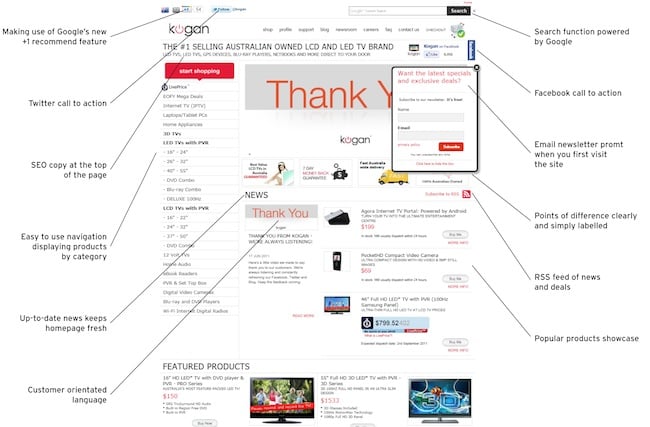 While Kogan is making marketing industry headlines for using Facebook on television, there is another new wave of smaller specialist retailers making a big splash by effectively using Facebook as a content-rich catalogue. Scores of upstart new brands have discovered they can use Facebook ads to target fans of competitors and then use the channel to dribble out special deals and related editorial content to their new fans. The fashion industry has been a particularly savvy user of the channel.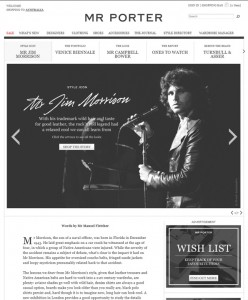 Inspired by the success of blogs like The Sartorialist and LookBook, fashion retailers like Mr Porter and Princess Polly have built up hundreds of thousands of Facebook fans by consistently uploading interesting new content to their profiles and blogs – keeping front of mind in consumers heads and inviting fans to 'shop the story'.
Mr Porter, for example, will run a feature article on the style of Jim Morrison, explain the 'look' and then lead people through a sales funnel so they can dress like a rock star.
The process works, and this advertisement > editorial > sales funnel method is one of the reasons why Facebook has become the biggest seller of online display advertisements in the US – topping $2 billion sales in the 2010/2011 financial year. When targeted correctly and combined with content that keeps fans returning, Facebook ads work incredibly well.
Just ask any one of the scores of group buying websites that have appeared, seemingly out of nowhere, in the last 18 months.
Group buying
If social media was the hero retail marketing trend of 2010, group buying is undoubtedly the biggest thing to happen in 2011. The concept is simple – you build a website and hire a sales team to convince retailers to give you a ridiculously cheap offer. The offer only goes on sale once a critical mass of people say they'll buy your product, so the retailer doesn't lose out, and the rock bottom prices and regularity of the deals means the group buying website is able to attract an audience of people who will check back every day to see what new deals are available. It's not a new concept, but 2011 has been the year the phenomenon has really taken off, and it shows no sign of slowing.
Matt Glasner, general manager, Experian Marketing Services explains: "Based on the Experian data, we don't expect to see a peak in group buying right now; it's continuing to explode in popularity. We are seeing new entrants to the market on a regular basis, with activity on these sites representing additional online activity. Group buying is actually attracting more people onto the web and signifies new internet traffic, rather than taking internet time from existing sites.
"The driver behind this is that Australian consumers are looking to extract better value from retailers and we are witnessing a transformation in consumer behaviour, as people change the way they shop. It represents a fundamental shift in the way that consumers are using the internet to drive value, where they haven't been able to gain value from traditional channels. Retailers are reluctant to move on the threat posed by these sites, but they will need to follow suit if they are to remain competitive against group buying and discount online retail sites, like Catch of the Day."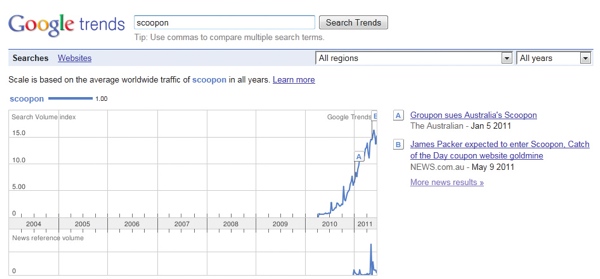 A look at the Google Trends graph, showing the increase in search volume for market leader Scoopon, illustrates the level of interest from the public. In early 2010 the site was unheard of – a year later and search volume has increased 15-fold compared to the average. It is nothing short of a phenomenon.
But does it work?
In a nutshell – yes. As a marketing tool it can put a brand in front of an audience of millions (Scoopon claims more than 500,000 members) and there's no risk involved because a company only has to go through with the deal if enough people buy it to make it commercially viable. Better still, you only pay the group buying site a commission once you get paid yourself, so unlike almost any other form of marketing, you're paying purely for performance.
Even traditional publishers are getting in on the concept. In June, Vogue ran an online sale with special time-limited deals from its advertisers and managed to attract 35,000 unique browsers to its website between 5pm and midnight on a Wednesday evening.
Vogue advertisers reported record sales in conjunction with the offer, although a common criticism of group buying and 'deal of the day' sites is that people looking for the cheapest possible deal aren't necessarily the ones you want in your store. Still, the exponential growth of the sector speaks for itself and anyone with a Facebook account would struggle to go a day without seeing an ad for a new group buying website pop up in the feed on the right-hand side.
So what's next?
With the National Broadband Network starting to deliver next-generation internet speeds to Australian homes and technology beginning to make the leap from desktop to the television screen, it's likely the future of retailing will be a lot more interactive.
Microsoft's 'Kinect' technology for Xbox 360 already allows people to manipulate computer games without the use of traditional controllers, by monitoring the movement and shape of the human body (like Wii, but using your whole body instead of a handheld device). The same principle can be applied to clothes shopping, allowing people to 'virtually' try on garments from a store, or their own home. To get an idea of what this would look like, check out Cisco's YouTube video on The Future of Shopping – it is amazing.
At the same time, Hitworks' Paul Downs is urging brands not to forget the basics, like search engine marketing campaigns targeting people actively searching for your products, because, at the end of the day, when it comes to shopping online, there are a million choices and a decision on who to buy from inevitably comes down to price.
"Consumers crave great products at a great price and want an awesome retail experience, that is true, but with the power of internet search, shopping comparison sites and smartphone barcode readers such as Red Laser, today's consumer literally has the power at their fingertips to price compare and purchase instantly online or find the nearest retailer to where they are located," says Downs.
"Providing the consumer with the best-priced product should be an absolute priority, as consumers become more sophisticated and savvy to price comparisons and the means by which they can purchase become simpler and more convenient."