B20: Tencent's SY Lau on China opportunities and the 'new normal'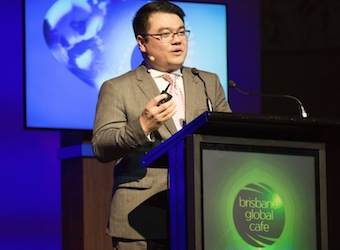 Following his keynote presentation at the B20 Business Summit in Brisbane last week, SY Lau, president of Tencent Online Media Group answers Marketing's questions about how Tencent sees itself in the digital world, and 'the new normal': after 35 years of development at a tremendous speed, China is now entering a new mode of growth.
SY Lau, a former adman, is senior executive vice president of Tencent and president of the company's Online Media Group. He joined Tencent in 2006 and oversees Tencent Online Media Group which includes Tencent News Portal, Tencent Video, Tencent Weibo, Tencent Weishi and a other mobile media products such as Tencent News and Tencent Portfolio.
His talk at the B20, an independent group that leads engagement with G20 governments on behalf of the international business community, centred around what he calls 'the new normal'.
We put the following questions to Lau via email.
Marketing: What's the opportunity for Tencent beyond China? Does the company care about international markets?
SY Lau: Tencent is involved in multiple industries. The company started out with an instant messaging product, but has now expanded to work with brands around content, games and mobile marketing services. What has been consistent in our approach is thinking about the customer experience. When we started, we had the choice to keep with an existing product around online paging, or move over to the instant messaging opportunity. We decided to shift over, and the result proved to be very successful.
Now, Tencent works with international companies around their campaigns to market themselves locally in China. This includes a mix of different approaches, from traditional advertising over online and mobile channels through to content and video sponsorship approaches. For these international brands, including the likes of Nike, Mondelez, and Burberry, the Chinese market is a significant one, and Tencent plays a strong role within their plans for the market. For these companies, China is a big market, but it's also an opportunity for them to try out new things and innovate. This innovation around marketing can then move out to other countries in Asia-Pacific, and further afield to other regions as well.
Tencent is also behind the app WeChat, which is an instant messaging and social network app. It has around 468 million users every month. This app has been growing well both in China and elsewhere around the world, too. Latin America has been a strong market for this app, while it also continues to grow in the Asia-Pacific region outside China too. This international expansion continues as part of the company's plan for the future.
M: What is the opportunity for non-Chinese brands to capitalise on the internet trends you are seeing in China?
SYL: China is in the throes of rapid and extensive change when it comes to the internet, opening up new market opportunities and greater freedoms within the market. The Chinese economy has maintained double-digit growth for so long, it has somehow become the new normal. The internet plays a crucial role in the market, as people shift over to online and mobile shopping. For example, McKinsey research pointed to spend via the internet being the same in China's fourth-tier cities as it was in the second and third-tier cities. This actually means that the percentage of salaries being spent via internet channels is higher, rather than lower.
The reason for this is that the internet has no geographic limits – consumers in Guizhou, a rural location, can access goods or products as easily as someone in Beijing. The availability of more information around lifestyle, fashion and food means that demand in the more rural locations is now roughly the same as it is in the cities, even though the economic circumstances are lower. These consumers want to be as well informed on new trends, as educated and as able to buy what they want. This has flattened the market, so that there is less lag between what takes place in the capital and what gets bought elsewhere in the country.
For brands, this represents greater opportunity in China in total. Chinese consumers represent more than just volume of sales. There has always been demand for luxury items, but there is also very strong demand for 'better' products in the domestic market, particularly in the lower tier cities. The desire for consumer goods has significantly outgrown the number of consumption channels currently available. What these consumers want might not be available in the local stores, so online shopping and ecommerce fills the gap.
Marketing to this audience involves knowing how far this has come. There are so many options and comparison services available, and almost all consumers today are accessing information on product pricing or special offers while they are in the store. They are all looking to shop around to get the best deal and best experience. The brands that are successful in this environment have already thought through the user experience across all the potential channels that someone might use during their shopping or research; by being consistent and engaging, marketing approaches can be more successful.
M: In your presentation, you mention the concept of 'the new normal' and how markets are changing. Can you explain this in some more detail? How will this affect marketing strategy and approaches?
SYL: The market in China is evolving rapidly. Some of this is due to the presence of the internet and mobile phones, but mostly I see it is just catching up to the potential of the market that already existed. From my understanding, the 'new normal' for China describes an economy that has moved into a higher-efficiency, lower-cost, healthy and more sustainable mode with a relatively slower pace of development than previously experienced. China, after 35 years of development at a tremendous speed, is now entering this new mode of growth.
That is not to say that the pace of the market is going to slow down much. A lot of what is changing is doing so extremely rapidly, and this is affecting those more traditional business sectors in new and sometimes unexpected ways. There has been a lot more convergence between business markets as well, as new ways to interact with customers have come to the fore.
This is mostly being driven by user adoption. The technologies exist today, and have existed for the past few years; what is new is how they are being applied to support how companies approach the market. There is more willingness by companies to take more innovative approaches and try to disrupt existing markets, rather than join ones that already exist.
In marketing strategy terms, I see more willingness to experiment and evolve over time in response to what customers want. Many Chinese companies approached marketing as being a simple add-on to sales in the past, solely concerned with awareness rather than conversations with customers. This has changed over the past few years. Companies have to be more led by their customers, and marketing acts as the voice of the customer within the organisation. Without this ability to learn from market feedback and increase user adoption, companies perform poorly.
For marketers looking at China, it's important to understand this dynamic. It goes back to the famous quote by Charles Darwin: "It is not the strongest of the species that survives, nor the most intelligent that survives. It is the one that is the most adaptable to change". Marketers that get this and help their own companies embrace change and the importance of meeting user experience expectations will be the most successful in the future.
M: How do you see the growth of mobile affecting markets? Does this affect how companies market themselves in China?
SYL: For marketers that have to work in this environment, it's important to look at the wider trends that are taking place and see how you can work within them. For example, in China, there is much greater acceptance of mobile marketing by companies, and by individual consumers. This may be because mobile is often the primary method for gaining access to services via the internet, and people are used to the service that they get in this way. Alternatively, they are also willing to accept advertising when it is clever and targeted enough that it meets their needs.
Traditional businesses in China have been very quick to take up new online and mobile marketing approaches. As apps like WeChat have grown, there has been an explosion of companies that are using these services as part of their strategy for moving customers back from online shopping through to offline fulfilment. The reason for this is simple. China has a huge population, so matching supply and demand can be difficult just due to sheer scale. There was no easy way for companies and consumers to find each other without incredibly high amounts of money being spent.
The availability of mobile internet helps reduce or eliminate this inefficiency between buyers and sellers. The internet helps cut the amount of time and money spent without return on the marketing side, and it also makes life easier for the person that is searching for the right products or services. Within a very short time, industries like housekeeping, taxis, real estate, and public health, that had very long histories and mature models, started to show tremendous changes.
What makes this easier on both sides is that companies are setting themselves up to work in online-to-offline ways, that use the power of Internet thinking to strip out some of the waste involved. Rather than spending time and effort on things that don't produce value for the business or for the customer, it's possible to improve how quickly people can find and match products that meet their interests.
Online-to-offline involves starting services as part of applications or websites, and then moving the fulfilment back into the bricks-and-mortar world. This can be a much more efficient model for all concerned. For marketers, this blended approach means that a more nuanced approach to how the service or product experience is designed is called for. Customer feedback is critical here; many companies talk about being led by their customers, but few actually are. It's therefore important to listen and understand what the opportunities really are for the future, where the company can bring its customers or prospects with them, and where there is more opportunity to be gained by listening instead.
About SY Lau: SY Lau is senior executive vice president of Tencent and president of the company's Online Media Group. He joined Tencent in 2006 and oversees Tencent Online Media Group which includes Tencent News Portal, Tencent Video, Tencent Weibo, Tencent Weishi and a diversity of mobile media products such as Tencent News and Tencent Portfolio. With more than 20 years of experience in the media and marketing industry. SY received his EMBA from Rutgers State University, USA. As an alumni of Harvard Business School, he completed the Advanced Marketing Management Program in 2007, and AMP (Advanced Management Program) in 2010.