How Jacob's Creek is positioning itself in the booming China wine market
The rise of the Chinese middle class is fast creating opportunities for brands in many industries. Wine is one formerly rare luxury now booming in popularity in China, now the world's largest market for red wine. Gone are the days when the Chinese poured lemonade into their expensive red wine to soften the flavour – in the last five years, wine consumption in China has doubled twice.
Branding agency Landor has been working with global Australian wine brand Jacob's Creek to tailor its branding specifically for the China market. Marketing chatted with Landor executive creative director Mike Staniford and account director Nicole Corrigan about the Chinese wine market and what Jacob's Creek is doing with its brand.
MK: To start off with, can you explain what you've done with the Jacob's Creek brand and what is different about it for the China market?
MS: We've been working with Jacob's Creek for the last two years, globally repositioning the brand and giving it a confirmed, stronger position in the world. We're considering every market that it plays into, and off the back of that, creating new identity and new packaging for the brand. As China is becoming one of the most significant emerging markets for wine drinkers, Jacob's Creek has a fairly large role to play in that market. And of course we've been working on the way the packaging looks and appeals to consumers in China, which is quite different I think in many respects to the rest of the world.
MK: Before we go into detail on the look of the products for the Chinese market, can you explain some of the insights behind what makes China different?
MS: You've got so many emerging new consumers that are very, very quickly coming up to speed with knowledge of wine and wine brands. We've been involved very closely with our Shanghai and Beijing offices to understand those consumers, understand what's happening in the market and the way consumers are reacting to products and brands. There's a tendency to seek the reassurance and safety of what I would call 'traditional wine language' – French brands have been operating there and doing incredibly well in China for much longer for the Australian brands, and therefore they've grown up with a history of the tradition of French wine labels. Also you've got the cultural traditions and semiotics that go with Chinese colours, expectations of style and look and feel, etc.
MK: So taking that into account, what kind of look have you gone for?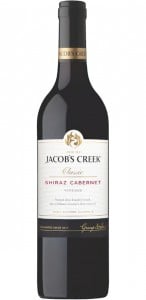 MS: Well we've taken the global Jacob's Creek look, which I would sort of describe as a contemporary spin on the classic look and feel, and because it's at a more premium price point, there's a lot more embellishment with gold and embossing and traditional treatment. Also with story – I think Chinese consumers like the fact that brands have authority and heritage and therefore stories really matter, as they do with most of the French labels.
NC: It's an interesting challenge with the Chinese obviously because English is not their first language so they have a lot more barriers there. They're paying a lot more attention to the colour and the stock and the detailing than potentially some of the other markets around the world would. You can see that the Chinese market is actually changing, they're adapting very, very quickly, so much so that the consumption has actually doubled twice in the last five years. Actually in 2013 they became the largest market for red wine, so you can see the power this market has on a global scale.
MS: It's not like we've got a small percentage of new consumers moving into wine. You've got 600 million consumers who are migrating to middle class. They're doing it at such a speed, and an incredible number of them are very young. What's interesting is while tradition is important to them, I think you'll see the Chinese market very quickly move beyond that tradition probably into something a bit more contemporary and more vibrant.
MK: What does the target market look like?
M: The target market at the moment spans from quite young drinkers through to much older drinkers. Social acceptance and gifting is still a very strong part of the business culture of China, and recognition of status to individuals is also very significant. So at the moment we're talking about a very broad target audience in age group, but we are seeing a significant number of younger consumers form part of that migration to middle class, so I think things will change.
NC: And because of the recent austerity and anti-corruption laws that the government put in place, that's actually impacted the high-end wines and opened the doors for some of those lower and middle tier products to come in and flood the market. Consumers can still have the ability to have the right social status, but potentially other brands may be entering that market in a different way.
MK: Where does wine fit in Chinese people's everyday lifestyles? It has a lot to do with gifting in business but is it an everyday drink on the table for some people as well?
NC: I would actually say it's very hard to give a direct answer on that one at the moment because the whole market is shifting so quickly. There are experts saying the reason that wine is having such a significant uptake at the moment is because its a shift to a more western lifestyle. Where Chinese are changing so rapidly that it's not typically consumed at home – it may be more in the banquets and gifting occasion that you mentioned previously.
MS:  I think it's going to start moving much more  into the mainstream. 10 or 15 years ago we heard stories of consumers drinking expensive red wine with lemonade to make the whole thing more palatable, but I think we've moved well beyond that. There's a massive thirst for knowledge and a curiosity within those consumers – we're seeing that in terms of purchase of other consumer goods, the desire to travel and their expectations around consumer lifestyle. I think wine will start to become part of the mainstream and part of the normal repertoire of drinking.
NC: The government is supporting the wine industry as a whole in the country – they're giving out grants to actually create more domestic production in China. So with that and also with global businesses that are coming in and buying up vineyards, the actual rise in production in wine in China is on the increase. There are claims at the moment that China's going to be the world's largest wine producer in 2019.
MK: What is the difference in preferences for wine varieties in China?
NC: Chinese drinkers are very, very heavy into the red wine rather than the white wine. I don't think that they have any sparkling over there because its not really well known in that market. So you can see that their taste profiles are definitely different, but if you look at any of the key markets around the world they always skew in a certain way.
MK: Do other countries around the world have specific branding for Jacob's Creek or is China the first with its own look?
MS: The Jacob's Creek brand is pretty much featuring consistently around the world.
NC: But in saying that, it's not a huge departure from the global platform. It's very much a similar hierarchy, it's more to do with stock choices and colours which suit the cultural nuances.
MS: And then there's a lot of secondary packaging – so the cartons and boxes and basically all the tools of embellishment that lift the premium of the product.
MK: So to finish up, what are your final words on where you see this all going in the future?
MS: I think what's fascinating is, and I keep coming back to it, the size of the opportunity. The financial structure of the economy of China is allowing so many people to suddenly become wealthier and to have the freedom and the right to spend that money as they want. They're craving western lifestyles in so many ways, so it's a fascinating opportunity and it's certainly keeping our Chinese offices pretty busy. Thanks to them, we're getting the on-the-ground eyes and ears that we really need to help make those opportunities successful for us.