Top digital opportunities for brands in 2015: private sharing, messaging apps and one big review
Kristen Boschma and Hugh Cameron chat about the top digital trends and opportunities for brands in 2015.
Rise in private sharing
Hugh: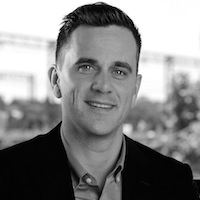 "When marketers talk about measurement on social, its worth noting that now 75% of what Australians share online is through non public channels. Private sharing (aka 'dark social') is far less measurable than public posts. This changes the game somewhat for how marketers measure effectiveness."
Kristen: "I agree. Never underestimate how irrelevant your brand is to consumer's lives. It's complicated for consumers to delineate between brands with similar offerings and little differentiation in the market. You have be distinctive to be relevant.
"Formerly, social behaviours were around affirmative acts, the 'am I OK?' types of sharing and content. The next phase was 'do I belong?'; the evolution of tribes and niche creation of groups with shared interests. These days, social users ask 'do I matter?', and want to be perceived as useful and knowledgeable. They add value to their networks by helping others; almost utilitarian. Delivering content that caters to these needs is the best way for brands to be relevant in their customers lives."
Growth of messaging apps
Kristen: "People are sharing more of their lives via private channels than public. What this means for brands is that they need to think of inventive and useful ways to use these messaging apps to be a destination brand.
"Growth in messaging provides an opportunity to extend the life of the product through towards a the conversation. Apps like SnapChat, Viber, Whats App, Instagram direct message all provide interesting opportunities for to share their message in a way that reaches people with out 'interrupting' them online.
"The areas most relevant for brands looking to interact with in messaging apps are:
Enhancing events and campaign activations (eg. Grammys on SnapChat),
promoting releases/entertainment company properties through insider information with characters (eg. new film releases),
brands looking to answer detailed product questions. This could save on customer service costs and improve brand sentiment, and
brands looking to disseminate product information online (eg. new product releases, high value items with ongoing care).
"One useful strategy is to empower key staff members to have messaging app profiles so people can engage with real personas. Alternatively, invent fictional avatars to allow people to access that brand in a fun way. Audi offered exclusive parties and offerings through the creation of a fictitious 'Doorman' character online, interacting with followers of the brand in a really interesting way."
Real-time customer care
Kristen: "Forums featuring people with a shared common interest have existed for a long time, allowing customers to support and share content. The difficulty for brands is that is has been unnatural and unwelcome for them to jump into those conversation as they've been reserved for 'fans'.
"Risk and ROI are two prohibitive factors to brands embracing opportunities online; it takes time and energy to run a social media presence and often the cost of a freelancers or agencies time can appear prohibitive. Looking at it from an economic sense – it's about a cost reduction from saving costs on in house or call centres by solving the problem in the first instance, as it happens.
"Brands that are looking to improve their customer processes need to understand social is not about leads; it's about brand sentiment."
Hugh: "Absolutely – and the approach to measuring sentiment is also important to consider. Net promoter score is one way but it's explicit – relying on a customer to declare their view. Stay in tune to implicit signals of engagement like website analytics to draw a broader view of how consumers feel about your brand."
Circular journey from webroom to showroom and back again
Kristen: "Marketers need to understand the role of peer-to-peer recommendations along the sales journey and where those recommendations are taking place.
"The influence of peer recommendations, ease of access to digital channels and increased competition has impacted the way customers interact with a brand. Social touch points along the sales journey need to support this evolution – you don't have to be everywhere; just where it matters.
"The journey is quite complicated. It's now incredibly common for consumers to discover a product in store, try on/interact with it, then leave the store to research further, search for peer reviews, prices and share with friends, finally purchasing online after making an informed decision. Alternatively they might reverse the journey next time they interact with the brand; do all their research online and then come in-store to purchase.
"Brands need to have processes in place to record, review and implement systems which model purchasing behaviour to mirror the complexity of options and different consumer touch points."
Sharing and creating brand assets
Kristen: "In the old days, if something was broken – it'd get fixed. Then we moved to renting or outsourcing the things we didn't have. Nowadays, we're moving to sharing assets, anything from cars, homes to bicycles.
"Brands therefore have an opportunity to use their assets in different ways – so that users feel they have ownership and can make sense of how relevant it is for their lives.
"A great example of this is the NAB Village in Melbourne. They have created a community of entrepreneurs, sole traders and small businesses by adding value to their everyday needs. They share their real estate and provide free wifi and a co working space for NAB small business customers, completely free of charge."
One big review
Kristen: "The follow up piece to the shared economy is of course the review process. Consumers are no longer 'wowed' by the convenience of hiring someone else's assets. Hirers have to be mindful of how customer reviews impact overall ratings and potential commercial opportunities.
"As more websites and apps auto connect to social networks (Airbnb, Car Next Door, Tinder), consumers are getting savvier about their connections and whom they would like to have a commercial and social transaction with. Hirers and brands alike have to be mindful about their own personal identity behind the product offering. We are all being reviewed and assessed online all the time.
"For scarce commodities like rental properties or even tables at restaurants, consumers could use their social media influence or positive reviews to gain access over others. Brands need to choose carefully which online behaviours they seek to reward and recognise."
Permission is a privilege
Hugh: "Greater privacy regulations came into effect in March 2014 that requires brands to 'show what they know' about their customers. This really impacts one to one communication where brands always need to be careful they have permission to message consumers directly – particularly by email.
 "As marketers become more savvy with one to one messaging the public will become more aware of the amount of information being held by brands they transact with – they often don't realise that the data is being collected over time.
"The risk is that a consumer becomes surprised at how much data you hold when reading a message tailored to them. The opportunity is to disclose how and why you have their data and let them know what they can do about it. Empower them to own their relationship with you."
Kristen Boschma (@kristen_boschma) and Hugh Cameron (@hughcameronau) lead Bastion Group's digital expertise, advising clients and employees across the Group on best practice and campaign innovations.