6 steps to a team outing your staff will actually enjoy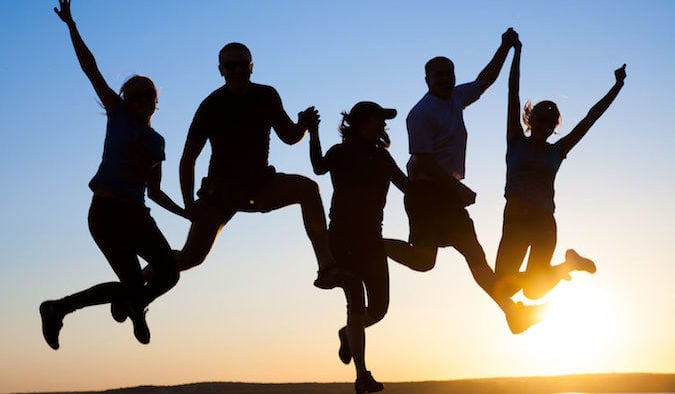 Ryan Bonnici shares what's he's learned about conducting team-building excercises and off-sites.
For many, team outings are seen as a waste of time and it's difficult to attach tangible business results to 'team bonding'. Employees don't like them because many are dull and not meaningful. Managers don't like them because they supposedly draw their talent away from meeting targets. But what if you could hold an off-site that people enjoy and helps employees do their jobs better?
That's the kind of off-site I held for my team earlier this year. So if you'd like to increase your team's leadership skills, productivity at work and job satisfaction, then you may want to hold one too.
Here are my tips for hosting the best team off-site day that your employees will actually enjoy.
1. Define the goal of the team outing and the budget
This first step is crucial to holding a successful outing because it helps you get buy-in from managers and the team and it sets the team outing up for success. You wouldn't commit to spending thousands of dollars and hours of your employees' time unless you've run the numbers and given the outcome a good hard think – and you wouldn't plan a team off-site unless you had an objective in mind.
So what is the purpose of your team outing? Is it for your team to get to know each other better? Is it to get your team to work together better?
For my team off-site, the objectives were to foster a sense of community within the team (I have employees in Sydney, Singapore and Tokyo), and to create better alignment to increase performance and overachievement. Although the team makes an effort to set up regular virtual meetings, it can be difficult to foster a sense of community between teams who work in different offices and especially different countries! So, getting to know each other on a meaningful level, and having some fun in the process was really important to us as it strengthens how well we're able to work together as a team.
2. Start researching activities that will help you meet your goal
Research some team activities that can help you achieve the goals you've outlined in step one. Aside from whether the goal of your off-site is to foster the chance for people to open up with their peers, a good team outing should still incorporate activities designed to help the team get to know each other better, whilst providing a little wind-down time before the more business-focused element begins.
Ideas for team-building activities
Life Highlights Game
Duration: 10 minutes
How to play:
Ask everyone to close their eyes and consider the best moments of their lives for five minutes.

After the five minutes has passed, ask everyone which moment they would relive if they only had 30 seconds left of their life.

Go around in a circle and get everyone to explain which moment it would be for them, and why they chose it.
Why The Life Highlights Game works:
The first part of the activity enables participants to reflect back on their lives while the second part enables them to get to know their coworkers on a more intimate level, and 

this game allows participants to get a feel for each other's passions, loves, and personalities.
The Best Year Ever Game
Duration: 10 minutes
How to play: 
Get the team to close their eyes, and then ask them the question, 'what would you like to achieve this year?' Their answers can incorporate work, personal and family life. Get everyone to write down their answers.

After they have written down their answers, ask them to close their eyes again and ask them, 'imagine we're sitting here one year later, and you're thinking about the year you've just had, and it was the best year of your life. What happened in that year that made it so good?' Again, get them to write down their answers.

After they've done this, go around in a circle and ask them whether anything changed from the first part to the second part? And if so, what changed?
Why The Best Year Ever Game works:
The first part of the activity gets participants to reflect on what's important to them, or what they think is important to them.

The second part will determine what actually matters to people on an individual level.

It gets the whole group to understand what's really important to everyone so they can support each other to achieve those goals.
Personal, Team and World
Duration: 45 minutes
This one requires a large whiteboard or some big sheets of paper. How to play:
Divide your whiteboard or wall into 12 columns, one for every month. Then divide it into three rows, labelled 'personal', 'team' and 'world'.

Ask your team to reflect back on the year that just passed, and get them to write down some big moments for them personally, big moments for the team and big moments for the world in general on some sticky notes. These can be events or lessons learned.

Every time a team member has completed a sticky note, get them walk up to the board and place the sticky note on the month it happened, and within the relevant personal, team or world category.
Why Personal, Team and World works:
It gets the team to reflect on the year that was and note big moments which happened during that year for them personally, for their team and for the world.

You start to realise more about the people you work with and what really impacted them from the previous year. Perhaps one of their family members or friends died, maybe they had an epiphany or perhaps they made a life-changing decision.
Ideas for out-of-office activities
Another suggestion beyond the business-focused outcome of your off-site is to include an experience that's going to be memorable for all involved (should your budget allow for it, of course). Not only will your team leave the off-site having overcome significant roadblocks, redefined a strategy, brainstormed impactful ideas, and got to know each other a little better, but they'll also have a shared experience that will make the day (and everything you achieved together) extra memorable. It's also a great opportunity to reward them for all the hard work they put in on a daily basis.
Here are a few ideas to get you started:
Scenic seaplane
If you're lucky enough to live in a city with beautiful scenery within reach, take a small seaplane for a ride and enjoy the spectacular views. For our out of office day we took a scenic seaplane from Rose Bay to Palm Beach with Sydney Sea Planes. The views were amazing and the team were quick to share their experiences on social media.
Why a scenic seaplane is a good idea:
Many of your employees have probably never been on a seaplane before, and it's definitely one of those bucket list activities they will remember for a lifetime.

They will probably (definitely) share the out-of-office experience on social media. The views you get on a seaplane are incredible and definitely social media friendly, which means good publicity for your brand.
Escape rooms
An escape room is a game where you get locked in a room with a group of people and in order to escape, you have to solve a series of puzzles and escape within a time limit.
Why an escape room is good idea:
It encourages teamwork, as the whole team has to figure out how to solve the puzzles in the room.

It's an ideal activity for both large teams and small teams.
3. Minimise the use of technology in your outing
Technology can be really helpful, but it can also be a huge distraction to your post-off-site goals and objectives. There's nothing that breaks concentration more than phone notifications and being in an office space filled with distractions and to-do lists. So, I highly recommend renting a room out somewhere outside of the office. This will enable your team to think more freely when they're away from their every day to do list, and really help them wind-down.
Once they enter the room, I also recommend asking them to leave their phones and laptops in their bags. By putting technology away, it allows your team to focus on each other more so you can bond with each other on a meaningful level.
4. Break up the team outing into 'light/fun' activities and 'work-focused' ones
For a team outing to be successful and enjoyable for your team, you really have to balance both of these elements. This ensures your team can bond by doing some fun activities outside of work and are still working towards meeting the goals of your company.
That's why we decided to break our team off-site into two days. The first one would be a 'fun' day to foster bonding between the team, and the second day would be a more productive, business-focused brainstorming day.
It seems simple, but incorporating these two elements in your team off-site will definitely ensure it's both fun and productive. We found this combination highly successful and crucial to creating an off-site that people genuinely enjoyed.
5. Get quotes from companies and ensure you stick to your budget
Now you have a list of activities you'd like to do on your outing, it's time to call up those companies and see how much it'll cost you. If they have a Google My Business page set up, I highly recommend checking the reviews on there and see what their overall rating is, and the kinds of things people comment on.
When planning a team outing, it's important to take into account the price of the service, but it's also important to take into account the quality of that service too – especially when the prices are similar as it can help you decide which one you want to go with.
6. Pull it all together and create the day's agenda
Now it's time to pull it all together. Ensure you've answered these key questions:
What is the purpose and goal of this team off-site? Why do you need to hold one? What will happen if you don't hold one?

What teams and how many people will attend this outing? How will they get there?

What activities will you do and on what day/s? Write up an agenda and include the timing of each activity.

Pull together all the activities you'll do on the day and at what times, also ensure you have some time to buffer before and after activities and ensure you don't cut it too short.

What will a successful team outing look like? Will it be a score on a feedback survey at the end of the outing?
Taking the time to take your team out on a well-planned team outing is an important element for both improving company culture, improving employee relations and encouraging team work. However, a team off-site can also be very costly, and not very beneficial if you don't plan it in a strategic way.
If you'd like to get the biggest return out of your team off-site, I highly suggest you follow the steps I have outlined above. I hope you've found this post valuable, and really hope you enjoy your team off-site meeting. Share pics and let me know how it goes by tweeting me at @ryanbonnici.
_
Top image: Yanlev / 123RF Stock Photo