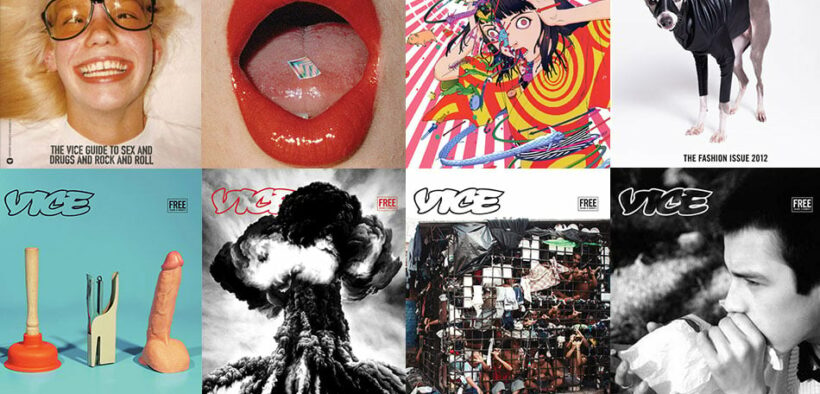 It started as a zine, covering music, art, trends and even drug culture throughout Montreal, Quebec, Canada. From there, Vice (now known as Vice Media) grew into a global and cultural phenomenon, with reporters experimenting with ayahuasca and exploring the notorious hermit kingdom North Korea. But now, Vice Media is preparing to file for bankruptcy.
Founded in 1994, Vice Media was originally Voice of Montreal, a magazine put together by Shane Smith, Suroosh Alvi and Gavin McInnes. Focusing on the burgeoning subculture of music that was defining French-speaking Canada, the skateboard/punk publication was instrumental in uncovering now cult bands Godspeed You! Black Emperor as well as Arcade Fire.
As the magazine grew in popularity, investors became interested, and in 1999 a local Canadian investor pooled $4 million USD into it, and the title expanded its offices to Williamsburg, Brooklyn, where it still remains today.
Vice Media's momentum was showing no signs of slowing, attracting contributions from famed photographers, writers, creatives, film makers, including Ryan McGinley and the now infamous Terry Richardson (who has faced a wealth of sexual assault allegations since his tenure with Vice). 
Vice was a runaway freight train and everyone wanted to jump on board.

An issue of Vice magazine.

Expansion into VBS.tv
In 2006, under the direction of revered director Spike Jonze (Being John Malkovich, Jackass and Her), Vice Media expanded into video, launching VBS.tv. What became a guerilla journalism style platform, VBS.tv was a youth-focused channel that covered everything from travel down to drugs, festivals, parties, sex and food, even profiling thug debt collectors in the UK's working class north.
It had something for everyone. And launched the careers of now prolific writers, journalists and creators including Ryan Duffy, Karley Sciortino and Thomas Morton. The Vice Guide to Travel went behind the lines of the cartel in Mexico and Rio, showed the world North Korea, and even featured two journalists running around the radioactive sight of Chernobyl brandishing Uzis. It was, at its heart, both informative as well as aspirational, if you had aspirations of becoming a hipster with a camcorder travelling to parts unknown. 
Vice Media was a news channel without the bright lights, makeup artists or conservative governing body pulling the strings. It felt like an anarchist response to the commercial television that was being fed to the youth. It was escapism, realism. Vice blurred the line of what was moral to share on camera, as viewers sat with their mouths agape watching people in Siberia use the homemade drug Krokodil. It had a chokehold on alternative media in 2006, as it dominated everything: magazines, YouTube, even club nights. Vice had its fingers in many pies and the consumers continued to eat them.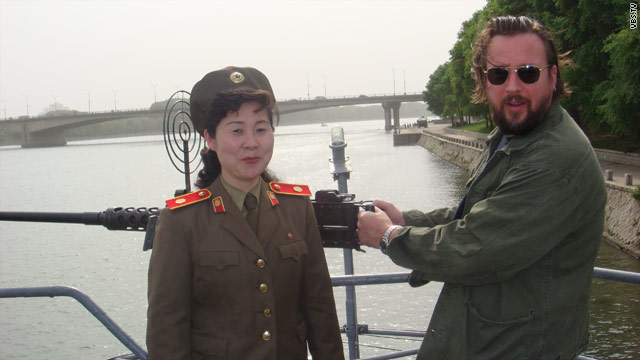 Vice co-founder Shane Smith reporting from North Korea.
Trouble starts brewing 
Around this time, co-founder Gavin McInnes announced his departure from Vice Media. "Creative differences," was the excuse behind his sudden walkout. Shane Smith stayed uncharacteristically quiet about the situation, and it became apparent why later down the track. 
Vice, a typically leftist publication – if not bordering on anarchist and socialist – was no longer aligned with McInnes. And not just that McInnes was leaning slightly right-wing, but instead he was all the way down the other end at the far right. 
He started an advertising agency named Rooster and then, even more infamously, started Proud Boys, a far-right neo-fascist organisation that promotes and engages in political violence. So far right, in fact, that former president Donald Trump denounced them, calling the group "too extreme".
Vice Media attracts Murdoch
From McInnes and his Fred Perry Polo-wearing posse spouting racist diatribe online, Vice had some groundwork to do to make up for alienating some of its audience who were appalled by the association with the Proud Boys. But the gap between its original readers, who were all about anti-capitalism, continued to widen as notorious media mogul Rupert Murdoch invested $70 million USD into the company, giving him a five percent stake.
Shane Smith reasoned with his loyal followers: "We have set ourselves up to build a global platform, and we have maintained control." 
The investment by Murdoch put Vice under the Fox umbrella. This era of Vice saw it receive multiple mainstream accolades, including an Emmy. In 2014, the coverage of Venezuela and Ukraine's political unrest saw the BBC even say it was playing "catch-up" to Vice, as its dominance reached mainstream media.
This same year, A&E Networks, owned by The Walt Disney Company, made a $200 million USD investment for a 10 percent stake in the business. The following year, Disney made an additional $400 million investment. 
Vice Media was now part of Disney. Two strange bedfellows. It started to expand into Netflix and other streaming services with shows hosted by Action Bronson and David Chang. 
Peaks and troughs
Vice Media was not just a success, but it was a force to be reckoned with. Rumours started swirling about the lifestyles associated with the media giant. Three hundred thousand US dollars was supposedly one dinner bill of Vice executives at the Bellagio in Vegas. Splashing $20,000 on bottles of wine, it came out of Smith's pocket on the back of an apparent $1 million victory on blackjack..
At its monumental peak in 2017, Vice Media was worth an eye-watering $5.7 billion USD. Smith, who remains part of Vice – although not so much on the frontline as a presenter like he once was – was estimated to have a personal wealth of $1 billion.
However, what goes up must come hurtling back down. 
With the prominence of the #MeToo movement spurred on by Harvey Weinstein's trial, media companies all over were being subject to whistleblowing and the uncovering of sexual harassment. And Vice could not avoid the movement either. 
In the year when Vice financially peaked, four settlements were also made involving sexual harassment. More than 20 additional women came forward to say that they had experienced unwanted kisses, groping, lewd remarks and propositions for sex. Smith and Alvi said that it had come from the top down, of not creating a safe space and environment for women to work in Vice offices.
The next year Smith stood down as CEO and would instead become executive chairman. Nancy Dubuc moved over from a role at A+E Networks to become Vice's first female CEO. 
The next few years saw Vice Media acquiring other publications including Refinery29, but during this time it continued to be rattled by reports of toxic work culture, underpaying staff and criticism of rogue journalism involving photoshopping victims of the Khmer Rouge Genocide and funding a music festival in Saudi Arabia. 

Vice lands in hot water for photoshopping smiles on victims of the Khmer Rouge.
Present day Vice 
In February 2023, Duboc stood down as CEO amid reports that the company was facing problems turning over a profit. Vice announced that it was up for sale. 
But, it seems that the once-giant of gonzo journalism has lost its shiny appeal. Struggling to find an investor or buyer, as of 1 May 2023 Vice Media has reportedly started to consolidate and prepare to file for bankruptcy.
The fall from grace of Vice Media is indicative of the 'live fast' lifestyle by which it was once defined. Go out hard and strong. 
On a personal note, Vice was once the cornerstone of content consumed. From a teenager picking up a free copy of the magazine after buying records for a vinyl player I did not have, I would read the publication from cover to cover. I took Vice's Do or Don'ts as biblical and refused to ever be categorised as a 'don't', as well as played what I can only describe as "truly unlistenable music" because a blue-haired music reviewer had given the EP four stars.
It was the reason I went to journalism school and I used its content to recount at parties to seem interesting or cool. It was the epitome of the indie scene in 2007, if not the creator of it. Vice Media was the king of the kingdom, until, like all things, it wasn't.

Gavin McInnes and Shane Smith with early editions of Vice.