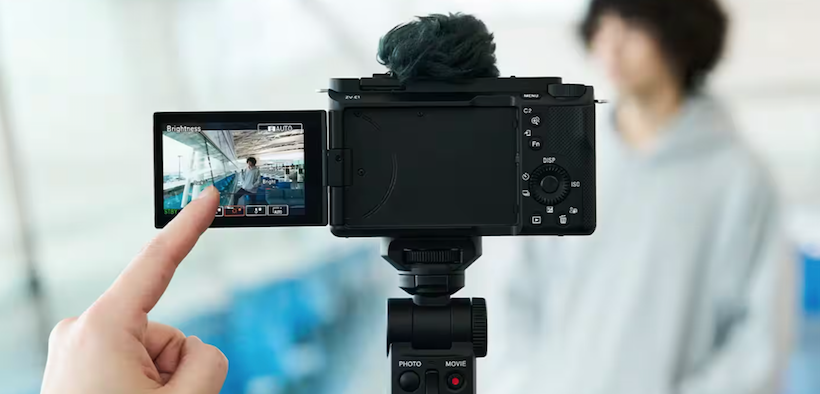 The search for the perfect compact vlogging camera is an ongoing quest for many content creators. Many photographers and videographers wait patiently for "the best camera for vlogging" to appear. Well, the long wait may finally be over with what is currently the world's most compact, lightweight full-frame interchangeable lens camera: the Sony ZV-E1. 
Does this full-frame mirrorless camera give content creators everything they could wish for? Let's dive in.
A mirrorless camera designed with content creators in mind
The Sony ZV-E1 is a lightweight, full-frame mirrorless camera that caters to the needs of content creators by combining the best aspects of Sony's Alpha and Cinema line, offering exceptional image and video quality in a small package. Throwing out the gauntlet as the best Sony camera for vlogging and content creation and one of the best cameras for YouTube, Sony is offering the benefits of full-frame capture without the bulk. It's a mirrorless camera for vlogging, and it knows it.
Equipped with remarkable image stabilisation, Bluetooth and WiFi connectivity, and a Cinematic Vlog mode, the ZV-E1 is an invaluable asset for content creation. Essentially taken the mantle as the ultimate Sony vlog camera, the ZV-E1 is compatible with over 70 Sony E-mount lenses, enabling boundless creative opportunities that come with the larger sensor and all the extra goodies that Sony has thrown into the mix.
We're talking 4K/60p and 4:2:2 10bit video capture, powered by the latest image processing engine, alongside AI processing for some of the best subject-recognition capabilities in the business. Or, in their own words, "expressive imagery that emphasises the subject".
With so many incredible features, it's clear that Sony is gunning for the mantle of the best mirrorless camera for video.
Stunning photos and smooth cinematic videos
So let's start with that 12.1MP EXMOR R CMOS Sensor, borrowed from pricier Sony full-frame mirrorless cameras. Boasting 15+ stops of latitude, low noise, high sensitivity and exquisite full-frame bokeh, alongside dynamic image stabilisation and automatic subject framing, capturing stunning stills and videos has never been easier. 
Inside is the BIONZ XR™ image processing engine, offering up to eight times more processing power than previous Sony processors for increased data processing like recording 4K (QFHD: 3840 x 2160) footage at 120p in real-time.
Then there's Sony's dynamic-active image stabilisation system, which is so effective it could potentially make gimbals obsolete thanks to the 5-axis in-body image stabilisation, Dynamic Active Mode and Framing Stabiliser.
Paired with the camera's rapid and precise AF system boasts 759 phase-detect AF points across the frame and enhanced subject tracking, getting perfect focus on your subject is as straightforward as tapping the screen.
Vloggers will also enjoy the ZV-E1's Intelligent 3 Capsule Microphone, which grabs clear audio, including your main subject's speech. 
But if you really want to take your content further, you've got to check out the Cinematic Vlog mode. A standout feature, in our opinion, Cinematic Vlog mode enables users to create polished cinematic content with a simple button press. This mode includes a cinematic-friendly anamorphic aspect ratio (2.39:1), S-Log and S-Cinetone, and 15+ preset camera options. With upwards of 409600 in expanded ISO mode, the ZV-E1 captures natural-looking images in various lighting conditions.
Modern connectivity for content creation
The ZV-E1's Bluetooth and WiFi connectivity facilitate rapid and intuitive sharing and remote capabilities. The camera also features Sony's MI hotshoe, which supports accessories like microphones and lighting equipment.
A 3-capsule microphone provides excellent in-camera audio, while microphone and headphone ports offer greater sound quality control. The ZV-E1 also includes an HDMI type D port, a USB-C port, and a high-speed UHS-II SD card slot – all in a body weighing under 500 grams with a battery and memory card installed.
Numerous accessories are available to assist vloggers during shoots, ranging from high-quality external mics to an easy-to-handle grip for smooth, one-handed operation.
The verdict: A top choice for vloggers & content creators?
The Sony ZV-E1 is a fantastic option for vloggers and content creators seeking a compact, feature-packed camera. Its compatibility with over 70 Sony E-mount lenses and various accessories makes it highly versatile for diverse content creation needs.
Based on its features and capabilities, the Sony ZV-E1 is an outstanding investment for content creators looking to elevate their work. Its powerful performance, convenient features, and compact size make this lightweight mirrorless camera a potential game-changer in the world of content creation.
While this independent review emphasises the Sony ZV-E1's impressive offerings, potential buyers must consider their specific needs and preferences before purchasing. The most expensive camera doesn't always mean it's the best camera for content creation. Fortunately, the Sony ZV-E1 is a strong contender for those seeking to take their vlogging and content creation to new heights. Visit a camera store near you and get a first-hand look at the all-new Sony ZV-E1.