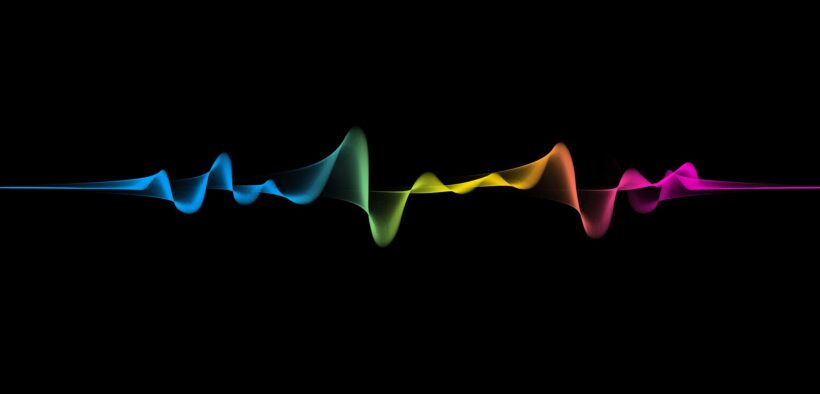 In November last year, among the 500-plus hours of content uploaded to YouTube every minute, the video-sharing platform released one very important three-second sound.
If you've fired up YouTube on your TV recently, you have probably heard it. It's the sound that plays over an animation right before the app starts up.
YouTube created this unique piece of sonic branding with the help of Antfood, one of the top studios working in this space. Antfood's portfolio includes sonic branding for Netflix, Pepsi, PayPal and even Sesame Street.
What exactly is sonic branding?
Sonic branding is a powerful marketing tool, which is not to be conflated with any old advertising that incorporates audio. 
The term refers to the sounds used to identify a brand. While some marketing channels use music to support short-term messaging – like for sales, events or new products – sonic brand assets are designed to be long-term and brand-building.
Audio logos, UI sounds, brand music, or brand voice are part of a suite of distinct assets given the task of conveying the soul of the brand in sound across an organisation's audio touchpoints. Some of the greatest hits include McDonald's 'I'm Lovin' It' or the Intel sound. These audio logos are as recognisable as their logo marques.
How popular is sonic branding in Australia?
IAB Australia recently surveyed 249 decision-makers and influencers in the allocation of marketing spend and found only 27 percent of agencies consistently use sonic branding. This is despite over 70 percent of media agencies now having streaming digital audio and podcast advertising as a regular part of their activity.
Resonance, a sonic branding agency in Sydney, agrees that "some, but not many" brands are using sonic branding to its full potential at this audio-heavy juncture.
"Smart technology is changing the way we navigate our lives," Resonance tells Marketing.
"Voice, gesture and optical control are replacing manual-visual inputs. Screens, buttons and steering wheels are being replaced by microphones, speakers and sensors." 
For brands to "win in this new world", Resonance says they need to build their sonic brands. And that doesn't just mean creating an audio logo. It's becoming more relevant to create a full sonic ecosystem that goes beyond advertising channels.
Building the ecosystem
With backgrounds that span marketing, music production, sound design, classical music and DJing, the Resonance team brings a broad range of skills to this relatively new specialist discipline. 
According to the team, the main tools of audio branding are:
1. The Audio Logo
Starting with the obvious one, an audio logo is a shorthand expression of the 'Sonic Essence', like the classic examples mentioned above.
2. The Brand Anthem
A brand anthem is a bespoke track that also encapsulates the Sonic Essence of the brand.
3. The Music Bank
The music bank includes a selection of bespoke tracks derived from the Brand Anthem.
4. Licensed Music
Licensed music might be a commercially released track that becomes strongly associated with the brand.
5. The Brand Tone of Voice
This is the vocabulary within the script and performance style of the brand voice.
6. The Brand Voice Over
A brand voice actor can also be used to unite all messaging and reinforce brand personality.
Resonance counts Canva as one client for which it has created a sonic brand identity from scratch. This included a brand anthem and audio logo two years ago, followed by a cast of brand voices, remixes, content series themes and UI sounds for web and mobile apps. 
IRL, the agency made an audio logo for the Australian Open, which was designed as a participatory chant for fans. It also composed the brand anthem to play in the arena and around the park in 2022. 
All in all, it takes the agency between eight to 16 weeks to complete a project. Timing depends on the complexity of the brand and the number of assets required with strategy development taking just as long as creative development.
The four qualities of good sonic branding
Resonance says the best sonic brands have four attributes: they're unique, and consistent, they build rapport with stakeholders, and they're repeated enough times over a long enough period to become attributable to the brand.
"Who has a brand voice so distinct that they don't have to say their brand name? Which UI sounds have become synonymous with the action they represent?" asks the agency.
Nintendo is one.
"[Nintendo] has an instantly recognisable brand sound which has been reinvented throughout the decades and across new products, game franchises and formats. It does well to stay fresh while being steeped in nostalgia," says Resonance.
Skype is another "great piece of sonic branding". 
"Its UI sounds represent the visual identity perfectly and were totally unique when they burst onto the scene. Despite the business losing ground to other video conferencing brands recently, the sounds are fondly remembered."
But you don't always have to follow the rules. 
"Bunnings uses the same piece of music consistently and has the right amount of 'wrong' for it to become entrenched in Australian culture," Resonance says.
The direction of the genre
As time goes on, we might be seeing fewer Bunnings-like jingles centred around the brand name – although there is still a time and place for them. 
"These can often sound cheesy or forced to today's audience, but have strategic merit when a brand prioritises brand recall and salience," says Resonance.
"We've seen a change in the types of audio logos being developed. Partly that is led by technological advances, but also musical styles and tastes change over time. Some even come back around!"
Over the past two decades, sung logos have gradually dropped their words to create ownable melodies or rhythms that can support a positioning statement. For example, McDonalds' ('I'm Lovin' It'), Woolworths ('The Fresh Food People') and Toyota ('Oh What A Feeling') now rarely use lyrics, but those phrases are ingrained in people's minds whenever they hear the melody alone.

In the entertainment and tech world, many companies have done away with voice and melodies altogether. Instead, they've developed sonic brands that use textural sound layers. And YouTube's new start-up sound fits right into this category.
"In a short space of time, they've managed to cram in a lot of elements each with a rationale for their place. And importantly, the end result feels simple, clean and the right aesthetic for YouTube – which is great design," says Resonance.

"Just like Netflix or Xbox, this is not meant to be a catchy earworm, but rather a priming of the listener that good things are to come. 
"Hence, the real test of YouTube's audio logo will be whether, in five year's time, it is considered as a positive precursor to content or just another noise emitting from the user's device."
More marketers listen in
Although uptake is currently low in Australia, 43 percent of those surveyed by the IAB want to introduce consistent sonic branding.
Agencies like Resonance agree that marketers should be all ears.
"Those that are investing in the future now will reap the rewards in the coming years," says Resonance.
"Everyone else risks being left behind."