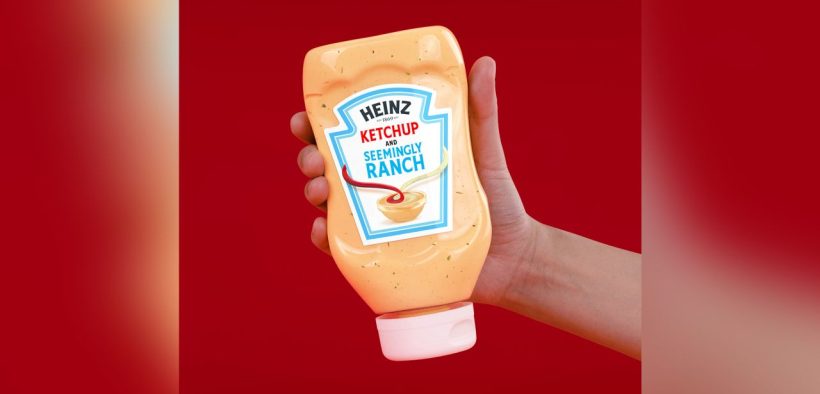 The pop phenomenon Taylor Swift and a competition for a limited edition Heinz sauce: the connection between the two is not immediately obvious. But Heinz is cleverly capitalising on an opportunity to wield the musician's fame (and her sometimes fervid fanbase) to promote its brand – and sauces.
It all started with a post made on X (formerly Twitter) on 25 September by a Taylor Swift fan account, @tswifterastour, which boasts over 357,000 followers.
It shows Taylor Swift taking a photo with a fan at an American Football game. Taylor and the fan are both smiling; beside Taylor is a chicken nugget and sauce – all seemingly innocuous stuff.
🚨| Taylor Swift was eating a piece of chicken with ketchup and seemingly ranch! pic.twitter.com/rpAOP2HFtT

— The Eras Tour (@tswifterastour) September 24, 2023
But it's the caption given to the image, which reads "Taylor Swift was eating a piece of chicken with ketchup and seemingly ranch!" that caused it to spread like wildfire. Specifically the descriptor "seemingly". Seemingly ranch – why the painstaking specificity? Why are we focusing on the sauce in the first place?
The tweet, of course, went viral. In ten days the post has amassed 32.9 million views (yes, 32.9 million – that's seven more million views than the entire population of Australia).
Brands were quick to jump on the viral moment. "Our Ranch Queen" said the official KFC account (now viewed 286,000 times); "can't be too sure…it could be BBQ!" said Postmate's twitter.
Heinz hops on the board viral moment
But it's Heinz that has truly embraced the moment. On 27 September it posted a humorous image on Instagram with "seemingly ranch" next to "obviously ketchup".
View this post on Instagram
Heinz didn't stop there, however. The same day it posted an image of a classic Heinz sauce bottle – with one key difference: it was labelled as 'Ketchup and Seemingly Ranch'.
A major success. Taylor's legions of fans were eating it up. "I need this", said @abbynicolegarrison. "I would die for one", said @lexidonziros (hopefully exaggerating).
And, luckily for the 'swifties', it turned out Heinz was listening. On 2 October, Heinz made another post again showing the viral condiment, this time announcing a competition giving fans the chance to get their hands on 100 bottles of the limited edition product.
View this post on Instagram
"It's happening. 100 bottles of Ketchup and Seemingly Ranch are here," begins the caption. 
"To enter, like this post, tag the person you'll share it with and use the hashtags #SeeminglyRanch #ItHasToBeHeinz #Sweepstakes for a chance to win."
The post already has thousands of comments – and with just under a week until the competition closes on 10 October, it's showing no signs of slowing down.
Unfortunately, the competition is only for residents of the US over 18 years of age.
But for those who will miss out (if not eating a Ketchup and Seemingly Ranch sauce could even be called 'missing out'), there is still some good news. Since 2019, Heinz has offered a ketchup and ranch combination sauce called Kranch. 
And, although I can't confirm it, I suspect Heinz's new limited edition sauce is simply a relabelling of this product. This doesn't seem to dissuade those commenting desperately for a chance to win the 'new' sauce, however, which continues to ride on the wave of a viral phenomenon. That's good marketing.
Cover image attributed to CNN.