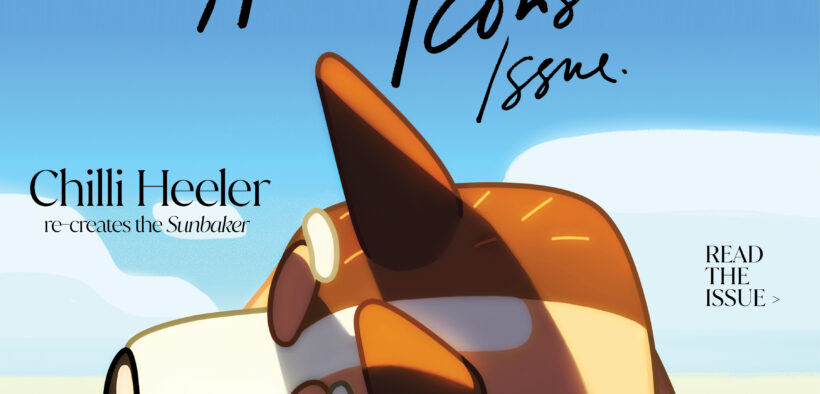 Picking up a copy of InStyle would normally mean seeing a Hollywood starlet or a stylish model gracing the front cover. However, the latest issue, which is all about Australian icons, has chosen another path. The magazine has partnered with Australia's most popular show Bluey and features Chilli Heeler in lieu of the normal talent for cover.
The iconic cover, which is an exclusive collaboration between InStyle Australia and Ludo Studio, is a cartoon recreation of the famous 1937 photograph Sunbaker by Max Dupain. To talk about the cover story and the unique collaboration that saw fashion meet children's cartoons, Marketing's managing editor Liv Croagh sat down with InStyle Australia editor-in-chief Justine Cullen. 

MarketingMag: This is InStyle's first "Australian Icons" edition – it's a bold move to use the cartoon character Chilli as the coveted cover girl, can you talk about the first conversation and inspiration around this?
Justine Cullen: I have kids and I'm a huge fan of the show. I think Chilli's character in particular – while sometimes overshadowed by Bandit being such a welcome positive dad role model – is very layered and real and is such a modern representation of womanhood (even though I am of course aware she's a dog and not technically a woman!). So I don't remember the first time I thought about putting her on the cover – I'd been trying to think of a way to do it for a long time. I think my body of work shows that I don't see covers as something to be too reverent about and so hate the idea of them being expected or homogenous – I like to have fun with them and use them as an opportunity to surprise and delight and hopefully start a cultural conversation. Eventually I just started throwing ideas at the ABC and Ludo, thinking they would probably never go for it. As is always the case – with our Anthony Albanese cover for example – no one was more surprised than me when they did. 
MM: Bluey has become such an important part of our culture and is revered overseas, do you think we've previously left off these sorts of cultural forces when talking about Australian Icons?
JC: I think we've always been able to acknowledge the role of humour in our Australian icons – Dame Edna, Crocodile Dundee etc. But I think unless you have kids it's possible that you saw Bluey as just another hit kids TV show and might have missed its incredible global impact – the fact that American kids are starting to speak with Australian accents when that's something that's always happened in reverse is absolutely wild to me. And that's what makes Bluey relevant to InStyle at this point in time – we're all about the forces shaping the world we live in, and that's a story worth telling to our readers who otherwise might not have completely understood this particular zeitgeist moment. 


The original photograph Sunbaker by Max Dupain.
MM: How did the inspiration of Max Dupain's iconic shot come to be?
JC: Originally I wanted Chilli to be wearing new season Australian fashion, but that wasn't allowed. So because it's the Australian Icons issue so we were tossing around other iconic Australian symbols that might help Chilli tell a story relevant to InStyle, and we thought the Sunbaker would be a beautiful moment to have her re-create. Chilli is a mother and mothers have had it particularly tough over the past few years and even now, during what's being dubbed as The Great Exhaustion. There's something very regenerative about that pose and image that I think really resonates at this moment in time. 
MM: How important is championing something like Bluey in the fashion space? How do these sorts of brand collaborations come to be?
JC: I don't know if it's 'important' in any real sense but from a brand perspective I think it's an opportunity to show the ways in which we're different from our competitive set. We're fun and we don't take ourselves too seriously. Magazines and fashion are a form of entertainment and I think it's important that we make people smile. 
I think the bigger risk these days is to stay stagnant.
MM: InStyle prides itself on forecasting trends, what else can readers expect from the Icons edition? What do you forecast for Bluey and her family in the future now that Chilli is a cover girl!?
JC: I hope Bandit, Bluey and Bingo are super proud of Chilli for having her moment in the sun but ultimately I'm sure she wouldn't let it go to her head and it's probably BAU already in the Heeler household. 
As for InStyle, we've already increased our print editions from biannual to quarterly due to the success of the first issue and we have a few more surprises up our sleeve for the rest of the year! 
How risky was it for the team to go with a cartoon cover over the normal glamorous/style or celebrity image? It's sure to capture the attention on shelves.
I think the bigger risk these days is to stay stagnant.