Where can you get the best hot chips? It's a debate most of us have had at some point, and we know to tread softly because these arguments can get vicious. There's now an answer that could settle the matter.
Massive new research shows KFC chips are the clear favourite of the country. A 750 person study from strategic insights firm Nature into factors of 'brand love' for quick service restaurants (QSR) found that great tasting chips are a major influence.
Seventy-six percent of Australians say KFC has the best tasting chip, followed by Red Rooster at 67 percent and Grill'd at 65 percent as the next most popular options.
Aussies still choose taste over value
In a cost of living crisis, you might expect the pricing of fast food options to be most important to customer decisions. But food offering was found to be the most important factor, beating both value for money and dine-in experience in the study results.
"It shows that a quality overall food offering is what makes a good casual dining restaurant  great," says James Jayesuria, Nature partner and managing director in Sydney.
People say Hungry Jack's offers the best bang for their buck, with its value for money narrowly edging out that of KFC and McDonald's. Grill'd offers the most popular dine-in experience, with 58 percent of Australians saying that it is great.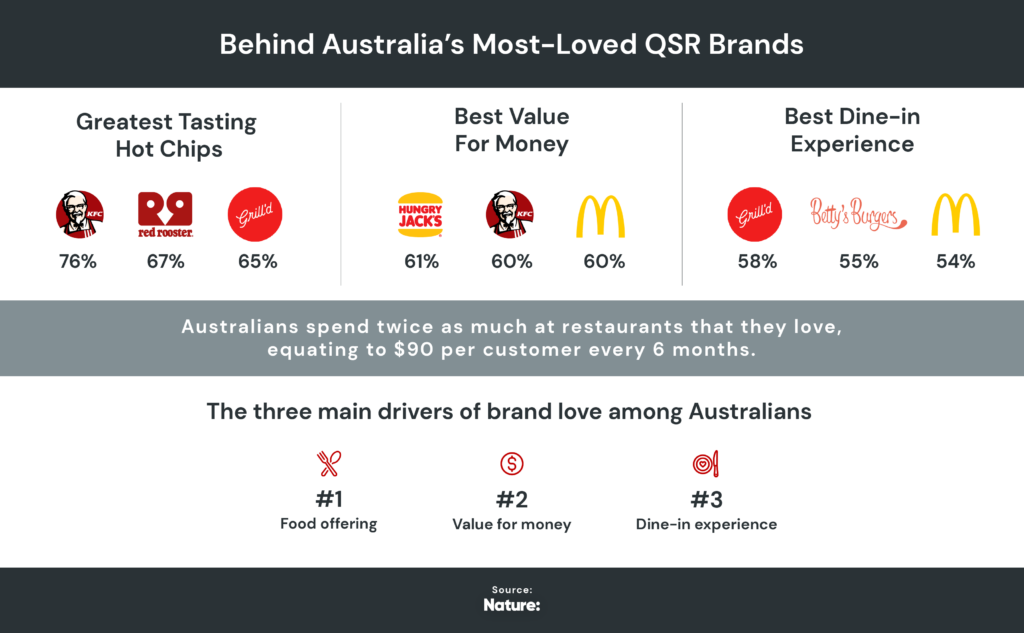 Brand loyalty is valuable in this economy, even for chips
Australians on average spend twice as much at restaurants that they love.
Nature associate director Mikayla Samuels thinks brands should focus on building a devoted customer base who are more willing to spend more with them, as there is a clear opportunity for affordable brands to "capitalise on the lipstick effect" with customers turning away from expensive options.
"People may not be able to afford to dine at high-end restaurants right now, but they still want little luxuries like a delicious dinner out or a tasty food delivery," says Samuels.
KFC recently came out with a new offering for its biggest fans: a 'Zinger" clothing line.