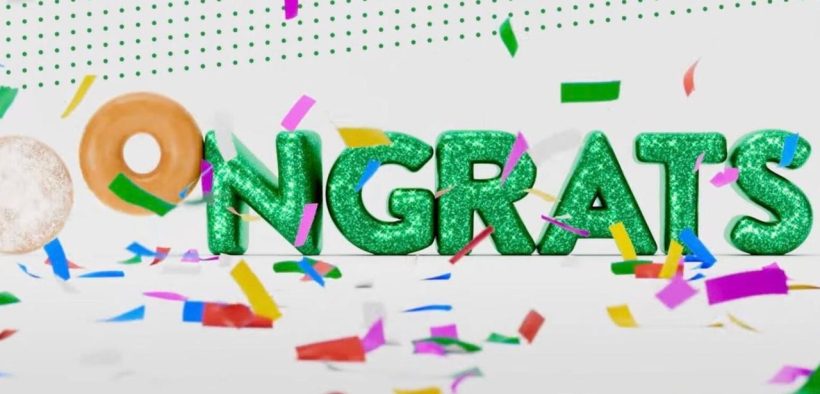 Krispy Kreme has landed in hot water (or perhaps hot oil) after a new Australian campaign inadvertently featured a highly offensive racial slur.
The offensive campaign
The campaign was made in collaboration with creative agency Abel and Limehouse Production. It features four spots, which aim to celebrate life milestones and events, encouraging Aussies to incorporate Krispy Kreme doughnuts into these special moments.
This is represented visually in the spots, which – amid colourful confetti – substitute doughnuts for the letter 'o' in words like footy, movie and hooray.
But it's when a doughnut replaces the 'o' in congratulations, before multiplying to briefly spell 'coongratulations' and eventually 'cooongratulations', that the derogatory term makes its unfortunate appearance.
Krispy Kreme apologises and pulls ad
The congratulations advertisement featuring the slur was quickly removed from Youtube, though the other spots remain. Facing backlash, Krispy Kreme's marketing director, Olivia Sutherland, has issued an apology on behalf of the company.
"We never intended to offend any person or group. We are sorry for the oversight and have removed all congratulations related ads from the campaign," Sutherland says.
Krispy Kreme criticised
For some, this apology isn't good enough. Dr Stephen Sutherland, an anti-racism campaigner who headed the charge to rename popular cheese brand 'Coon' to 'Cheer' in 2021, says 'it's an absolute disgrace that in 2023, someone thinks they can come up with an… ad like that on a product that is very popular with people of colour.'
Dr Hagan calls for a boycott of the popular brand, which had revenue of $1.61 billion in the twelve months ending 2 July 2023. "I don't think they've learnt their lesson. Krispy Kreme has a history of racism and they haven't learnt," he says. 
"These are not little slip ups, these are huge. And I don't accept the apology."
Keeping Krispy Kreme's future sweet
Indeed, this is not the first time Krispy Kreme has produced racially offensive material, even if inadvertent. In 2015, this time in the UK, they came under fire for a promotional event titled 'Krispy Kreme Klub Wednesdays' – or KKK Wednesdays for short. How such a blatantly insensitive acronym made it past multiple steps of review is anybody's guess.
Sadly, Krispy Kreme's partnership with the agency Abel seems not to have solved these problems, as evident in the new campaign. 
When Krispy Kreme announced their partnership with Abel earlier this year, head of marketing at Krispy Kreme ANZ, Aimee Cutajar, said that Abel 'asked the right questions."
Yet it's apparent that more questions need to be asked of Krispy Kreme, who ought to devote more attention to reviewing their advertisements – not just for grammar, but for serious matters of racial insensitivity.
One thing is for sure: Krispy Kreme now has a lot to answer for.