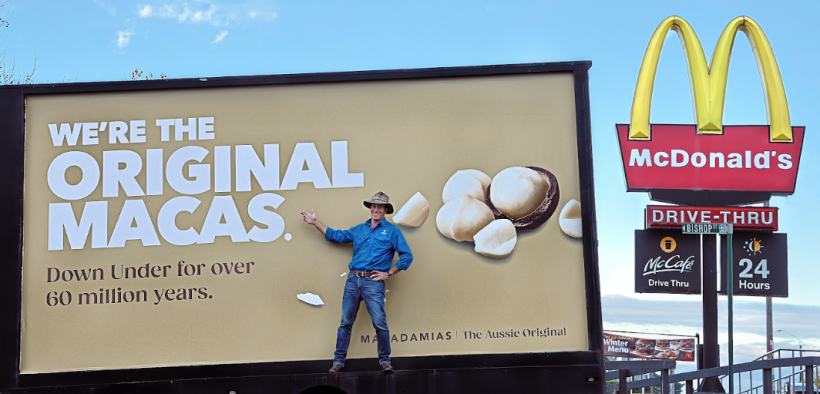 Australian Macadamias have staked its claim to the title of original Australian 'macas' in a cheeky new campaign poking fun at fast-food giant McDonalds.
Macadamias are the only native nut in Australia, and have been growing down under for over 60 million years, beating McDonalds 50-year history in the country.
The campaign, created by Hopeful Monsters, launched with a tongue-in-cheek billboard outside McDonald's St Peters in Sydney. 
Macadamia growers have thrown their support behind the campaign with Queensland farmer Michael "Maca" McMahon recruited as the voice to educate Aussies on the native credentials of this famous nut.
Australian Macadamias new campaign celebrates being the original 'Macas'
Hopeful Monsters CEO Katie Barclay says the campaign looks beyond health benefits to engage consumers with an interesting angle.
"It turns out, most Aussies are unaware that macadamias are native to Australia and with them affectionately known as Macas, the Original Macas campaign was born, having a playful pop at a true Aussie staple," she says.
As part of the campaign Macadamia Australia have collaborated with media personalities to create McDonalds-style meals highlighting the native nut.
First Nations chef and self-described native food queen Mindy Woods was enlisted to create the
"Original Macas Mylkshake" using macadamia milk.
The mylkshake is designed to pair with "The Original Macas Burger", a kangaroo meat alternative to the traditional burger with roasted macadamia pieces throughout the mince.
"Macca's might be synonymous with the big golden arches, but macadamias have a 60 million year head start here in Australia," Jacqui Price, marketing manager at Australian Macadamia Society says.
"By celebrating The Original Macas, Aussies are supporting local growers, but they are also supporting better health for themselves and the planet."
Macadamias are Australia's fourth largest horticultural export, and the industry contributes millions of dollars to the regional economies in which they're grown. 
They are an Indigenous delicacy with many east coast Aboriginal nations maintaining a special connection to the macadamia nut. Indigenous Australians were the first to harvest and trade macadamia nuts, both as a food source and for other uses.
They're also a superfood that boasts enormous health credentials with nutrition benefits for skin, digestion, even speeding up weight loss.
Around 75 percent of Australia's macadamia crop is exported to more than 40 countries, and the crop's value was estimated to be worth $110 million in the last financial year, according to Queensland government data.