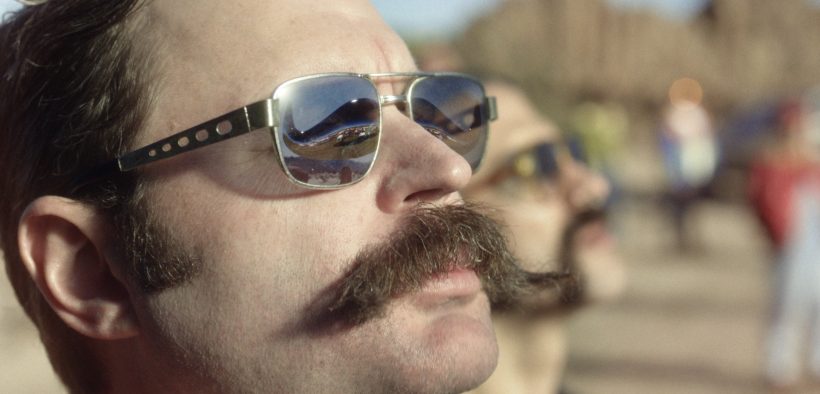 An eye-catching new Movember campaign created by DDB Group Melbourne and Revolver in collaboration with Movember Creative Studio has people making a desert pilgrimage to worship a giant moustache.
The quirky campaign film depicts a society of movers, growers and party-throwers called 'The Order of Mo', a collective united by their belief in men's health. English actor Matt Berry of the Toast of London and the IT Crowd voiced the campaign, and Mongolian folk metal band The HU, the Sydney Bus Museum, and Australian comedian and actor Aaron Gocs also contributed to the making of the film.
This November will be Movember's twentieth year, and the organisation is celebrating two decades of changing the face of men's health with this creative new fundraising campaign.
Movember global director of brand and content Hugh Miller says the new campaign balances fun with the importance of the cause.
"The challenge we set for DDB and our own creative Studio was to embrace our brand's irreverent DNA, to harness the power of distinctive creative to help us drive more registrations this Movember. We wanted to build a sense of radical inclusivity, belonging to something bigger than yourself, something working for good," he says.
"The Mo is Calling is bold and fun. Yet it also has serious edge steeped in why we do what we do. It's everything the Movember brand stands for."
From humble beginnings in Australia in 2003, Movember has become a global movement with more than 6 million supporters. Over 1250 men's health projects have been funded since the campaign's inception, with a focus on prostate and testicular cancer research and suicide prevention.
Around 10.8 million young men globally are facing life with a prostate cancer diagnosis. Globally, testicular cancer is the most common cancer among young men. By encouraging men to get involved, Movember aims to increase early cancer detection and diagnosis.
Movember campaign promotes men's health awareness
DDB Melbourne Group creative partner Giles Watson says the campaign champions the moustache as a symbol of connection and awareness.
"We've turned the Movember Mo into the Bat Symbol for uniting men. The Illuminati has the All Seeing Eye, Movember has the Mo. It's a symbol of unity, and whenever it's seen, men across the world will know they are never alone," he says.
"Help and hope are always close by if you follow the Mo! Mo! Mo! Mo!"
To answer the call of the Mo this year, anyone can sign up to grow the traditional moustache or run or walk 60kms for the 60 men suicide takes globall every hour. Participants can also throw an event or set up their own challenge.
The campaign will run across the UK, US, Canada, Ireland, NZ and Australia across TV, OOH, PR, social, online, and experiential, with each market activating the campaign further over the coming months.
Read about another regional spot with Telstra's 'This is Footy Country' here.