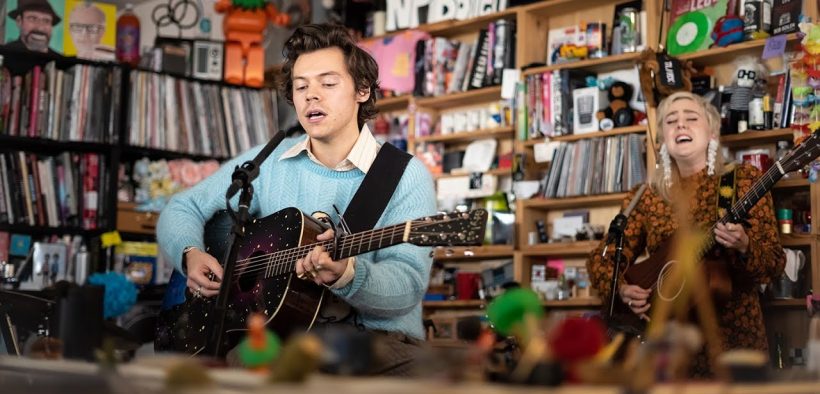 He's the face behind what has now become one of the most famous desk setups in the world: NPR's Tiny Desk. But how did Bob Boilen grow this humble idea into an empire?
It's a simple concept: songs, stripped back to their original states, performed to just a small office. The idea was born after NPR music journalist Bob Boilen and colleague Stephen Thompson saw Oregon musician Laura Gibson in concert but couldn't hear her due to the noise. So, why not turn the public broadcast office into a concert venue for the music purists who want to hear the music over the gig chatter.
And so, on 22 April 2008, Gibson performed acoustic versions of her songs to… tens (if that) of fans. The session was recorded and broadcast. What would happen in the years that followed became a global phenomenon and almost a rite of passage for solo musicians, bands, hip hop troupes and even a Sesame Street character. Tiny Desk was born.
Why Tiny Desk works
There's an interesting parallel in the phenomenon of Tiny Desk and the platform it's held on. NPR is the American equivalent of our ABC. It's a government-funded station based in Washington DC. The humble offices are a far cry from the glitz and glam of commercial radio, but it's here that the carpets are trod on by some of the most mainstream, glamorous, pop sensation superstars of all time to perform their songs to 20 people rather than sell out stadiums of 90,000. 
Viewers have witnessed Taylor Swift alone on her piano, Wu-Tang Clan bring the jazz to their hip hop verses, Sting and Shaggy make an unlikely musical duo and the late Mac Miller smile and show off his vocal range on one of his now most popular YouTube performances. 
From mega superstar Bono to folk legend Cat Power and relatively niche indie electro performer Dan Deacon, the Tiny Desk concerts have one thing that links them all together: a lack of pretension. There is no genre too cool for it, or no artist too mainstream. It made music more accessible, it exposed unknown artists to a large and engaged audience as well as showed off the cadence and skills of those previously chalked up as having autotune rather than talent. 
The beauty of Tiny Desk and its creator Boilen's vision is that music, when performed live by the people involved in that song writing and creating process, is its most pure. It connects bands like BADBADNOTGOOD with a crowd who stopped by to watch Adele. 
To quote Boilen himself, 'Music can act as an invisible uniting force that claims the unclaimed and defines the outcasts of a culture.'
As Tiny Desk's creator takes his final curtain, this writer will take a moment to enjoy her top ones: St Paul and the Broken Bones, Alicia Keys, Kevin Morby, Mount Kimbie and The Cranberries.