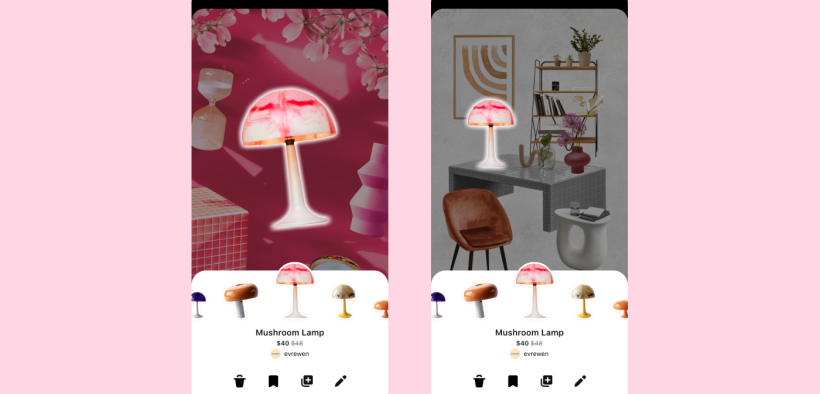 Digital vision board Pinterest has introduced a slate of new features and products that will expand the app's experience for consumers and advertisers alike.
In the most robust update of Pinterest to date, advertisers will now be able to tap into the unique commercial mindset of the Pinterest audience, 55 percent of whom view Pinterest as a place to shop.
Women make up more than 60 percent of Pinterest's audience and Gen Z pinners are growing, up 40 percent year over year according to company data.
That enormous audience makes it an invaluable resource for brands and businesses looking to tap into undecided and open-minded potential customers.
New ad formats and tools will allow brands to exclusively own premium placements on Pinterest to promote their campaign for maximum visibility. And a new interactive ad solution will allow users to preview and explore a brand's content by swiping through branded images and discovering products. The addition of quiz ads will promote an engaging ad experience leading to customers making more personalised purchase decisions.
A new creative studio tool will give brands a speedy way to generate lifestyle imagery for product pins. Brands can add their pin link, select prompts that match their need and the creative studio tool will generate a selection of custom background images.
Pinterest and its innovation
The style and inspiration social media platform launched in 2010 and now has 465 million active users every month.
The app works by enabling users to save recipes, home and style inspiration, images and videos in the form of pinboards.
Pinterest chief revenue officer Bill Watkins says the update will improve the consumer journey.
"We are innovating faster than ever before with a robust slate of relevant, personalised products to reach consumers with intent, and we're building with the goal to be the industry's best full funnel solution," he says.
Pinterest users will benefit from the updates too, with mobile deep links and direct links helping to seamlessly direct users to a specific page in a retailer's app to make shopping easier after clicking on an ad.
A new feature called collages will also help users creatively shape their visions and shop them into reality. This feature will build on the traditional pinboard by enabling users to cut objects out of a pin and combine them with other cutouts to create interactive collages of their favourite ideas. 
For agencies, a business manager tool will help efficiently automate complex workstreams to assist in managing a client's presence on Pinterest.