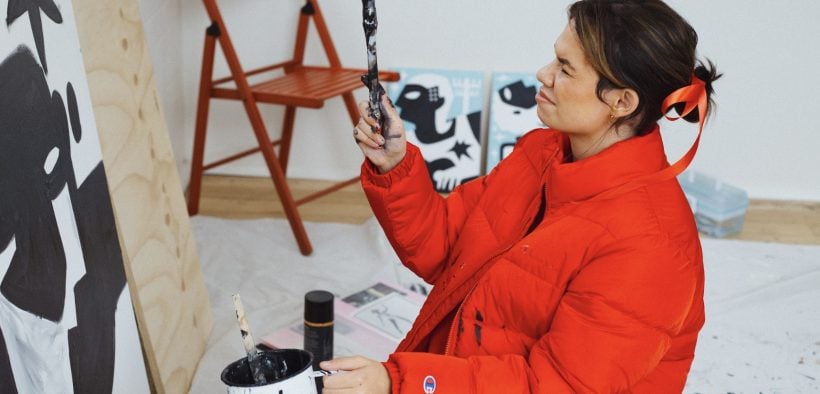 Iconic lifestyle brand Champion has swerved its focus onto championing real creators not just to win, but to push for a better tomorrow.
Launched on Friday 15 September, the global brand campaign titled 'Champion What Moves you' features Australian First Nations painter and activities Aretha Brown. Brown's passion for amplifying the voices of marginalised voices and communities comes through with Champion's message for inclusivity and leveraging the power of art. Brown is a proud Gumbaynggirr woman who has  produced over 50 public murals around the world, drawing inspiration from her own identity as a queer, Blak,  young person for her works. 
"Taking up space is really integral to how I move through the world. The subject matter that inspires me the  most is my identity as a young Indigenous person living in an urban environment. It shows a kind of  modernity that is often not granted to us as Indigenous people. Aboriginal women have been painting walls  in this country since time began. I'm just continuing on that legacy," Brown says. 
Champion What Moves You the campaign
For the brand, the campaign is focused on finding creators with a difference. A 'Creator with Purpose' is someone that blurs the lines between personal passion and  impactful contribution. Each of the campaign's featured creators are individuals that have harnessed their  creative gifts to achieve a long-term goal that aligns with their values, and is bigger than themselves to  champion their community and a better tomorrow. Their causes encompass realms such as activism, human  rights, sustainability, and mental wellbeing. 
"We firmly believe that we are not defined by what we make, but by what we do with it," says Vanessa  LeFebvre, president of global activewear at Champion. "In this next chapter of our brand story, we are  redefining what it means to champion – for us it is no longer a title or indication of winning, but rather, a  means to take action and create something with real impact. To be a champion is to pursue your passion, to  create, and to Champion What Moves You." 
Created by advertising agency Energy BBDO, the :60, :30 and :15 spots are now live across Champion's  Australian and New Zealand social and digital channels. Content is also being rolled out in all other global  markets, including The United States, United Kingdom, China, Japan, and LATAM.