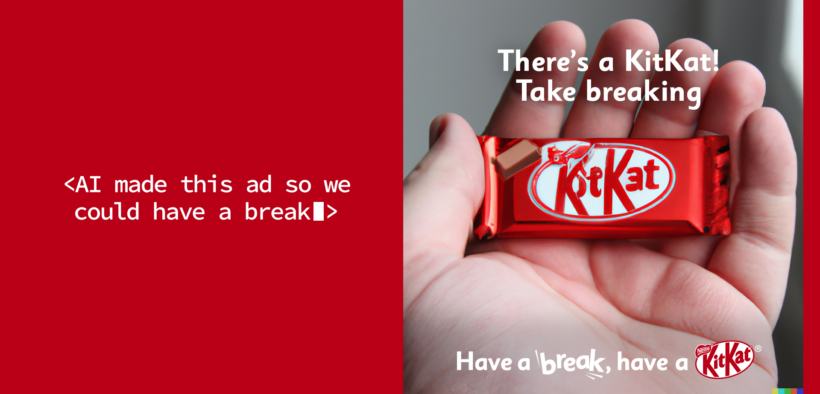 AI is the talk of the (copywriter) town. And the creative team at Wunderman Thompson employed it to write the latest KitKat campaign, giving the usual wordsmiths a bit of a break.
Appealing across generations and interests, the team at Wunderman Thompson tasked ChatGPT to write a generic campaign with commands like "Write a KitKat ad about gamers" or "Write a KitKat campaign that will appeal to Gen-Z". 
The task didn't just stop at the script, but was completed with AI generated images, which the Wunderman Thompson's Sydney team described as "almost ok". 
Mediocrity! Something that every ad needs.
The fun campaign is for just social, and the videos have been made into 30-, 15- and six-second clips, with audio snippets to be used in podcasts. 
Wunderman Thompson's chief creative officer João Braga offers his thoughts about the lazy yet funny campaign. 
"AI is revolutionising our industry and beyond. But the reality is not every brand has something relevant (or fun) to say on that space," Braga says. 
"KitKat has breaks, and AI gives us more of those. So, we thought we'd have a crack at it ourselves and poke some fun at AI – while we can."
Nestlé head of marketing confectionary Melanie Chen adds to the conversation about how AI isn't going to be the replacement of creatives. 
"We're all for creating more opportunities to have a break. So when Wunderman Thompson asked us if we could let AI generate our next round of advertising content, we couldn't pass it up. I think we all agree [that] from the outcomes, AI won't replace jobs in our industry any time soon without some real watch-outs."
KitKat encouraging snackers to take a break
KitKat's long-running message has been to ask people to "take a break". But last year the tasty treat started a TikTok debate about which is the correct way to eat the chocolate bar. Do you break off an individual row? Do you bite straight into it (like a heathen)?
The debate rages on, but for now, it's time for creatives to take a break and let AI do the work.