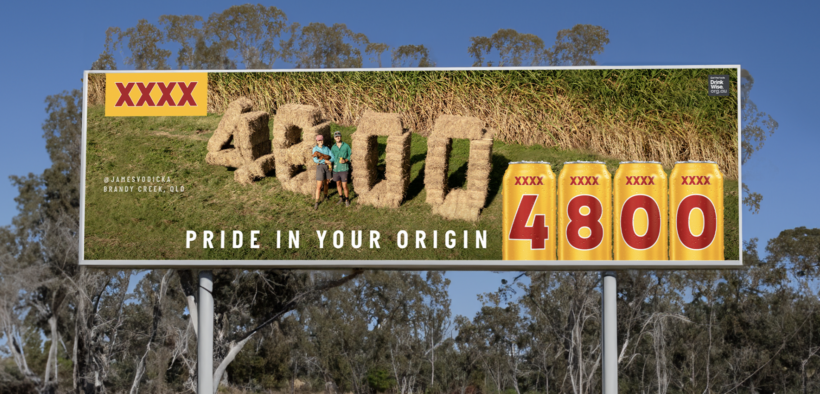 It's the game that gets two rival states going head-to-head three times a year. The State of Origin is the classic clash between Queensland and New South Wales, and Queensland's official state beer XXX is all about Maroon pride ahead of tonight's kick-off match.
XXXX has hit the field running this State of Origin with the first game kicking off on 31 May 2023, and a huge campaign with it. But, for the second year in a row, XXXX has made a massive risk and removed its iconic logo from the left sleeve, replacing it instead with a local postcode of the player's choosing.
State of Origin players and their postcodes
It's a huge move for the beer brand, which puts so much confidence in its branding and recognisable colours that the logo isn't even necessary.
The aim of the swap is to celebrate the contributions of the broader community in supporting the Maroons players and how this support has enabled them to achieve the highest honour for any rugby league player – running onto the field representing their state.
In an effort to include Queenslanders all across the state, the iconic brand has also released a limited-edition can design and competition that encourages all of Queensland to show their pride in their 'origin'. The limited-edition release XXXX Gold Pride in your Origin cans feature a unique number ranging from 0 to 9, that can be used to showcase Queensland's 447 postcodes.
The campaign is accompanied by a 15-second and a 30-second TVC as well as outdoor and print advertising. Lions' head of marketing for core beer Chris Allan spoke about the pride in the campaign.
 "We know that it takes the support of many along a player's journey from local junior to QLD Maroon. Players last year embraced the opportunity to celebrate the contributions of their communities by proudly displaying their postcodes on their jersey. This year, we're giving local communities the opportunity to show their pride and support in a truly Queensland way."
From creative agency Thinkerbell, Tom Wenborn, executive creative Tinker, Thinkerbell also added to the campaign:
"There's such a rich history between XXXX and the Maroons, you can't really imagine one without the other, and that feeling of connection seems to run from the players on the field to communities all over Queensland. It's been an absolute pleasure for our team to find a way to capture the passion and love of the fans and put it on display."