The state of B2B marketing in Australia
In the midst of its own revolution, B2B marketing faces sweeping changes and an uncertain future.
It's 2012 and B2B marketing teams are expected to deliver more from less in an increasingly timeand resource-poor environment. And the forces of digital, measurability, data, process re-engineering, changes in buyer behaviour and cut-through are all impacting, just as they are in B2C. In fact, it is a pivotal time for B2B marketing, according to recent research exploring intentions and directions. Conducted by Green Hat in conjunction with the Australian Direct Marketing Association (ADMA) and the Australian Marketing Institute (AMI), the 'B2B Marketing Outlook Australia 2012′ report reveals the differences and similarities of B2B, and the unique challenges the discipline faces.
The digital revolution is one of these challenges. Like consumers, businesses are inundated with information and marketing messages. Fragmentation is common to both, with business clients splintering across different sources of information, of which there are many in the online world. Like the consumer, the business client is becoming smarter also, doing their own research online, resulting in exposure to marketing influences later in the purchase cycle than before.
B2B buyers are engaging in self-educating behaviour, which is forcing marketers to adapt from outbound, or push, marketing techniques, such as print advertising or direct mail, to inbound, or pull, techniques, like websites or blogging. Chris Fell, managing director of B2B marketing agency g2m Solutions, believes the shift in buyer behaviour has been a fundamental one. "The fact is that buyers are self-educating, online, in their masses," he says. "Businesses must adapt to get found online and to subsequently engage and nurture those buyers who find you." Andrew Haussegger, Green Hat's managing director and one of the authors of the study, agrees. "[The buyers are] spending more time online doing their research and analysis, getting involved in peer-to-peer community groups and conversations to inform themselves, rather than calling vendors. The sellers are being brought later into the cycle," he says.
B2B marketers find themselves forced to step in and provide the information buyers are looking for, in order to generate leads and influence the purchase cycle. This has ushered in a landscape dominated by content marketing, a practice that is not as simple as it sounds. With an overwhelming amount of information, thoughts, opinions, trends and insights floating around, gaining cut-through is no easy task.
As these changes take place, new challenges arise to join old ones. Green Hat's research highlights issues behind both measurement and operations, as well as the importance of the emerging disciplines of lead nurturing, lead management and automated marketing processes. The age-old challenge of demonstrating ROI is still a struggle. Many find the sheer amount of data to sift through overwhelming and distracting. Pressure on teams, the majority (77%) of which number five or less, is intense. Integration with sales continues to be tricky. To paint a picture of the future of B2B, Marketing has drawn on Green Hat's research and spoke to a range of experts in the area.
Budgets
As a rule of thumb, B2B marketing budgets tend to amount to 1% to 3% of the business's revenue, a principle supported by the research. Despite two months of decline in an uncertain start to the year, business confidence steadied in the second half of 2011, with two in five B2Bs having the assurance to increase their budgets for 2012. Around half have seen no change to their budgets year-on-year, leaving few (10%) to contend with a decrease, although more (32%) at the top end of town (businesses with revenue over $500 million) face scaled down marketing spends (see Figure 1).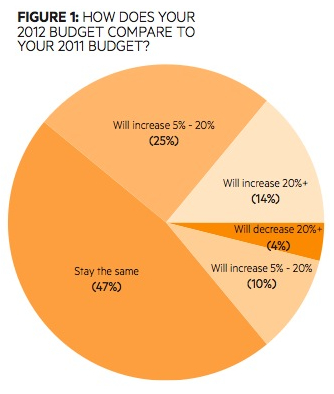 Digital marketing is up and will grow again in 2012 at the expense of traditional marketing activities that are typically harder to measure. By 2014, digital is expected to overtake traditional marketing for share of budget among B2B businesses, as marketers shift further towards inbound marketing approaches, optimising their online presence to attract clients.
The pressure on marketers to justify budgets continues to build, a sentiment echoed by the practitioners Marketing spoke with. Marketing and new business director at GroupM, Greg Graham believes the unrelenting pressure to prove ROI is only increasing: "There's pressure to prove that every marketing dollar has an ROI," he says. Haussegger adds, "We see and we hear that the board, the head of sales teams and CEOs are looking for more measurable results from marketing based on their spend. While marketers are getting more budget, they're being asked to be more accountable with what they're doing with it."
According to the research, lead generation is the most commonly cited metric used to justify marketing budgets to senior executives, as well as ranking as the top area of spend in 2011 and the top marketing objective for 2012. Accountability for marketing outcomes was also commonly demonstrated by revenue resulting from marketing activity and, to a lesser extent, the 'level of marketing activity', which replaced 'brand awareness' as the third most commonly applied justification for marketing budgets (see Figure 2).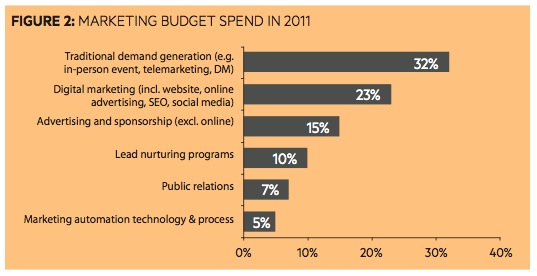 Marketing goals
In 2011, the largest portion of B2B budget was allocated to generating business leads. While this ranks as a 'highly significant' goal in 2012 for three in four surveyed, there has been some year-on-year reallocation away from traditional demand generation, such as advertising and sponsorship, with digital marketing, lead nurturing and marketing automation the principal beneficiaries. Traditional activities geared towards lead generation are also on the wane, as the focus shifts towards nurturing existing contacts. This is expected to result in an increased emphasis on activities that address contacts already in the database and is reflected in the increased significance of up-sell and cross-sell, the second most significant objective for 2012.
Chief marketing officer at Deloitte, David Redhill, believes many in the industry are placing a greater emphasis on talking to people they already know. "It's definitely a prime focus for us," he says. "Not only people we already know, but people we have once known… and people we may have pitched for and lost. The good work put into building a relationship with them can be built upon."
The shift towards lead nurturing also sees many rate internal goals geared towards relationship marketing as highly significant. Maintaining contact database quality and currency (56%), implementing a content marketing process (30%) and automating lead nurturing and lead management processes (29%) all tie into this larger trend (see Figure 3).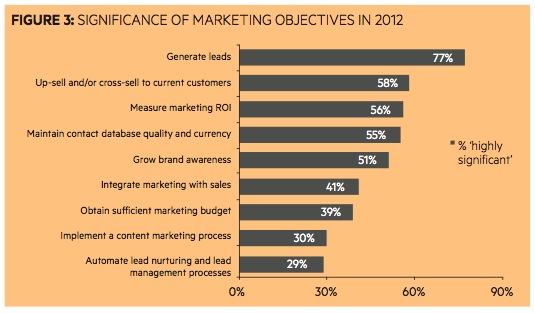 Marketing tactics
Three major forces are shaping the tactics chosen to deliver on marketing goals: relationship building, measurability and digital. In-person interaction ticks two of these boxes; consequently, 43% plan to do more events, briefings or seminars and 26% to do more tradeshows or conferences (as a sponsor, attendee or presenter). According to Haussegger, these are gaining favour due to their focus on relationships. Haussegger adds that these activities are no longer primarily based on lead generation, with a shift towards nurturing existing contacts (see Figure 4).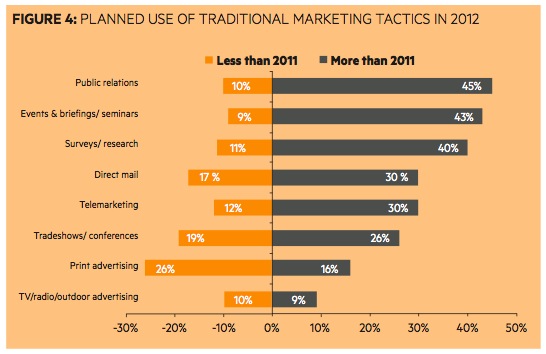 PR efforts look set to intensify with 45% planning to increase their investment in this function over the coming year. Direct mail and telemarketing look set to stay at current levels, while advertising, excluding online, is expected to decrease again in 2012, with 19% of businesses planning to do less and 7% planning to stop altogether. The shift evident from traditional advertising into digital advertising is consistent with the greater need for measurability, and also the move towards inbound marketing approaches. According to Graham, the media buying agencies under him are growing their use of digital advertising at the expense of traditional. "Being B2B, it's very targeted, it's not mainstream, so it tends to focus around trade publications and marketing publications," he says.
The shift towards digital is a natural progression as the buyer's information searching behaviour necessitates an inbound approach. Fell comments, "Buyers are continually grazing on information, building their knowledge base and forming their preferences until they're at a point that they're ready to purchase. The result is that the sales function is becoming disenfranchised and is being pushed down the go-to-market funnel and [marketers are] losing their ability to influence the purchaser."
The shift towards inbound is reflected in the data. Websites and mobile sites top the list of digital tactics marketers intend to do more of, with 72% planning to allocate more attention to the tactic in 2012 than last year. This is supported by 55% who plan to increase focus on SEO and 44% for paid search. The big new starter in 2012's digital tactics is online video marketing, with 66% of respondents planning to do more (see Figure 5).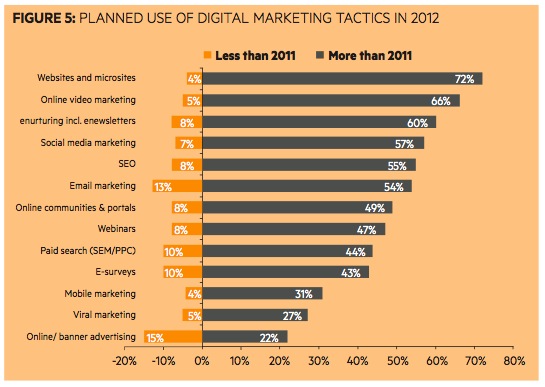 When it comes to social media, most are trying, but few are succeeding, according to Green Hat. While increased use of social networks is expected this year, this will be tempered by poor perceptions of its effectiveness – only 7% of respondents report good ROI results and four times that number say they're not happy with their social media marketing results. Despite this, none who have started plan to stop and only 7% plan to do less in 2012. In terms of platforms, LinkedIn remains the dominant platform for B2B social media marketing (used by 78% of respondents), while the fastest growing platforms are Twitter and YouTube (see Figure 6).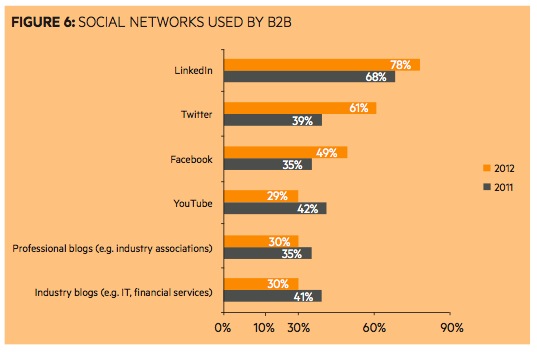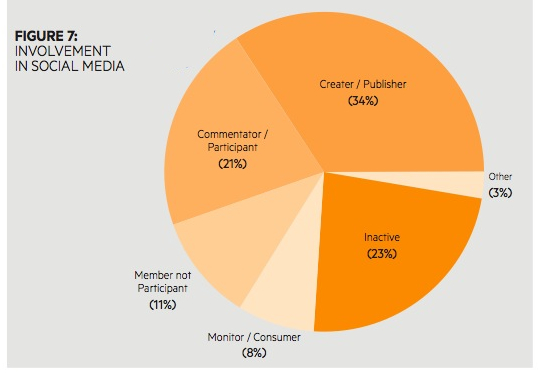 Challenge
The age-old challenge of measurability still pervades the B2B discipline, and has again increased in significance this year. The issue is cited as a challenge by 80% of respondents, and is clearly evident in that a substantial number of respondents are unable to report their average cost of a lead (see Figure 8).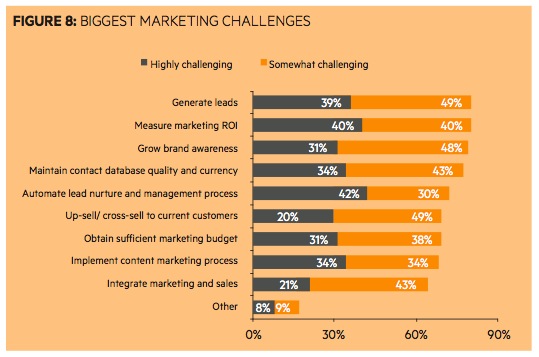 Marketing and sales integration still appears to have a long way to go, with 'leakage' a continuing problem. Only around a third of marketers (35%) are able to report that more than 80% of leads generated were followed up by the sales team, and those that can are primarily organisations with an average sales cycle of under three months. In other words, unless the lead is likely to convert within a quarter, sales are unlikely to follow up. Organisations with an average sales lead-to-order time of four to 12 months appear to be suffering significant leakage.
The challenge of adapting or re-engineering processes is one that marketers are experiencing in increasing numbers. The principle challenge in 2011 was 'automated lead nurture and lead management', in response to changing buyer behaviour and the need to progress relationships deeper into the sales pipeline. The next three greatest challenges are also process oriented: measuring ROI, maintaining database quality and currency, and implementing a content marketing process. These challenges are what Deloitte is currently encountering and, according to Redhill, investing significantly in. "The main investment we're making at the moment is on internal digital rationalisation… architecting our information systems, redesigning our platforms, knowledge sharing, information sharing, integrating the leads database with the sales machine… integrating the whole process."
The need for automation is something that Haussegger expects will only increase, with both back office and frontline forces creating a greater need for process management. On the frontline, automation is required to manage lead generation and nurturing, by managing databases and delivering the right content to the right people at the right time.
Haussegger says, "The challenge for the marketer is to have the relevant content and presence in the right places, so their brand and value proposition is effectively represented. Marketing automation systems generally address both the outbound management of content distribution and can also manage the inbound response to that content and provide tracking and reporting to essentially tell you what content is working well and what's not, right down to an individual buyer level. The marketer needs to think about how they can stream out content on a one-to-one basis and how to manage their content on websites and blogs."
In the back office, marketers are looking to reengineer processes in order to have tighter control over their marketing spend and better demonstrate measurability. The two often link together, with CRM tools now coming with marketing support and automation systems built in. And the good news according to Haussegger is, "The cost of these platforms has been dropping quite a lot over the past few years, so we expect to see marketers using specific software to help with their process re-engineering and process management."
Opinions are mixed over whether the digital revolution has had as big an impact on the B2B world as it has on B2C, with some pointing to mobile marketing, video and social media as tactics still to be utilised to their full potential and others highlighting the unique ways in which digital has changed buyer behaviour and the marketing process. What is certain is that the B2B discipline is undergoing a revolution of its own. Buyer behaviour has changed, processes are being re-engineered and the search for the holy grail of measurement is ongoing. While analysis of B2B marketing cannot escape comparisons with B2C, these only make the unique challenges of B2B all the more clear and point to the fact that it is also a discipline undergoing a transformation.
The 'B2B marketing outlook Australia 2012' report, along with further research and whitepapers, can be found at Green Hat's website.