A big bloody controversy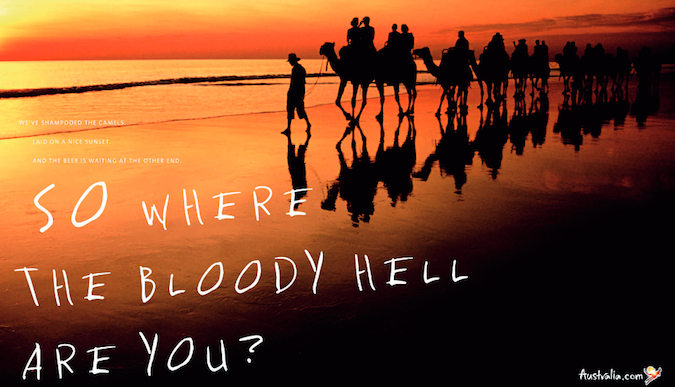 This article appeared in Marketing May 2006, when Scott Morrison (Australian Treasurer) was MD at Tourism Australia, and approved the infamous 'So where the bloody hell are you?' campaign.
Sam McConnell chats to Tourism Australia MD Scott Morrison about marketing Australia to the world and 'that' campaign.
On the surface, you'd think promoting Australia wouldn't be the toughest job in the world. When most people think of Australia, clichés flow like the Snowy River, a sunburnt country, abundant wildlife, spectacular scenery, friendly people etc. But this is half the trouble – Australia means so many different things to different people that no matter which promotional angle you take, a significant portion of the population isn't going to like it.
Add that to the fact that every market you target is different – what's good for the Japanese isn't necessarily good for the Americans (a fact highlighted during the early to mid 1940s), and suddenly you're looking at a pretty complex marketing challenge – one faced every day by Tourism Australia.
A leverage marketing organisation, Tourism Australia is responsible for promoting the Australian tourism experience both domestically and internationally. Through its global marketing activities, Tourism Australia aims to maximise visitor spend within Australia and ensure that this spend is dispersed far and wide, delivering real economic benefits for both regional Australia and the major cities.
The world's a big place and with other countries in the Asia-Pacific region ramping up spending on tourism, how does Tourism Australia decide who to target?
"We allocate resources to customers, markets and opportunity market segments that offer the best growth opportunities," says Scott Morrison, managing director, Tourism Australia. "This is measured in terms of predicted total spend and predicted dispersal of that spend in regional Australia. We also focus on countries in which we believe people will be effectively influenced by our marketing programs.
"Our tier one markets, which deliver the vast majority of the total Australian tourism business spend include the UK, the US, New Zealand, China, Korea, and Germany. In these markets, Tourism Australia is focused on securing its strong base.
"Tier two markets – those where the focus is on realising and consolidating growth – include Singapore, Malaysia, Gulf countries, Hong Kong, Canada and India. In these markets, we are working off a modest base, but they offer growth opportunities in terms of visitor spend in the short- to medium-term.
"Then there are the tier three markets where the focus is on dispersal and segment development such as Indonesia, Taiwan, Thailand, Italy, France, the Netherlands, Scandinavia, Ireland and Switzerland. While these markets do not account for a significant proportion of global growth in visitor spend, they do offer above average dispersal (travel beyond the major gateways) and often with high relevance to discrete locations."
Reaching these markets in no easy task and international competition for tourist dollars is getting tougher every year. Morrison says that Australia's competitors vary from market to market. In the US, Australia's competitive set includes the UK, France, Italy, Japan, Germany and the Netherlands. In China, it's the US, New Zealand, France and Canada. In Japan, its Canada, Hawaii, the US, France and Italy. In Germany, its New Zealand, the US, Canada, South Africa, Italy and Spain. In the UK, competitors include the US, New Zealand, Canada, France, Spain and Greece.
Japan in particular is one tourism market that has softened in recent years.
"The downturn in travel from Japan that emerged in the late 1990s is the result of a number of interlinked factors – including a slump in the Japanese economy, the appreciation of the Australian dollar against the Yen, the changes in the type  of travel by consumers and needs, the impact of world events, which affected consumer confidence, changes in the marketing and distribution environment, aviation developments and competitor activity – not just one issue in isolation.
"Tourism Australia has been involved in the development of the 'Action Plan' for Japanese Tourism to address these  issues and create a more profitable and sustainable future for tourism from the Japan market. While the new campaign will help to address some of the issues for the Japan market, it is just one of a number of measures being taken to improve the market's performance."
Given the huge range of countries from around the world targeted by Tourism Australia, the obvious question is, how do you execute your marketing plan while staying conscious of the demands of literally millions of different people from different cultures and religions?
According to Morrison, Tourism Australia relies on a mix of media from TV advertising to cinema, print and outdoor advertising to online and PR – to target consumers in the various key markets.
"Tourism Australia runs both small and large-scale promotions. What is consistent across both, however, is the messaging – whether it be a radio promotion in Germany or a print promotion in the US, the messaging will be consistent with the advertising and PR campaign.
"In the past year, Tourism Australia has conducted an extensive research study to identify the best prospects for Australia. In doing this, we have identified a global traveller called the 'Experience Seeker' – who is common to all our key markets and is not defined by age or gender. This group spends more and does more.
"A key characteristic of this group is their ability to lead opinion more broadly, thereby influencing the behaviour of other consumers. In other words, targeting this audience has a positive halo effect.
"Typically, 'Experience Seekers' come from households that have a higher than average household income; they are tertiary educated, open-minded, have an interest in world affairs and are selective about their media consumption. They are also opinion leaders within their peer and social groups, but are not characterised by nationality, preferred holiday style/mode or age.
"In addition, the structure of modern media means that we can be far more targeted in our media schedules to talk directly to our target group – to ensure our communications are not wasted on those who are unlikely to visit Australia."
There's obviously been a huge amount of controversy over Tourism Australia's recently launched 'So where the bloody hell are you?' Campaign. While the more cynical among us may suspect that this was part of the plan all along, the campaign has been criticised because it faces bans overseas for vulgarity and because the tagline does not translate well into other languages. Never afraid to take a risk and shoot for something a little different (Paul Hogan in Stubbies throwing 'another shrimp [a what?] on the barbie' was a good example of this), this campaign has been Tourism Australia's most controversial yet.
–
Related: Ten year's later, Tourism Australia's campaign features Australian movie star Chris Hemsworth »
–
"The new global destination brand campaign is the next step in marketing Australia internationally as a tourism destination, and will help to overcome the challenges the destination now faces," explains Morrison.
"The new campaign builds on the success of previous brand campaigns, which focused on building awareness of Australia and developing a strong brand image, and issues a 'Uniquely Australian Invitation'. It's been created to speak to our global target audience who see the campaign as warm, engaging and very Australian. It's designed to boost tourism spend and visitation.
"The campaign is based, however, on the fundamental truths of Australia as a destination – our personality, our lifestyle and our place. All of these attributes of brand Australia have been found throughout our extensive consumer testing to have great appeal to our international audience. To this end, the campaign provides potentially strong leverage points for other sectors."
Is it 'vulgar' and was the controversy over the tagline predicted?
"The campaign presents unique Australian experiences, with unique Australian characters, delivering a uniquely Australian invitation. The campaign has been designed to be authentic and cheeky – true to our personality – not offensive or deliberately controversial.
"We know that the campaign does not cause offence. Our extensive research conducted in key markets across the globe confirms that our target audience is not offended. Rather they accept and respond positively to the phrase in context.
"In addition the travel trade from Beijing to Berlin, Seoul to Shanghai and London to Los Angeles has embraced this campaign following detailed launches in each of our major markets during the past month. This support is not based on one week of publicity but a comprehensive and well researched marketing strategy that they know they can support for years to come.
"As far as regulators are concerned, we work to the rules they make and to date have been able to receive favourable decisions that mean the campaign is running all around the globe."
There's been so much talk about 'metrics' in marketing circles in recent years that, especially given the scale of the latest campaign, the question must be asked – how does Tourism Australia measure the success or failure of its marketing strategy?
"This campaign aims to drive active intention to travel among the target audience," says Morrison, "whereas previous campaigns were focused on raising awareness and creating a positive image forAustralia.
"The campaign will increase the size of the demand pool of 'Experience Seekers'. The 'Experience Seeker' segment constitutes around 30% to 50% of all potential long haul outbound travellers from Australia's key source markets.
"It's about getting to the group of consumers who will be seriously intending to travel to Australia for a holiday and are therefore likely to be responsive to the tactical offers and packages in the marketplace. These consumers also have the ability to lead and influence others in their choice of holiday destinations."
The 'So where the bloody hell are you?' Campaign again focuses on the physical beauty of Australia and uses pieces of tried and tested iconic Australian imagery to encourage people to visit. For this reason and aside from the controversy over the tag line, the campaign has received some criticism from people who argue that it's time we started promoting  Australia as a dynamic, modern society rather than continuing to focus on kangaroos and women in bikinis. Morrison is quick to dismiss this argument.
"This ad is not a cultural essay. It's a tourism ad. And I think there are a whole range of people in Australia that sometimes criticise these things because they want it to showcase a whole range of issues that tourism ads aren't designed to do. This is an ad about the friendly nature of Australians, and the great experiences they can have. Tourism's worth $17 billion dollars a year inbound into Australia every year. It employs over 500,000 Australians, and we want this commercial to bring tourists to Australia, not to write cultural theses."
So what does the future hold for Tourism Australia? According to Morrison, the organisation will continue with its overall objective to raise the overall spend of visitors travelling within Australia and positively impact job creation and drive the many other economic benefits of tourism.
"Our focus is on delivering more of the best prospects for Australian tourism – in terms of travellers who want to stay longer, experience more parts of Australia (especially regional areas) and spend more during the process.
"While the current major markets are likely to remain for Australia,emerging markets like China and India offer significant opportunities. The Tourism Forecasting Committee is predicting that China and India will be Australia's fastest growing tourism markets over the next decade. The average annual growth out of China over the next decade is expected to be 16.5% while India is expected to show 14.3% growth. This can be largely attributed to the growth of the middle class in these countries and rising wealth. The rising affluence in these markets offers real opportunities to grow tourism yield with the China market expected to grow from $1.5 to $5.9 billion over the next decade. At the same time the India market is expected to rise in value from $0.2 billion to $0.7 billion."
–Sam McConnell, Marketing May 2006
* * * * *
Purchase a subscription for case studies, opinion, and interviews on Australian brands and campaigns
* * * * *