Australians watch 85 hours of broadcast television each month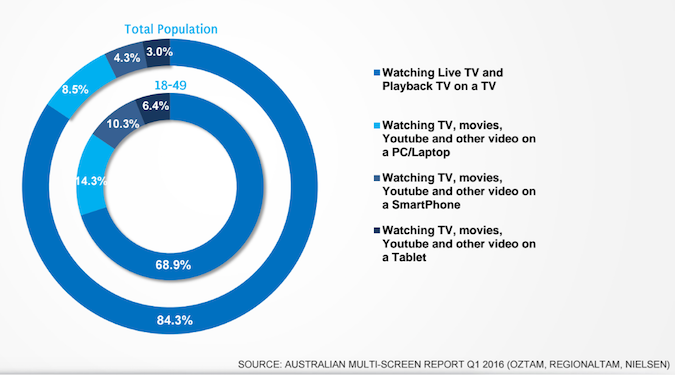 Broadcast TV viewing accounts for 84.3% of screen viewing time for Australians.
In Australia, broadcast TV accounts for 84.3% of screen viewing time, according to the latest 'Australian Multi-Screen Report'.
The report, published by OzTam/RegionalTam and Nielsen shows that TV continues to dominate Australian TV consumption, with viewers watching an average of 85 hours a month watching TV content on their TV screens.
The second most popular screen time platform was watching TV, movies, Youtube and other video on a laptop or PC, which accounts for 8.5% of total screen time, followed by phone screen, at 4.3% and tablet, 3.0% of Australian screen time.
–
Related: TV may still make up the majority of screen time for Australians, but mobile and online is on the rise, and subsequently, Australian online advertising expenditure recently hit $1.73 billion »
–
The report, for 2016's first quarter, coincides with the release of the 'Global Video Consumption Report'.
The global report shows that Australians in the 18-24 age group spend only 37 hours and 22 minutes in front of TV screens, lower than the Australian average, but still making TV the dominant screen.
The global report also reveals that TV's dominance in Australia is higher than levels in other countries, where other devices and media make up larger portions of viewing time.
In the UK, for example, live TV makes up 61.6% of screen time, and only 43.5% for those in the 18-24 age bracket, with the rest of the time spread among Youtube and online video, DVD, on demand and playback TV, and cinema viewing.
"Australia has some of the highest viewership of TV in the world and broadcast television remains a powerful and dominant medium that delivers results for advertisers. Broadcast TV also accounts for the biggest proportion of viewing time on any single device, further demonstrating its impact as an advertising medium," says Think TV chairman Russell Howcroft.
* * * * *
Purchase a subscription to Marketing for the latest in expert opinion Australian media consumption and marketing trends.
* * * * *