Absolut Vodka creates four million different bottles for new range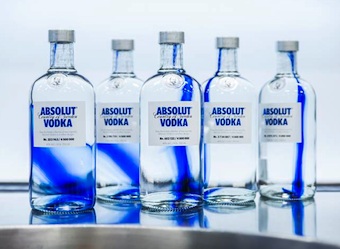 Vodka giant Absolut Vodka has released four million custom made bottles as part of it's new Absolut Originality range, that feature a drop of cobalt blue infused into the molten glass during production, resulting in no two bottles look the same.
"We took inspiration from traditional Swedish glass craft, and made it available to the world." says Mathias Westphal, global brand director at Absolut. "When we watched a drop of cobalt sink into the hot glass the first time, we didn't know what it would look like. What started as a playful experiment ended up as four million one-of-a-kind pieces of art."
The streak of cobalt forms a sophisticated contrast to the crystal clear glass, and the blue colour makes each bottle unmistakably Absolut. This Limited Edition celebrates the original thinking that has always been the Absolut creed and pays tribute to the world's most iconic vodka," Westphal says.