ANZ custom titles to relaunch with new publisher in 2012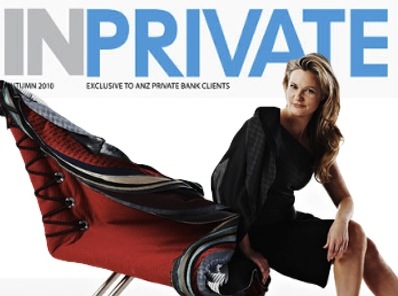 The custom publications of ANZ Private and ANZ Trustees are set to relaunch this year with a change of publisher for both titles.
ANZ Private's luxury magazine, In Private, and ANZ Trustees' philanthropy publication, The Journey of Giving, will be relaunched in 2012 by South Melbourne publishing house, Niche Media (also publishers of Marketing).
In Private showcases the success and achievements of ANZ Private's influential and dynamic clients from both a personal and business perspective, and The Journey of Giving explores philanthropy through premium format, design and photography, and featuring clients of ANZ Trustees.
"We are extremely proud of how our two custom titles have evolved over the past 18 months, reinforced by the very positive feedback we receive regularly from our high net worth clients who engage with each issue's editorial. We look forward to the expertise in the Niche team enhancing our publications even further in 2012," says Jac Phillips, head of marketing for ANZ Private and ANZ Trustees.
Managing director of Niche Media, Paul Lidgerwood, says the company is "Incredibly proud to be working with ANZ Private and ANZ Trustees on their custom publications. We will relaunch these magazines both in print and digital formats and work hard to further deepen the relationship ANZ has with its clients."
The eighth edition of In Private is set to be published in April, while the fourth edition of The Journey of Giving is due in May.