APA brand refresh signals strategy changes in pipeline
ASX top 50 energy infrastructure company APA has unveiled a new brand identity and strategy.
Australia's largest natural gas infrastructure business, APA has refreshed its brand identity and unveiled a new strategy with the help of Sydney creative agency BWD.
It's the first major brand overhaul in the company's 16-year history, and delivers the new tagline 'Energy. Connected.'
The new brand identity aims to reflect APA's transformation from a six-strong, Sydney-based gas transmission enterprise, to one that now employs 1600 people and operates one of the largest interconnected energy infrastructure frameworks in Australia.
"We conducted stakeholder phone, video and face-to-face interviews, facilitated interstate workshops and carried out a range of competitor and audience reviews to find out what set the organisation apart from its peers," says BWD brand director Chris Chatfield.
"From here we were able to identify clear objectives for the new brand."
–
Related: Here's how Farmers Union Iced Coffee is going about 'electing' new creative for its brand identity »
–
Research conducted by BWD and APA revealed a variety of insights and attributes that were seldom if ever associated with the old brand, and from there the objectives to improve recognition and understanding of the brand and what it does, and attract new employees, were selected.
"The new logo, colours and typeface reflect a company that remembers and rejoices where it came from but also has an eye clearly focused on the future," says Chatfield.
Here's the new logo:
And the old: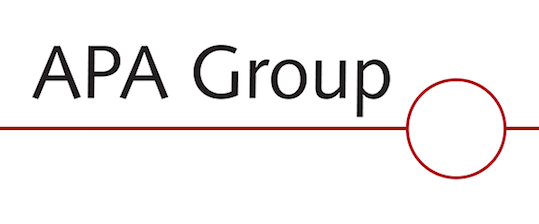 APA is Australia's largest natural gas infrastructure business, owning and operating a portfolio of energy assets worth $19 billion.
---
* * * * *
Purchase a subscription for the latest in discussion and case studies on Australian brands and campaigns.
* * * * *