Audit Bureau: New paid masthead sales metric to include digital editions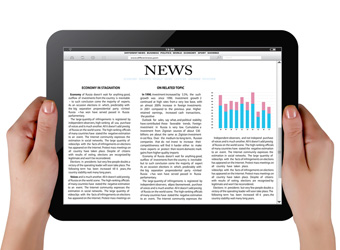 The Audit Bureau of Circulations (ABC) introduced a new reporting standard on Friday which will see digital editions of newspapers and magazines included in circulation data for the first time.
In what the ABC is calling a world first, the reporting will feature a de-duplicated average of paid masthead sales, a metric which will encompass traditional print reporting as well as tablet app sales, replica digital editions, paid website readers and standalone digital publications.
ABC chief executive Paul Dovas says the new rules will allow publishers to show advertisers the big picture of who is paying for their content.
"Advertisers will finally get some meaningful numbers around what is happening in that digital sphere," Dovas tells Marketing. "In addition there will be the masthead number which goes across print and digital, and there will be further transparency around that number to show what was a print only sale, what was a digital only sale and what was a bundled subscription.
"This means for the first time our publisher members will be able to take to market an aggregated position of their masthead consumption and report sales across print and digital."
A sub-committee of magazine, newspaper, advertiser and media buyer representatives, including members from the Media Federation of Australia (MFA), the Australian Association of National Advertisers (AANA), and magazine and newspaper publishers, voted to install the change.
AANA chief executive, Scott McClellan also welcomed the launch of the new rules.
"The rules that come into effect today are a true game-changer that will provide greater transparency in media reporting and help advertisers gain a better understanding of the media with whom they are engaging," McClellan says.
With the new rules coming into effect for the January to March audit period, the first new audited sales data will be reported in May.
The new aggregated metrics will be reported alongside the ABC's traditional print reporting and separate measures into print only sales, digital only sales and packaged print and digital subscription sales will also be released.
A series of training workshops will be run to educate members about the new rules.