Australia Day brand round-up- Lamb controversy, Vegemite pizza, migrant stories, flags, mints, thongs and beer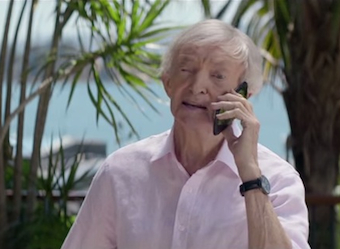 Australia Day is nearly upon us, and brands are getting involved. Here's a quick round-up of some of the brand activities around the annual event that have caught our attention this year.
SBS critical of lamb ad from Meat and Livestock Australia
SBS Indigenous content channel NITV has slammed Meat and Livestock Australia's 2015 Australia Day lamb campaign starring Richie Benaud for failing to feature any Aboriginal or Torres Strait Islander people.
The ad shows Benaud phoning notable Australians to invite them over for an Australia Day barbecue. Historical figures Captain Cook, Burke and Wills and Ned Kelly all get a call, as well as former 'lambassador' Sam Kekovich and media personality Ita Buttrose.
Although the NITV piece criticising the ad notes that it "at least" features Buttrose, a woman, Indigenous Australians are nowhere to be seen.
"There is so much wrong with this ad, that it's hard to know where to start," reporter Danny Teece-Johnson begins, before picking holes in the ad's portrayal of history.
"But the obvious and painful omission of any reference to the first Australians is another insult in a long run of many."
Here's the ad:
Watch the full spot from NITV here »
Vegemite stuffed crust pizza
On a lighter note, Pizza Hut has created a Vegemite pizza in time for Australia Day.
The Mitey Stuffed Crust Pizza is an option to add a Vegemite and mozzarella cheese stuffed crust to any Pizza Hut pizza for a limited time since 20 January.
This video piece showing backpackers' reactions to tasting the pizza makes for amusing content:
Eclipse Mints' Aussie car cover mirrors
Wrigley's Eclipse Mints is extending its 'Hello' campaign with Australia Day themed tins and paraphernalia designed "to enhance the brand relevance of Eclipse Mints and tap into the patriotism surrounding Australia Day".
That 'paraphernalia' includes Australian flag car mirror covers that Woolworths petrol customers can get for free when they buy two packs of Eclipse Mints.
Vaughan Kerr, director of design agency 31ST:Second said of the campaign:
"As well as capitalising on the patriotism of consumers around Australia Day we are also setting a strategic platform for talkability. We expect that the Aussie themed mirror socks will have a dual effect of promoting Australia Day, and also act as a mobile billboard of sorts for Eclipse Mints. People will organically reference the brand to everyone asking about their mirror socks."
Fairfax and Nine to launch 'Australian streaming service' Stan
Subscription video-on-demand streaming service Stan has announced it will launch on Australia Day.
Mike Sneesby, CEO of Stan, said: "We know there's been some speculation around Stan's launch date, and while we've had to keep it under wraps we're really proud to be able to announce that Australia's new streaming service will launch on Australia Day."
Stan will compete with Foxtel and Seven Network's Presto, as well as the much-anticipated Netflix from the US.
Some of the points Stan is boasting include:
Stan will premiere Better Call Saul, the prequel to Breaking Bad, on 9 February, fast-tracked from the US,
"Stan will be the only SVOD service where you can binge-watch all five seasons of Breaking Bad", and
Stan will be the first to offer Golden Globe-winning show Transparent. The Nine Network will show the the first two episodes of the show to give viewers a sneak peak.
The Stan campaign features Australian Hollywood star Rebel Wilson.
Roy Morgan asks: 'Are people who drink Australian beer more patriotic?'
Roy Morgan Research has put together findings on Australian beer drinkers, finding out facts including:
Last year, 6,803,000 Australian adults (37% of the population) drank beer in an average four weeks,
nearly nine out of 10 of those people drank at least one Australian beer during that time, and
more than three quarters of Australia's beer drinkers are men.
The most popular Australian beers are:
Carlton Draught (drunk by 17% of beer drinkers),
Victoria Bitter (12%),
XXXX Gold (12%),
Coopers Pale Ale (11%), and
Crown Lager (8%).
Fans of XXXX Gold, VB, Cascade Premium Light and Crown Lager (but especially the first two) are the most likely beer drinkers to believe that 'Australian beer is the only beer worth drinking' and that 'imported beer is a waste of money'.
These people are also more likely than the average beer drinker to be aged 50 or older, and to spend time at RSL or Leagues clubs playing pokies.
Roy Morgan Research group account director Angela Smith added some information the study found about popular beer James Squire:
"Our data reveals that people who drink James Squire are much more likely than the average beer drinker to have read a novel in the last three months and self-identify as 'a bit of an intellectual', as well as being avid gig-goers and possibly even musicians themselves."
SBS features Australians from migrant backgrounds
SBS has been airing a series of news vignettes during the 6.30pm SBS World News bulletin in the lead-up to Australia Day that feature prominent Australians from migrant backgrounds.
In 'Day One', news anchor Anton Enus visits the homes of Australians including Adam Liaw, Silvia Colloca, Les Murray, and Poh Ling Yeow.
Australia Day Havaianas thong challenge turns 10
This year marks the 10th year that Havaianas will attract swarms of people to beaches across the country to float around on giant blow-up thongs.
Every year, the brand has made world record attempt at the largest amount of giant inflatable Havaianas out on the ocean. This year the challenge will take place at North Bondi, Cottelsoe, Mooloolaba, Glenelg and Torquay beaches.
Havaianas marketing manager, Emma Kowaleczko, said: "The Havaianas Thong Challenge has really transcended our original objectives to become a significant part of Australia Day festivities around the country."
Urban co-founder and event director, Ryan McDonough, said: "The Havaianas Thong Challenge has earned the title of Australia's most successful and enduring example of experiential marketing. 10 years on there are not many people you meet who don't know about or know someone who has participated in the event."
Slidestreet goes national
Water-loving Sydney-siders who aren't floating on inflatable thongs this Australia Day could be found sliding down Nova's 315 metre pop-up inflatable slip'n'slide, Slidestreet.
Nova Slidestreet will be set up at Parkes Drive, Centennial Park, Sydney on Australia Day, surrounded by food trucks, live Nova broadcasts, DJs and pop-up bars.
The event launched in Perth's CBD last month, visited Adelaide on 18 January, and will hit Melbourne tomorrow.
Here's a video of the Perth event: