B2G to B2C: the rebrand journey of not-for-profit Life Without Barriers
Legislation change has turned the focus of Life Without Barriers from pitching for government tenders to winning over the consumer in a user-chooses environment, forcing it to undergo monumental change in its brand and organisation. We talk to marketing head Kati Gapaillard about the rebrand journey.
Life Without Barriers is a New South Wales-based, nationally-active service provider that works in seven sectors: disability services, aged care services, the out-of- home care sector (foster care), the mental health sector, youth justice, refugees and asylum seekers, and homeless care.
As national manager for marketing and communications at Life Without Barriers, Kati Gapaillard talks us through the brand and the organisational journey that is taking place as the not- for-profit is forced to redefine its target audience from government bureaucrats to the end-user of its services.
Marketing: Tell us about the changes to legislation that has caused a non-profit organisation like Life Without Barriers to refocus its target market.
Kati Gapaillard: Over the past few couple of years the legislation has changed so that government is asking the not-for-profit sector to take on some of the service delivery that it has been delivering itself.
In two areas it's very big at the moment. You hear about the NDIS (National Disability Insurance Scheme) [and] the disability sector, and in aged care as well. Both those sectors are very big, obviously, and the government is trying to [reduce its hands-on involvement in] delivering services. What it's also done with the NDIS is given the choice to the individuals.
Previously, not-for-profits would tender for government work and the government would say, for example, 'Here are 10 people in Tamworth who need aged care, please go and look after them.'
The person who was in the centre of all this had very little say on what the services were and who delivered them. NDIS is making it all person-centred, so what they're saying is that Joe, who has a disability, can now choose what kind of work he needs. For example, he may need someone to drive him to the market on Saturday; he may need somebody to take him to a swimming lesson on a Thursday afternoon, and then on a Tuesday he may need someone to go shopping with him or take him to the doctors or something. He can choose those specific services and he can choose whether it's Life Without Barriers or some other service provider that provides it.
So, organisations like Life Without Barriers that have been B2B focused – they're very much working on their relationships with government for the funding – now have to be B2C focused. That's a monumental change.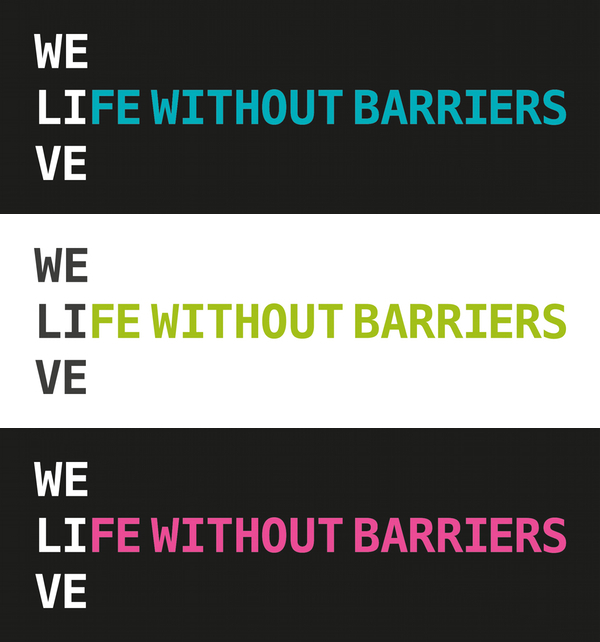 M: Does your corporate and government experience bring benefits to this kind of work in the not-for-profit sector?
KG: Hugely. Yeah, hugely so. The corporate sector, in that you are working with the major multinationals, you work on sophisticated, savvy brands, and people who don't need convincing in terms of what brands can do and that they need to build a brand and they need to have brand differentiation – all those things you don't even have to discuss, it's an accepted thing.
To that experience, if you mix it with the experience of government where you do have a bureaucracy and you do have to go through quite a few hoops to get to where you need to get to, not-for- profits fit somewhere in between those two.
I worked for the Heart Foundation; I rebranded the Heart Foundation a few years ago. And now Life Without Barriers, which is quite an entrepreneurial organisation, I think it's unique in the not-for- profit sector, in that it is quite an entrepreneurial organisation. It's emulating more the corporate stuff than the government side.
M: And that's not normal for not-for-profits that are consumer focused?
KG: Not as much, no, not as much. By the entrepreneurial nature of Life Without Barriers, [I mean] we actively seek corporate involvement and we are very responsive to the needs and we will pick up partnerships and collaboration with big multinationals or corporate entities very quickly and very willingly.
Something like the Heart Foundation is very risk averse. The structure of the organisation itself would probably preclude some of that entrepreneurial spirit because it's eight different companies. The Charities Act is a state-based Act itself, so all the not-for-profits that are national, if you like, are either established only in one state and then have operations elsewhere [or] they are actually established in each state, then they each have a chief executive, each of them has a board, and then they have a national board that works across it as well. So it's quite a complex structure to work within… you can imagine getting a branding through that structure.
M: So Life Without Barriers is just New South Wales?
KG: Life Without Barriers was established in Newcastle, yes, it is a New South Wales-based company, but it works across the nation and in New Zealand, too.
We're fascinated when any rebrands occur, but especially with such a huge change at the strategic level. It's easier to see the external stuff, but what does the internal look like? Has it meant changing staff or skills? Yeah, we employed a few extra staff last year and almost all staff are from a corporate background… almost, and that has been very helpful.
M: What's the stakeholder journey like?
KG: One of the differences, I guess, between not-for-profit and the commercial sector is that when you do a rebrand like this in the not-for-profit sector you have to take everyone on the journey with you. You can't just get there and say, 'Well, here we are, and here it is, just munch on it.'
You have to take them on the journey with you. We needed to do that, so we needed to take the senior executive on that journey. So initial plans were presented as to why we needed to rebrand, and then the actual proposal of how we were going to rebrand, and then the actual rebrand process. That took about five months to go through, and we had to take the board through that as well. It does require quite a lot of buy-in.
M: What were the big hurdles? Selling the need to rebrand in this case was probably not too difficult… or was it? 
KG: No, it wasn't too difficult, actually. We just had to make sure, as you always do, that we honour the old brand. We had to ensure that the current brand was honoured in the way it should be because it was set up and it was developed and it has brought the organisation to where it is today. But there was an understanding that didn't take too much [to sell], but we did have to articulate all of this, obviously.
There was an understanding though that we were in a different game set. It's an organisation that has 5000 employees that is earning around $350 million a year. It's a big organisation, and the brand that was started with 20 years ago isn't really fulfilling what it needs to do for the organisation now.
M: What were the main goals for the new brand to achieve?
KG: The main goals were that we wanted to engage people. It was very much values driven, I should say, the organisation has a set of values that it lives by, that it really does live by, they're not just words that we put on a poster that gets stuck up in offices.
It's about relationships and being courageous, and being respectful, responsive and imaginative in everything that we do and it really does work within the context. I'm saying it a bit out of context here, so it might sound a bit 'dicky', but it actually does work within the context.
[The new brand is] totally different to what we have currently. 'We Live Life' is there. We were struggling while we were rebranding this, as we didn't want to change the name of the organisation, but the name is quite long and it is tricky to fit it into all the things that you need to fit it into.
M: Within the not-for-profit space in general, one of the biggest challenges is to win a share of attention. Within your area, now that the user has the choice, what's the competitive set like?
KG: We have many players across the sectors; I don't think there is one organisation that is exactly in all the sectors that we are in, because we work in seven different sectors. It's a lot, and we have different competitors in the not-for-profit world in the different areas. However, what this branding has involved is also a move to customer-centricity: 'It's not about us, it's about you.' When we're talking to people with a disability, they probably don't care that we also look after people who are homeless. They want to know what it is that we can do for them, and that's absolutely correct; that's what they need to be concerned about and that's what we put our focus on, to let them know what we can do to help them.
M: So if you approach the branding and communications that way it's a simple message?
KG: That's right, it is, and our brand idea is 'Championing Opportunity for All', because when you look across all of the seven sectors that is really what we stand for. We help the most vulnerable in our society and we're championing opportunity for them, we're trying to find opportunities to connect, to live a better life, to have their families around them, to live within their communities.
M: With the noise in the NFP space in general, what were the keys you went for in order to achieve that differentiation with your rebrand?
KG: I should say first that most of the crowding is probably within the not-for-profit sector that fundraises. I think there are 700,000 not-for-profits and if you look, for example, in the breast cancer space, there are 10 different not-for-profits, and I think five of them have the pink ribbon. Now, that is a super-crowded space, and organisations like the Breast Cancer Foundation, the McGrath Foundation and the other breast cancer entities really have a lot of trouble differentiating what they stand for and what is different about what they stand for [compared] to what the others stand for.
Where we are, Life Without Barriers, we don't fundraise. We accept donations where we run something and there was a donation given to us, but we don't actually go and stand [on street corners], we don't have a door-knock appeal.
M: So the funding source hasn't changed as much as the decision-maker has?
KG: That's right, exactly. The not-for-profit space probably has an advantage over the corporate space, which is also trying to create stories and often from not much of a base.
We have and that's one of the things that I think the corporate world could learn from the not-for- profit sector: to have a compelling story that gets people involved.
What always astonishes me is often when I go places and I talk to somebody and I say I work for a not-for-profit organisation, they don't actually say it but I get a feeling that they have two thoughts, and one is, 'Oh, she probably wasn't good enough to work for a commercial organisation' or they think, 'Oh, it's the cause that drives her'. In fact neither of those are really true because the not-for-profit sector is inspiring in that it does things that are quite interesting and compelling and people want to get involved with them. They get $4 billion worth of volunteer work every year. I don't think any commercial organisation or all of them put together could instil that kind of engagement with their audiences. It's just incredible. And they could and they should get that, that's where they can learn from the not-for-profit sector.
M: Was there an agency involved in the Life Without Barriers rebrand?
KG: Yes, Principals, and they've done a great job, I cannot speak highly enough of their work.
M: Now, it's too early to look at results, but what does success look like?
KG: Well, the first measure of success for us is internal because we have 5000 staff and we need to bring them along on the journey with us. We're getting some feedback from them and recording some of their reactions in two weeks' time when we launch the brand internally.
Our first metric is that and anyone we have shown it to so far has raved about it and fallen in love with it. We did do some focus groups with our clients and that was potentially – even before launch – our first measure of success that we were very happy about. We showed it to some disability clients, we showed it to our home care clients and we showed it to some refugees and asylum seekers, and they all were very excited by it. The refugees and asylum seekers, you know, they had lost their home and they've lost their family, so the fact that we made them feel like they belonged to a community and we were looking after them [was significant].
M: Are there other measures? Do you do brand tracking?
KG: We haven't been doing brand tracking because of the lack of funds really. At the Heart Foundation, for example, we used to do brand tracking and we did two market research studies – quant and qual – every year and that really showed where we were and what we were doing, but that is entrenched in the type of organisation it is. The Heart Foundation, its basis is scientific research, so it makes sense to them and they invested in that.
Life Without Barriers is very much about helping people and getting in and getting our hands dirty and making people's lives better, so qual research probably works better for Life Without Barriers, but we will do some quantitative research later in the year.
TWO WEEKS LATER…
M: How did the launch go?
KG: We did a simultaneous internal launch across our 100 offices in Australia, with 10 major launch sites where executive members flew to launch the brand. It was logistically challenging to manage, but well worth the effort and I was really surprised at the reactions.
I had not expected that the whole organisation was so ready and eager to move to the new chapter of the Life Without Barriers journey. As you know a branding that entails this amount of change can create internal conflict, which has to be managed, but the executive and staff were very courageous and welcomed the change very positively. All the time and effort spent preparing the platform for the launch paid off.
M: Is there anything you would do differently?
KG: I would probably do more transparent communications internally pre-launch and have more trust that the organisation is ready to move on.