Not just beef in MLA's new 'Greatest Meat on Earth' campaign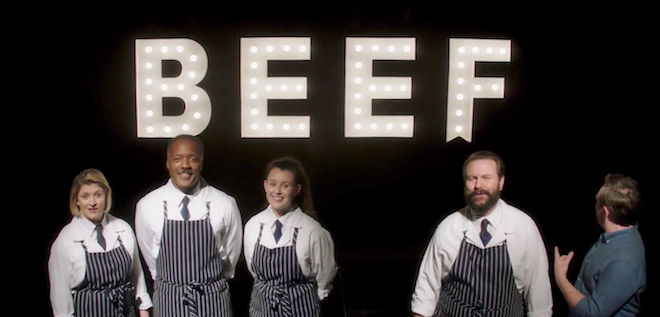 Meat and Livestock Australia has launched a new campaign promoting Australian beef as the greatest meat on earth.
'The Greatest Meat on Earth' is a new campaign by Meat and Livestock Australia and ad agency The Monkeys, delivering the message that it's not 'just' beef.
The 'Greatest Meat on Earth' two-minute musical video features a man in a butcher placing an order for 'just a rump steak,' which angers the butchers.
Celebrity guests then appear, including Bill Lawry, who points out that Don Bradman was not just a cricketer, Kate Ritchie shows off her two Gold Logies (didn't do "just a spot of telly") and Olympic Gold Medal Swimmer Liesel Jones (didn't "just enjoy the occasional dip").

The campaign evolves from the previous 'You're Better on Beef' brand platform and includes a partnership with Nova FM, online and social and the 'Greatest Song on Earth' TVC.
"Since the launch of 'You're Better on Beef' in 2014, the beef brand in the domestic market has benefitted from a consistent strategy," says the MLA website.
"It was built on research showing that after price, Australian consumers rate nutrition as the second most influential driver of protein choice. The objective of 'You're Better on Beef' was to give consumers 'permission' to eat more beef by removing barriers to consumption such as health concerns. The new 'Australian Beef is the greatest' platform evolves these messages to ensure consumers feel proud to choose beef to feed their families."
–
Further reading