Blowing away the cobwebs in the server room: interview with Pure Storage CMO Jonathan Martin
Pure Storage CMO Jonathan Martin chats with Marketing about marketing a breakthrough innovator in the stale, back-room storage category.
In the marketplace for storage – the kind that's a key ingredient in IT infrastructure – flash storage is the newer kid on the block. It's the same type as the storage in your phone, but in the enterprise IT space it's only now finding its place in tier 1, where the most sensitive and business-critical data is stored. Compared to traditional hard drives with their discs spinning inside, flash storage is smaller, more reliable and faster.
Sounds like the easiest marketing job? Yes and no, Jonathan Martin tells us.
As CMO of Pure Storage, Martin's role covers everything from corporate marketing to field marketing to partner marketing.
From a start-up in 2009 to publicly-traded company in 2015, Pure Storage has taken its goal of re-imagining storage global, based on three core beliefs: all data centres in the future will be based on flash technology, storage should be radically more simple than it historically has been, and you should always have access to the information you're storing.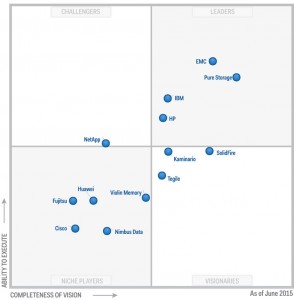 "We put simplicity right at the core of everything we do," Martin says, "so instead of the 180-wires that you normally find on the back of a storage box, we have six. Instead of the pallet-full of manuals that normally turn up with your storage box, our installation manuals and user guide fits on a double-sided business card. Just a radically simpler proposition."
Martin's enthusiasm is backed up by technology research firm Gartner, which named Pure Storage one of the two clear leaders in its 2015 Magic Quadrant for solid state arrays.
"Overall, it's a very different approach. Today we have 1300 customers in about 27 countries. We became a public company at the back end of last year, and we've grown at about 161% a year."
Marketing: What kind of organisations are your customers?
Jonathan Martin: We don't really have a specific industry, anything more than a 10% concentration in any industry, but we do a lot of financial services organisations, healthcare, public sector, we do in entertainments, banking, and finance. And mining. Lots of mining.
Everything from the one man IT shop all the way up to very, very large Fortune 500. I think that's 50 in the Fortune 500, field customers today.
M: Does it excite you being part of that wider trend of consumerisation of IT, with the likes of Zero and other companies that are bringing 'simple' into enterprise IT?
JM: .Consumer expectations, and are setting expectations not just for consumer devices, but they're bringing those consumer expectations into their working lives. If your product is dull, boring, complex, all the things that you hate if you buy a new phone, then it's equally applicable.
M: If flash storage has all these clear benefits, why is business still in the situation that it is? Why are their difficulties in changing it?
JM: We're really viewed as the first successful entrant into tier-1 storage. There really hasn't been much innovation in the storage space for the last 10 years, and people who use our technology see it's not just a better, more efficient, faster way of storing your information, it tends to be a complete business enabler in the way that it hadn't been thought of in the past.
Quick little example of that: I was in with a retail customer a couple of weeks ago whose email environment had grown from two terabytes to 12 terabytes – a reasonable size to pretty large – so we rolled our box in and because of the data reduction technology inside of the box, it went back to two terabytes.
They felt it was problem solved: the first step with us. The vicodin for their headache, and we solve their problem. Very quickly, we moved from being vicodin to vitamin, so in this customer's example, they moved their analytics environment onto our equipment because they were going to be doing some maintenance, and went home and didn't think anything more of it.
The next morning, they had the retail ring the CIO and ask what happened last night, and the CIO said, 'I don't really know, because I don't really care about storage, but let me go find somebody who does.' Then he said, 'Why do you ask?' They said, 'Well, typically we have a workload that runs every night that analyses all of our customer buying behaviour from the previous day, and that workload runs in seven hours, 56 minutes. Last night, it ran in 42 minutes, so what did you do?'
So they went off and found out that they moved their analytics workload to Pure Storage, and the head of retail's perspective was, 'Do you mean to tell me that I can now do eight or nine times more analytics on customer buying behaviour and getting closer to our customers than I was able to do before? This is completely transformational for the organisation, and we should be buying as much of this orange stuff as we possibly can.'
For our top customers, that's a trend we see a lot, is for the first dollar that they spend with us, within the next 12 months they spend another nine dollars.
M: Orange being the colour of your product?
JM: I don't know why, but all the incumbent vendors seem to be blue. So we're orange.
M: In terms of your branding and marketing work, who's your target these days compared to who would have bought storage 10 years ago?
JM: I think, to be honest, CIOs have delegated the management of storage to somebody way down in the organisation because there's been no innovation.
All the innovation has been on 'internet of things' and 'big data', and all those exciting new projects. Part of my role is to go re-educate CIOs on the transformational nature of the flash products in terms of being able to deliver a completely new level of performance for their existing applications and to be able to provide their massive reduction in the time that it takes to manage and work with their storage.
The stats that we typically quote for this is that, for every 250 terabytes of tier-1 storage that we put into a customer, that we free up half an employee to go focus on other things, and we save that customer half a million dollars a year.
M: That's pretty compelling. Doesn't that make your job pretty easy?
JM: Oh, yeah, there's two great things about being a CMO at somewhere like Pure Storage. Number one is that if you have a product that sells itself then life is good as a CMO. There's nothing worse than having a stinky, rotten product that doesn't work – it makes it very, very hard to market. No matter how much magic dust you sprinkle on it, it's still a stinky, rotten product. We have an amazing product at Pure Storage.
The second thing is our customers. It really is making a meaningful difference to our customers' lives, and to the individuals that are working in IT. Our customers are really, really passionate about the technology, about the company. We wear a lot of orange, and our customers do the same thing. They wear the orange t-shirts, the orange socks, they have orange badges on their laptops, they're just really, super passionate about the technology. It's a marketing guy's dream, because it means that you can get your customers to increasingly go tell your story rather than you having to do it yourself.
M: IT guys love a free t-shirt.
JM: Doesn't everybody love free?
M: Tue. What, then, are your marketing objectives?
JM: For any company, we're a publicly traded company, but we're still a mid-sized company growing very, very quickly, so the challenge is driving awareness, driving brand recall and brand recognition. For those, we tend to do very, very well when we get to the table, the challenge is being invited into the mix because people may not have heard of us. We are super-duper popular on the west coast of the US. You go further east and the awareness of the flash technology and awareness of the brand deteriorates, so one big thing for me is just to continue to drive brand awareness and brand recognition. 
Second thing is, we are a company that's, even at the size that we are, we're still growing 161% year-on-year. That is a phenomenal growth rate.
M: In revenue?
JM: Yeah, that's revenue, and if you look at the latest report from Stifel, the financial analysts in New York, they actually show us as being one of the fastest growing technology companies or infrastructure companies in the history of mankind.
Obviously, along with that kind of phenomenal growth, there's phenomenal expectation of the contributions that marketing can make to that growth, not just in terms of revenue and making the company attractive to people, but also create an experience where people see value so they're able to pay higher margins for your product than other peoples' products.
It's just keeping it up, driving awareness, keeping up with the growth, and thirdly, just telling our story increasingly through the voice of our customers.
M: What's on the marketing calendar for the year ahead?
JM: Lots of firsts for us, we're running our first major news conference, a global news conference on 14 and 15 March in San Francisco, where we'll bring about 2000 people together, and to go share their experiences with Pure technology.
M: There's more than a few tech conferences in San Francisco, how are you doing it differently? What's it going to look like?
JM: I think it's a bunch of things. Tech conferences haven't evolved very much the last 10 years either, so I think our goal is to be as disruptive to the tech conference as we have been in the data centre. We want to bring current and future technology business leaders together to share in a dialogue around what's been possible,
That's why the tagline for the company is around accelerating possible, and allowing organisations to do things that they didn't think was possible, and today, to allow them to accelerate that.
Really, three things, it's really around lots and lots of dialogue, lots of ways of having interesting dialogues between peer groups, obviously, wanting a kind of inspiration.
We have the COO of VMWare, we have the CEO of Arista, we have interesting customers like the San Francisco Giants, we have the CEO of the Super Bowl… there's a bunch of inspirational people there as well, and then obviously the visionaries behind the technologies, so you'll hear directly from the founders and the technologists about the latest trends in flash directions, and that sort of thing.